Here's North Ireland's first battery-powered double-decker electric bus for public transport
The UK is one of the European countries, albeit now outside the EU, that is doing the most to reduce carbon dioxide emissions. In this groove is, Infrastructure Minister Nichola Mallon has unveiled the first of 80 battery electric double decker buses due to be in passenger service in spring 2022, in North Ireland. Part […]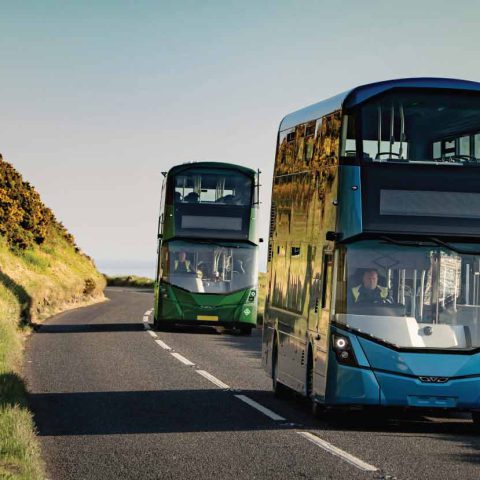 The UK is one of the European countries, albeit now outside the EU, that is doing the most to reduce carbon dioxide emissions. In this groove is, Infrastructure Minister Nichola Mallon has unveiled the first of 80 battery electric double decker buses due to be in passenger service in spring 2022, in North Ireland.
Part of her £74million investment for 100 zero emission buses, which also includes 20 hydrogen fuelled buses and a programme of associated infrastructure works, this is the next key milestone in Minister Mallon's commitment to climate action and decarbonising Northern Ireland's public transport.
UK commitment to decarbonisation
Thesa are the words of the Minister: «The time for talking is over. It is now time for climate action. Cleaner, greener, sustainable transport is key to protecting our environment and fighting the climate crisis. I have been clear since coming to office that we must act now to deliver the change that our communities and our citizens deserve».
The electric buses were purchased by Translink under an existing framework contract from Wrightbus. They will run on fully sustainable electricity.
So, here is the comment of Chris Conway, Group Chief Executive Translink: «This is another significant milestone in our journey to reduce our carbon emissions and attract more people to cleaner public transport choices for the benefit of everyone.  These new zero emission buses will make up around one third of the Translink Metro fleet helping improve air quality.  They will also offer the latest standards in comfort, quality and accessibility with in-seat USB chargers, WiFi and new accessibility features»
And it doesn't end there. Yes, because Mallon has also announced funding of around £30million for 38 new zero emission battery electric buses for Foyle Metro in Derry; the 38 buses will include 28 single deck and 10 double deck.. This significant leap will see the city's entire urban fleet, Foyle Metro, replaced with electric buses making it one of the first cities in the UK and Ireland to have a fully zero-emission bus fleet when all the vehicles go into passenger service in 2023.