UNVI double-decker open top e-bus presented in Vigo
UNVI has recently presented in Vigo (Spain) its double-decker open top electric bus e.DDOT. The bus is equipped with a 400 kW motor. According to previous news, the vehicle is powered by motors integrated in the wheels manufactured by Ziehl-Abegg (ZAwheel) and BMZ batteries. The vehicles has been presented in Vigo in cooperation with Vitrasa (Avanza […]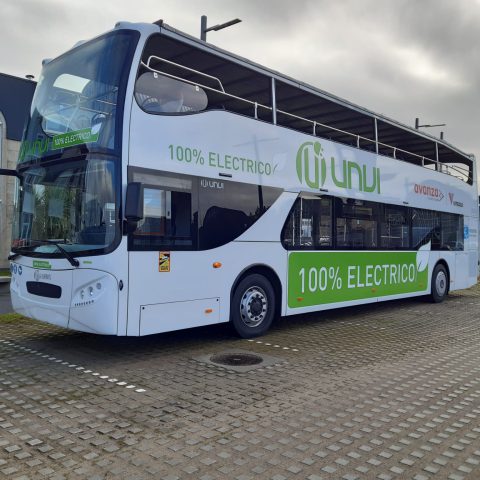 UNVI has recently presented in Vigo (Spain) its double-decker open top electric bus e.DDOT. The bus is equipped with a 400 kW motor. According to previous news, the vehicle is powered by motors integrated in the wheels manufactured by Ziehl-Abegg (ZAwheel) and BMZ batteries. The vehicles has been presented in Vigo in cooperation with Vitrasa (Avanza Group – ADO Mobility Group).
Source of the opening picture: https://www.perezrumbao.es/category/blog
«With energy consumption below 1 kWh/km and keeping a high level of braking energy recovery over 30%, it is confirmed that our 100% electric UNVI e.DDOT bus is very easy to drive with a very fast learning to achieve minimum consumption while keeping high comfort level and lowest noise, thanks to the electric wheel-in-hub motors without transmission or any other conversion on top of the excellent materials and finishings», the manufacturer says.
The bus is available in several lengths from 10 to 13m. Concerning battery capacity, it may range from 145 to 434 kWh.