Biden administration accelerates on electric school bus front
After getting the "ok" from Congress, United States President Joe Biden is ready to sign an infrastructure bill (called BIF) that closely affects buses, especially electric school buses transportation. The measure, however, also involves cities transit buses. In this last regard, in fact, the funding for city/urban buses has been increased from a previous $90.5 […]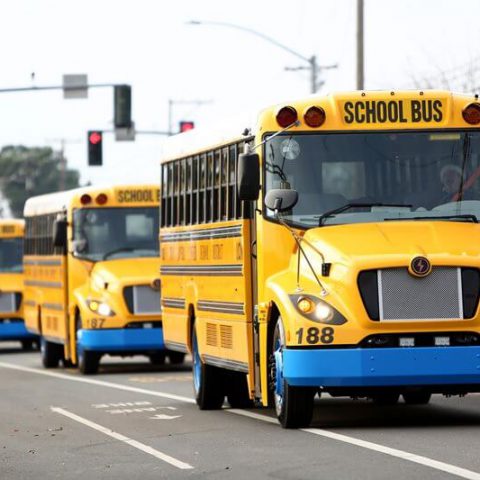 After getting the "ok" from Congress, United States President Joe Biden is ready to sign an infrastructure bill (called BIF) that closely affects buses, especially electric school buses transportation. The measure, however, also involves cities transit buses.
In this last regard, in fact, the funding for city/urban buses has been increased from a previous $90.5 million per fiscal year to $206 million per fiscal year, with each state getting $4 million per year and the remainder to territories.
New and big funding for electric school buses
The case for school buses is different, as consultant Jamie Fox writes on Interact Analysis' website: «During his campaign in 2020, President Biden launched a plan to convert all 500,000 US school buses to zero emission vehicles. The passing of this bill means he will fall short even if we allow him the possibility of a second term as President to accomplish it (which presumably was the intention, although this was never explicitly stated). However, few ever expected that particular target to be met».
And again: «Some media reports have cited a figure of $2.5 billion for electric school buses in this bill, but $2.5 billion has been allocated for zero emission (so electric) vehicles specifically, while another, additional $2.5 billion has been allocated for "clean school buses and zero-emission school buses". "Clean school buses" in the bill refer to "a school bus that the Administrator certifies reduces emissions and is operated entirely or in part using an alternative fuel" where alternative fuel can include natural gas, propane and biofuels as well as battery electric and hydrogen».
«This means that the amount for electric buses will be higher than $2.5 billion but lower than $5.0 billion. This is to be spent over five years, so each of fiscal years 2022 to 2026 inclusive will get between $0.5 billion and $1.0 billion for electric school buses», the expert adds.
One possible scenario could see $700 million in annual funding for battery electric buses and $300 million for hydrogen, hybrids, propagane, gas and biofuels.
What market opportunities
It is clear that an appropriation of this nature represents a golden opportunity for manufacturers such as Proterra and New Flyer, and Navistar, Blue Bird, Thomas Built and Lion Electric. And, as writes in the end Jamie Fox «For electric school bus manufacturers, these are exciting times: it likely brings forward 2026's market opportunity to 2022».