All aboard: buses warm up their engines for Bus2Bus
Only a few days remain until the third Bus2Bus, which will be held at the Berlin Exhibition Centre from 27 to 28 April. During the two days of the fair, in the Outdoor Display, visitors will have the opportunity to get behind the wheel of the buses, thanks to a test drive. The test track, […]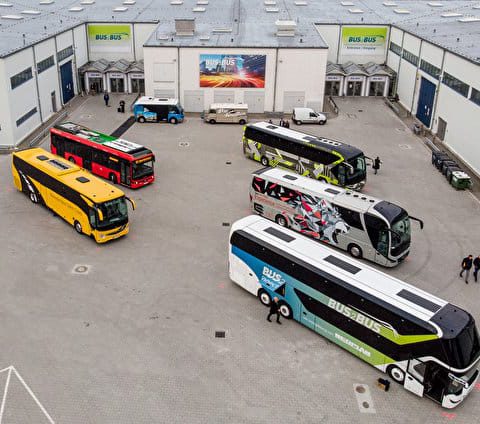 Only a few days remain until the third Bus2Bus, which will be held at the Berlin Exhibition Centre from 27 to 28 April. During the two days of the fair, in the Outdoor Display, visitors will have the opportunity to get behind the wheel of the buses, thanks to a test drive.
The test track, which can be accessed via exits between Halls 20 and 21, will offer the opportunity to find out more about the various buses. The outdoor exhibition will feature buses from K-Bus, Karsan, Anadolu Isuzu, CaetanoBus, Ebusco, Otokar, Skoda/Temsa and two MAN models.
On the outdoor exhibition area, accompanied by an instructor from a driving school, visitors can get behind the wheel of a bus and discover for themselves what it means to drive a modern, safe and environmentally friendly bus.
But in addition to vehicles, the Outdoor Display also showcases infrastructure. Kempower will be represented with its T-Series DC chargers: these devices are ideal for cities and bus fleet operators running electric mobility pilot projects. The chargers only require a power supply without a complex installation procedure. Thus, visitors can test the low-emission, low-noise technology without the need to invest in a large-scale charging infrastructure.
Finally, we would like to remind you that Sustainable Bus is a media partner of Bus2Bus and will be part of the jury of Bus2Pitch, the start-up competition that will occupy an important part of the exhibition programme.