A look at BUS2BUS panel discussions. Exhibitors, subjects, speakers
At the BUS2BUS 2022 panel discussions, experts will discuss challenges and the outlook for the bus industry. Federal Minister of Transport Volker Wissing will visit the Trade Show and talk about the environmental importance of bus and coach travel. On 27 and 28 April 2022, when the bus industry meets in Berlin for one of […]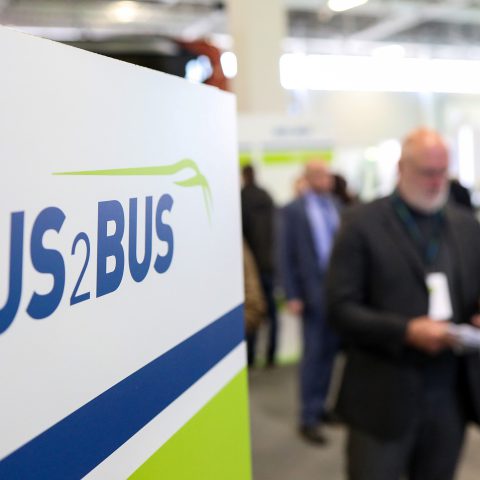 At the BUS2BUS 2022 panel discussions, experts will discuss challenges and the outlook for the bus industry. Federal Minister of Transport Volker Wissing will visit the Trade Show and talk about the environmental importance of bus and coach travel. On 27 and 28 April 2022, when the bus industry meets in Berlin for one of the first public transport exhibitions in 2022, the focus will be on personal dialogue as well as innovations at the Trade Show. Experts on innovation and mobility, bus operators, manufacturers and service providers will be discussing the future of the bus industry.
Taking part will be speakers from leading companies such as Airbus, Daimler Truck, MAN Truck & Bus SE, omobi, DB Regio Bus, ŠKODA Transportation, Ebusco B.V., BVG, Optibus, ZF AG, NOW GmbH and TimeRide GmbH. Visitors can look forward to an inspiring program of lectures taking place on several stages and featuring numerous theme tracks.
The Future Forum, bdo Congress, startup pitches and exhibitor presentations will ensure an information advantage for trade visitors that will benefit their careers.
On 27 April 2022 Lars Behrendt, CEO of the innovation agency Granny & Smith, will open the Future Forum with a keynote speech entitled 'An Undervalued Eco-Champion: The Bus Industry as a Driver of Sustainable And Innovative Mobility'. Immediately afterwards, the topic will be about autonomous vehicles. The first ones to appear in Europe are changing the definition of private versus public transport and pose new organisational and production challenges for the players involved. Nicole Scott, founder of mobile geeks, will hold a keynote speech on the subject.
German Minister of Transport Dr. Volker Wissing (FDP) will hold a welcome speech under the heading 'Mobility and Environment'. Buses are safe, environmentally friendly and play an important role in public transport, tourism and long-distance travel, and this needs to be taken into account by policymakers.
At a panel discussion, Verena Hubertz, member of German parliament (SPD), Till Oberwörder, head of the Daimler Buses division and CEO of EvoBus GmbH, Christian Hochfeld, executive director of Agora Verkehrswende, and Christiane Leonard, managing director of the Federal Association of German Association of Bus- and Coach Operators (bdo)will exchange views.
According to Leonard, "the mobility transition can only be achieved with buses. Bus operators in Germany are the backbone of sustainable and environmentally friendly public transport. By serving wide areas they are efficient, they save energy and are universally accessible. Considering buses are able to provide answers to the pressing environmental challenges of public transport, it is incomprehensible that policymakers continue to neglect this most eco-friendly form of transport. And this despite the fact that annually 100 million German citizens travel by coach and four billion trips are taken on public transport. The environment needs a mobility transition and with it, it needs buses – whether on short public transport routes or over long distances. The aim must be to replace motorised private transport."
In the afternoon the first Fresh Travel Session will take place at the Future Forum. The topic will be how digital services, design and styling can help buses become more attractive and create a greater awareness of them in society. In a keynote speech and at the panel discussion to follow, Nicolas Tschechne, Trend Research & Market Intelligence at Airbus, and other industry players will highlight how design and personalisation can contribute to bus transport being a success. Another topic will be digital services and their impact on customer needs in the coach tour market.
On 28 April 2022, day two of the event, the Fresh Travel II lecture programme will continue this theme. In his introductory speech, Prof. Dr. Bernd Eisenstein, director of the German Institute for Tourism Research at Fachhochschule Westküste, will highlight the new potential of the coach tour industry. Afterwards, a panel discussion will take place together with VPR Internationaler Verband der Paketer e.V. on whether coach tour operators are sufficiently well-equipped to meet the needs of new audiences and niche markets, and what trends and new approaches are required.
At the same time, at the bdo Congress and under the heading 'Competition & Change', together with politicians representatives of the bus industry will discuss how bus operators can contribute to the mobility transition. In the afternoon at a panel discussion of the Future Forum, the topic will be alternative drive systems for public transport and long-distance travel. Three discussion rounds will present viewers with the latest market developments and their impact on the transport system. The first round will highlight business models and the political conditions and is being co-organised with the VISIONMobility THINK TANK of HUSS-Verlag.
Don Dahlmann, journalist, speaker and consultant, Sandra Schmidt, instructor, speaker and business coach, and Silke Christina Leinweber, moderator and editor, will moderate and present the two-day program.
This year at BUS2BUS, trade visitors can attend the Trade Show and lecture program with just one ticket. All day passes and 2-day passes also grant access to the BUS2BUS plus Online Platform. Tickets to BUS2BUS 2022 are available from the online shop only. There are no ticket offices on the grounds. Book early and save money! Tickets purchased by 15 April 2022 will receive a 60 % discount on the admission price.