Caetano joins the VDV-Electric Bus Conference with the hydrogen bus
CaetanoBus announces it is presenting the hydrogen bus at the 13th VDV-Electric Bus Conference and ElekBu exhibition, on July 12-13, 2022 in Berlin, one of the main public transport exhibitions scheduled for 2022 in Europe. The vehicle in the exhibition is the H2.City Gold with fuel cell technology from Toyota. Patrícia Vasconcelos, CEO of the company, will […]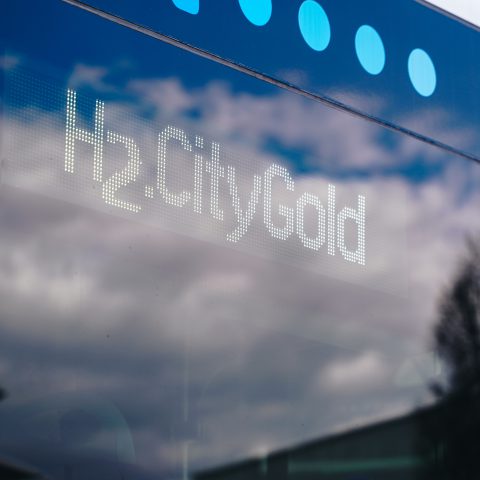 CaetanoBus announces it is presenting the hydrogen bus at the 13th VDV-Electric Bus Conference and ElekBu exhibition, on July 12-13, 2022 in Berlin, one of the main public transport exhibitions scheduled for 2022 in Europe. The vehicle in the exhibition is the H2.City Gold with fuel cell technology from Toyota. Patrícia Vasconcelos, CEO of the company, will also hold a presentation during the conference panel about hydrogen.
CaetanoBus at VDV-Electric Bus Conference 2022
The 13th VDV-Electric Bus Conference and exhibition ElekBu, taking place in Berlin from July 12-13, focuses on the solutions that will build the mobility of the future, given the fact that the ultimate goal for the transport industry is to increase climate protection in the transport sector and enable sustainable mobility. This involves electrifying all means of public transport. The event will also give highlight the Fuel Cell vehicles, from the technical implementation to refueling infrastructure to the procurement of green hydrogen.
Caetano will have in exhibition the H2.City Gold bus, which was launched the H2.City Gold since 2020 and in operation in various European cities, with more than 75 units already sold, most of them to the German market. The vehicle is the result of a partnership between Toyota and Caetano, which was the first company in Europe to use the Japanese Fuel Cell technology.
The H2.City Gold is a standard low-floor lightweight bus with a 3-door aluminum body. The vehicle is equipped with a Toyota fuel cell with a nominal power of 60 kW, an LTO battery with a capacity of 44 kWh from the French supplier Forsee Power and a Siemens powertrain with a peak power of 180 kW. The energy efficiency of H2.City Gold is recognized by all operations with the Caetano H2 fleet, as having the lowest H2 consumption of the segment.
Patrícia Vasconcelos, CEO of CaetanoBus will give a presentation on the first day of the event, July 12, at 1.30 p.m., in the thematic block of hydrogen. She will present the H2 technology of CaetanoBus and the contribution of the company to a Zero-Emission Buses scale-up.
Caetano will host the annual VDV meeting next September in the headquarters of the company in Vila Nova de Gaia.