Caetano delivered the first H2.City Gold to operator Nobina in Denmark
CaetanoBus continues expanding over Europe and has supplied one hydrogen-powered bus to the operator Nobina, one of the biggest public transport operators in Scandinavia. The delivery of the first H2.City Gold unit occurred last week and will start operating in January 2022, for Movia in Copenhagen. About H2.City Gold The new zero-emission hydrogen bus manufactured […]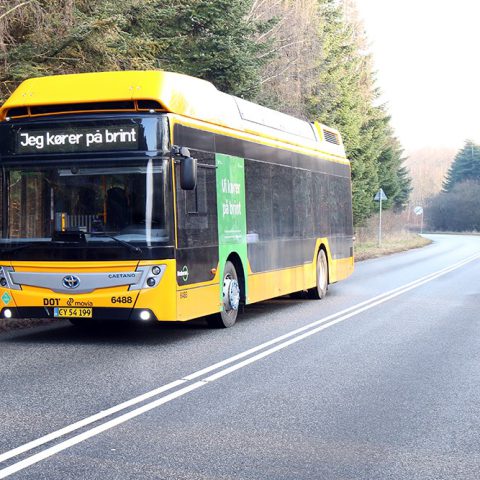 CaetanoBus continues expanding over Europe and has supplied one hydrogen-powered bus to the operator Nobina, one of the biggest public transport operators in Scandinavia. The delivery of the first H2.City Gold unit occurred last week and will start operating in January 2022, for Movia in Copenhagen.
About H2.City Gold
The new zero-emission hydrogen bus manufactured by CaetanoBus for Nobina is a standard full low floor bus 12 meters long with a light aluminum 3 doors bus body. The vehicle is equipped with a Toyota fuel cell with 60 kW nominal power, a Li-ion LTO battery pack with 44 kWh capacity, and a Siemens power train with 180 kW peak power.
In this technology, the fuel cell produces energy to supply the traction motor with the necessary energy, along with the batteries, with good performance and technical response in moments of greater effort (starts and climbs) guaranteeing the necessary increase in power.
The hydrogen system is complemented by traction batteries, LTO-type lithium-ion technology which will store the energy generated by the stack that has not been used and the energy regenerated during braking and deacceleration. The type IV hydrogen tanks will have a total capacity of 37.5kg to offer a driving range of over 400 kilometers on a single refill. The H2. City Gold from CaetanoBus has presently the most advanced technology available in the market and offers to drivers and passengers a unique experience.
The vehicle is co-branded with Toyota since July 2021, making CaetanoBus the first bus company in Europe to use Toyota's leading fuel cell technology. This partnership enhances the expansion of sustainable mobility solutions.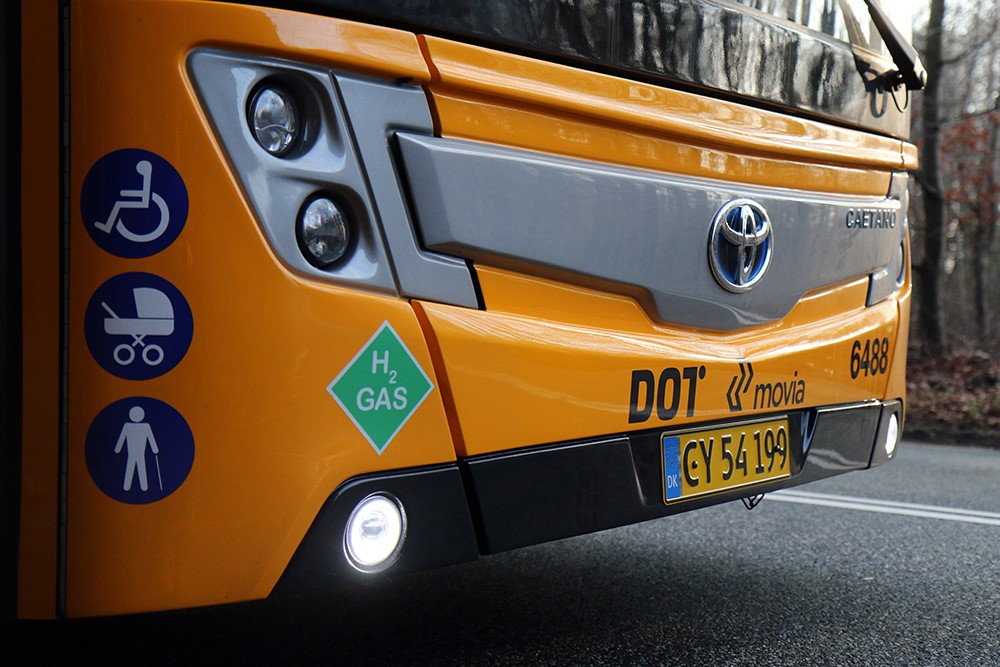 A business developed between CaetanoBus and Kinto Portugal
Kinto Portugal, Toyota's mobility company that belongs to the Salvador Caetano Group as CaetanoBus, has developed a complete Full-Service Lease program for this business.
The strategic alliance between Toyota Motor Europe, Kinto , and CaetanoBus is dedicated to the development and production of zero-emission buses in Europe, driving the expansion of Toyota's zero-emission mobility solutions, reinforcing the path of electrification that started in 1997, and its promise "Beyond Zero", going beyond the Zero with the technology associated with the use of hydrogen.