Hydrogen bus pilot in Ireland. A Caetano H2.City Gold on a test until mid-December
An hydrogen bus pilot is about to be launched in Ireland. As part of Hydrogen Mobility Ireland (HMI) roadmap for hydrogen deployment, a Caetano H2.City Gold will be operated on a number of routes across Dublin by Bus Éireann, Dublin Bus, Dublin City University (DCU) and Dublin Airport from November to mid-December. CaetanoBus has recently signed a […]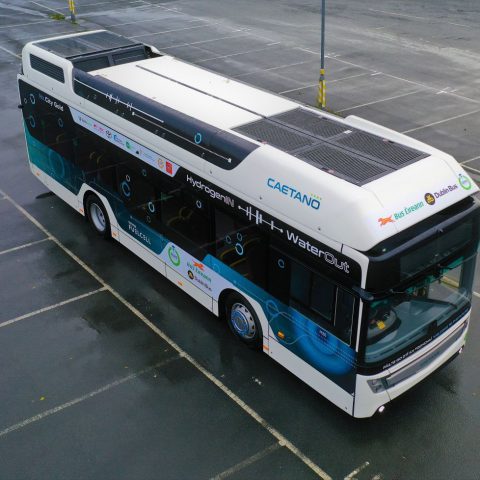 An hydrogen bus pilot is about to be launched in Ireland. As part of Hydrogen Mobility Ireland (HMI) roadmap for hydrogen deployment, a Caetano H2.City Gold will be operated on a number of routes across Dublin by Bus Éireann, Dublin Bus, Dublin City University (DCU) and Dublin Airport from November to mid-December.
CaetanoBus has recently signed a contract with TMB Barcelona for the supply of 8 hydrogen buses. Also, a few units are headed to Germany, in Niebüll and Bielefeld. Unveiled at Busworld 2019, the Caetano H2.City Gold is available in 10.7 or 12 meter version, LHD and RHD variants.
The first hydrogen bus on public transport network in Ireland
This will be the first ever hydrogen bus put into public service operation in Ireland and forms part of the Department of Transport's Low Emission Bus Trials. The results of the pilot will form part of the decision making process to help further transition Ireland public transport fleet to lower emitting fuels and technologies.
This trial is a follow up to the 2019 Low Emission Bus Trial which tested a number of different fuels and technologies on real bus routes in Dublin and Cork Cities. Electric, hybrid, gas and retro-fitted buses were assessed under a range of criteria, including emission levels, energy efficiency, costs, and infrastructural requirements. At the time, due to the modern nature of the technology, it was not possible to source a hydrogen bus to take part in the trial.
Hydrogen tanks and the fuel cell stack, on the Caetano H2.City Gold are stored on the vehicle's roof, to optimize the interior space. Its technological core will be the fuel cell module, from the Japanese firm Toyota, with a nominal power of 60 kilowatts. The motor, with a maximum power of 180 KW, and the electronics will be provided by Siemens. The batteries, based on LTO technology and with 44 kWh capacity, will store also the energy generated by the braking, up to 50%.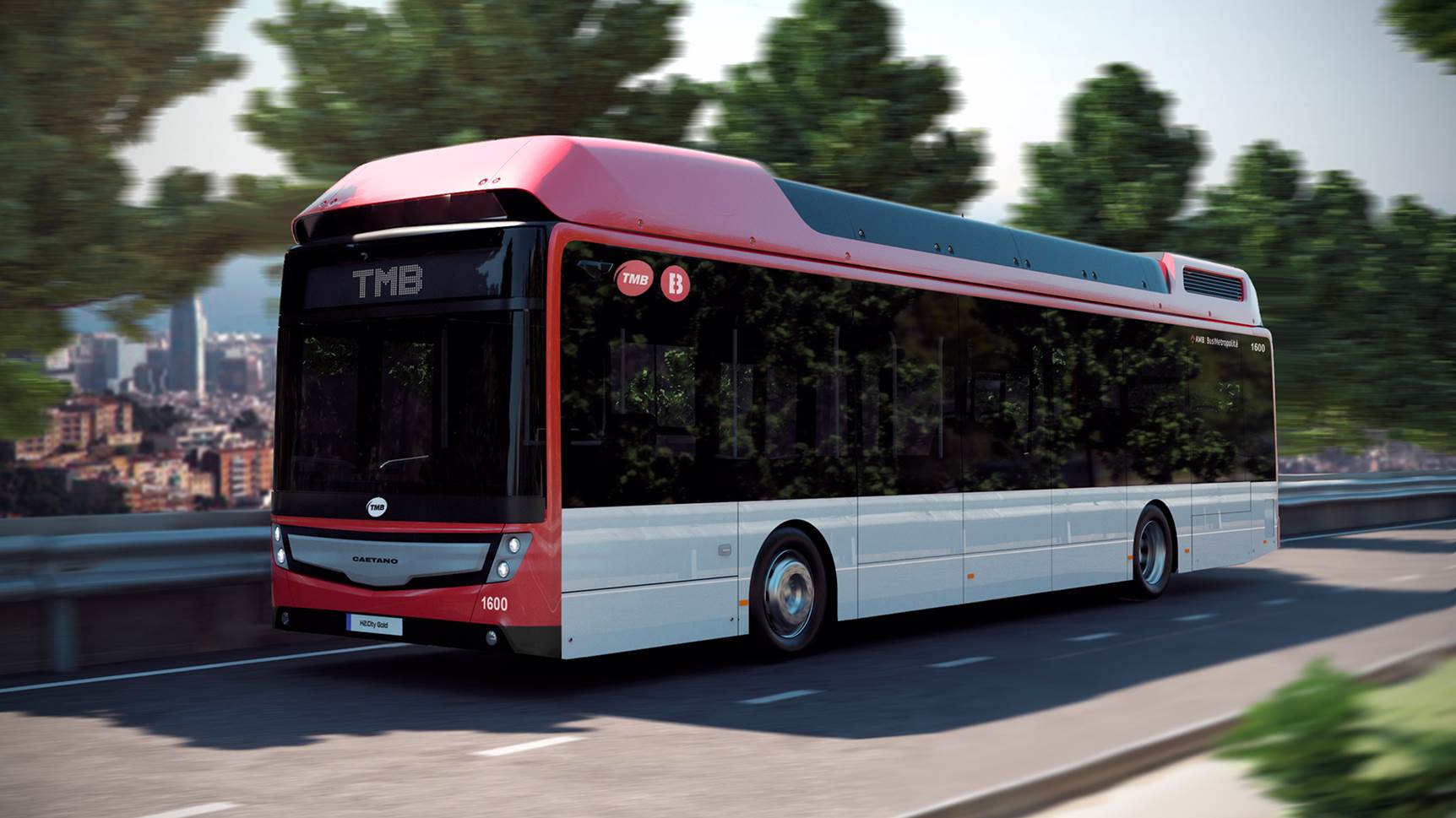 Hydrogen double decker buses in Ireland's future
"CaetanoBus is honoured to support Ireland's first hydrogen fuel cell bus trial with its H2.City Gold. We have already started the commercial operation of hydrogen fuel cell bus in Germany and we commit to improve city transportation and to build the future of cities with our customers and partners through our innovative clean mobility solutions. Being part of this project, showing the capability of our hydrogen bus solution and supporting Ireland, in being at the forefront of decarbonisation innovation, is another significant step forward towards a greener public passenger transport" said Kohei Umeno, Chief Commercial Officer at CaetanoBus.
Irish Minister for Climate Action, Communication Networks and Transport Eamon Ryan TD has welcomed the commencement of a multi-week trial saying: "Moving our urban bus fleet to cleaner and greener technologies is essential if we are to further reduce the carbon footprint of our public transport system and limit air pollutant emissions in our cities. Under the National Development Plan, Ireland committed to stop buying diesel-only urban buses and to transition to lower-emission alternatives. The bus runs on hydrogen produced in Dublin by BOC Gases and emits only water from its exhaust. The trial will provide us with real world insight into the operation, refuelling and environmental impact of this innovative technology as well as enabling comparisons with the previously tested bus technologies. Today's hugely significant step will be followed early next year by a National Transport Authority pilot programme, involving a number of Double Decker Hydrogen Fuel Cell Electric buses. Examining all available technologies is essential as we determine how best to power our future urban bus fleets, while improving sustainability and reducing greenhouse gas emissions."
Commenting on this launch, Mark Teevan, chair of Hydrogen Mobility Ireland said: "Hydrogen Mobility Ireland was formed last year by a group of activist companies that want to move forward with the introduction of fuel cell transport here. By year's end we had published a roadmap to do so and are now focused on actual delivery. This 8 week trial marks the start of that new phase and we intend to launch the first hydrogen refuelling stations, and hydrogen powered vehicles for sale, during 2023. We see hydrogen fuel cell transport as being critical to delivering on the targets in the government's 2019 Climate Action Plan and have, since the beginning, been working closely with the Department of Transport and other government stakeholders on its introduction.