Fuel cell buses in Venice. Solaris to deliver four Urbino 12 hydrogen in Italy
Solaris will deliver four Urbino 12 hydrogen buses to Venice. The contracts were concluded with Italian carriers AVM Venezia and ACTV SPA Venezia. The 12-metre hydrogen-fuelled buses will arrive in Italy in mid-2023, and the total value of the contracts exceeds €2.5m. The first fuel cell bus fleet with Solaris' brand was launched in Bolzano, Italy, in May 2021 (the delivery of the 12 vehicles followed the very […]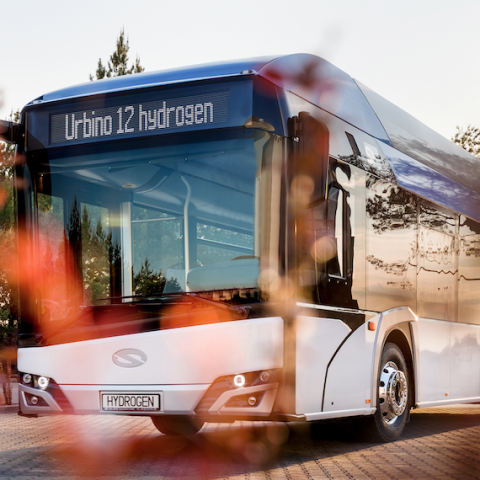 Solaris will deliver four Urbino 12 hydrogen buses to Venice. The contracts were concluded with Italian carriers AVM Venezia and ACTV SPA Venezia. The 12-metre hydrogen-fuelled buses will arrive in Italy in mid-2023, and the total value of the contracts exceeds €2.5m.
The first fuel cell bus fleet with Solaris' brand was launched in Bolzano, Italy, in May 2021 (the delivery of the 12 vehicles followed the very first order ever secured by Solaris for its fuel cell bus, signed in June 2019 just a few days after the world premiere at UITP Summit in Stockholm). Largest order so far? 20 models commissioned in the Netherlands by Connexxion, which also belongs to Transdev group.
Solaris fuel cell bus units destined for Venice are yet another batch of vehicles producing no local emissions that will serve the residents of this region. In 2020, under a contract concluded with ACTV SPA Venezia, Solaris delivered 30 Urbino 12 electric vehicles to the city along with charging infrastructure. They have been deployed to exclusively provide public transport in two city districts located on the islands in the Venetian Lagoon: Lido and Pellestrina.
Fuel cell buses for Venice
Solaris has landed another order for the delivery of zero-emission vehicles to Italy. The Urbino 12 hydrogen buses will serve the residents of Venice and its surroundings thanks to contracts signed with carriers AVM Venezia and ACTV SPA Venezia, which provide public transport services in Venice as well as within the communes of Venice and Chioggia. The deliveries are slated for the end of the second quarter of 2023, and the value of the contracts exceeds €2.5m.
The Urbino 12 hydrogen bus is a low-floor vehicle, generating no local emissions. At the heart of the bus lies a 70 kW hydrogen fuel cell that acts as a miniature hydrogen power plant aboard the vehicle.
These 12-metre hydrogen buses, with a 2-2-2 door arrangement, feature air conditioning with a heat pump as well as USB ports for passengers located on the vehicle's walls. The driver will also be supported by MobilEye Shield+. This is a modern system which alerts the driver every time an unexpected object is detected in the vicinity of the bus. The vehicles will also feature a passenger counting system. Continuous servicing of the vehicles will be provided by eSConnect, a bus fleet monitoring and management system designed by Solaris.