Düsseldorf will deploy 20 fuel cell buses (with public utilities company building electrolyzer)
Düsseldorf has set the goal of become climate neutral by 2035. To this end, the city's public utilities company Stadtwerke Düsseldorf and public transportation company Rheinbahn are investing in hydrogen technology, together with battery-electric mobility. The starting point for the joint commitment of the two city subsidiaries was the signing of the relevant contracts with […]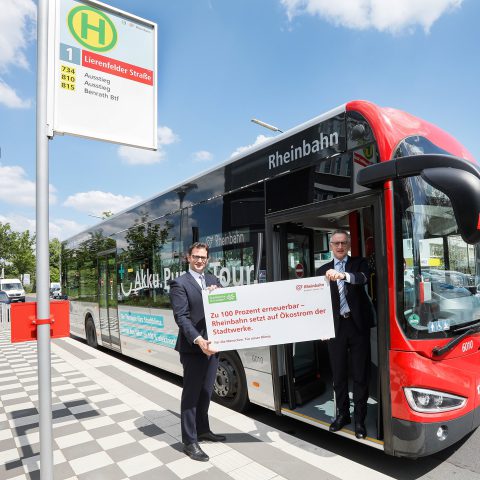 Düsseldorf has set the goal of become climate neutral by 2035. To this end, the city's public utilities company Stadtwerke Düsseldorf and public transportation company Rheinbahn are investing in hydrogen technology, together with battery-electric mobility. The starting point for the joint commitment of the two city subsidiaries was the signing of the relevant contracts with hydrogen filling station operator H2 Mobility.
Rheinbahn to have 20 fuel cell buses in operation
Stadtwerke Düsseldorf is investing in a one-megawatt (MW) electrolyzer to produce green hydrogen locally. Rheinbahn is procuring 20 fuel cell buses as part of its transition to climate-friendly vehicles. These buses will be refueled at an H2 MOBILITY filling station located on the Stadtwerke's premises in Flingern. It is expected to be built on the Stadtwerke's premises no later than mid-2024. Until then, Rheinbahn's buses will refuel with hydrogen at Oerschbachstraße in Düsseldorf-Reisholz.
Rheinbahn says it will receive the first ten fuel cell buses in the coming weeks and prepare them for the testing phase. In the second quarter of 2023, the buses will be put into service on the 732 bus line. Supplier of the vehicles is not mentioned. Rheinbahn has already in operation a batch of Irizar battery-electric buses.
Two billion euros investment for city development
"We are consistently working towards implementing our strategy to achieve climate protection goals and to continuously improve the quality of life in Düsseldorf as a business location. The investment in hydrogen technology is another important step to achieving this goal. By 2030, we want to invest two billion euros in the development of our city and our company," says Julien Mounier, CEO of Stadtwerke Düsseldorf.
Düsseldorf's Mayor, Dr. Stephan Keller (CDU), states: "This is a good example that climate neutrality by 2035, which we want to achieve, is a realistic goal. I am pleased that Rheinbahn and Stadtwerke are jointly driving climate protection in the transportation sector. Buses and trains are the backbone of changing mobility behavior. But in addition to expansion, we also need to optimize the drives. The use of battery-electric and fuel cell buses in the Rheinbahn fleet is a win for climate protection, air quality, and modern mobility".