Rheinbahn Düsseldorf takes delivery of the first Irizar e-buses
Rheinbahn is taking delivery of the ten e-buses ordered in spring 2019. Four battery-electric buses from Irizar e-mobility (through German partner Ferrostaal) have recently reached their destination and began operating in the German city. The others are expected to start service at the beginning of 2021. The electric bus units are funded by the state […]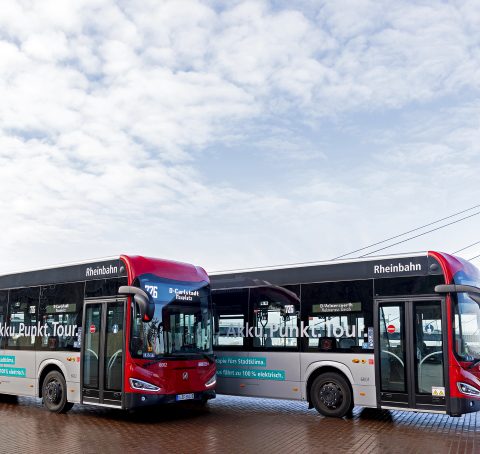 Rheinbahn is taking delivery of the ten e-buses ordered in spring 2019. Four battery-electric buses from Irizar e-mobility (through German partner Ferrostaal) have recently reached their destination and began operating in the German city. The others are expected to start service at the beginning of 2021. The electric bus units are funded by the state of North Rhine-Westphalia.
The first four buses for the public transport operator Rheinbahn have been approved and will gradually be used on line 726, which connects Volmerswerth with Carlstadt. The other buses are expected to be used on the left bank of the Rhine on line 833 between Oberkassel and Neuss at the beginning of 2021, once they have been approved and the necessary test runs have been completed.
Depot charging for Irizar e-buses in Düsseldorf
Rheinbahn says it is investing around 8.4 million euros in the ten new e-buses and the associated charging and workshop infrastructure. The state of NRW has currently approved a total of 3.5 million euros in funding for this via the Rhine-Ruhr Transport Association (VRR).
The contracted Irizar ie bus represents the new generation of the Irizar i2e, which has been operating in several cities since 2014.
The buses are powered entirely by electricity. With a battery capacity of 300 kWh, the buses have a range of about 150 kilometres. The batteries can be charged with a power up to 150 kilowatts, which means that the electric bus can be fully charged in less than three hours. The charging infrastructure for the buses is located at the Rheinbahn depot in Heerdt.
E-buses for Düsseldorf, from the dedicated plant in Aduna
Inside, the new e-buses offer 34 seats and 29 standing places as well as two multi-purpose areas for passengers with wheelchairs or prams and a folding ramp for easier boarding and alighting. Leather seats, USB charging sockets and air conditioning provide special passenger comfort.
It should be noted that Irizar e-mobility offers sales and after-sales services for electric buses and loading infrastructures in the markets of Germany, Austria and Switzerland through Ferrostaal Equipment Solutions.
The electric buses are produced in the Irizar e-mobility plant of Aduna, the first of its kind in Europe (we wrote about it HERE).
Climate neutrality for Düsseldorf in 2035
"With the use of emission-free vehicles such as these state-of-the-art e-buses, we are taking another step towards the ambitious goal of climate neutrality for Düsseldorf in 2035. The funding from the state of North Rhine-Westphalia encourages and supports us on our way to driving forward the transport turnaround with modern and intelligent solutions. We will work with vigour in Düsseldorf on the implementation of further innovative projects," emphasises Lord Mayor Dr. Stephan Keller.
Michael Richarz, Chief Technology and Operations Officer, adds: "Our goal is to make the Rheinbahn bus fleet as low-emission as possible in the long term. In addition to the modernisation and retrofitting of the bus fleet to the Euro-6 emission standard which will be almost completed in 2020, the use of electric drives is an important contribution to this. Therefore, we are intensively looking into alternative types of drivetrain in order to further contribute to the climate protection goals of the city of Düsseldorf and to the quality of life in the region."