Safra will supply ten hydrogen buses to the French city of Dunkirk
Safra has won Dunkirk's tender to supply 10 hydrogen buses: the Communauté Urbaine de Dunkerque, in fact, has chosen SAFRA's next-generation HYCITY bus, a 12-meter, 3-door vehicle. These 10 HYCITY vehicles will be operational on the Dunkirk network in 2024. The contract is complemented by a 3-year full maintenance contract for the vehicles, followed by […]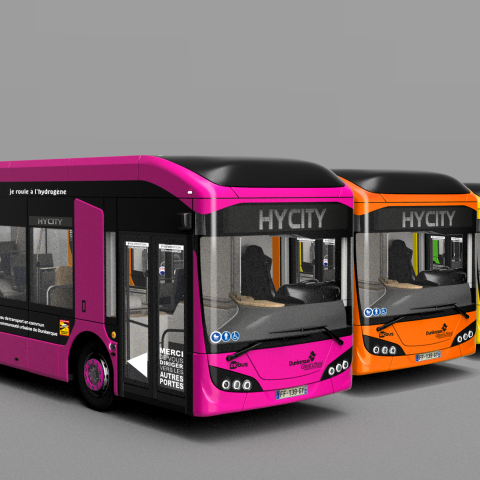 Safra has won Dunkirk's tender to supply 10 hydrogen buses: the Communauté Urbaine de Dunkerque, in fact, has chosen SAFRA's next-generation HYCITY bus, a 12-meter, 3-door vehicle. These 10 HYCITY vehicles will be operational on the Dunkirk network in 2024. The contract is complemented by a 3-year full maintenance contract for the vehicles, followed by a shared maintenance contract that allows for a gradual and supported transfer of technical expertise.
Communauté Urbaine Dunkerque Grand Littoral has chosen Safra's hydrogen
On July 3, the operator announced an order for 10 HYCITY buses for its public transport network This network, operated by STDE (Société des transports de Dunkerque et extensions), part of the TRANSDEV group, includes 162 buses, 98 of which are BIOGNV-powered and 3 electric. Making public transport more attractive is the challenge facing the Communauté Urbaine de Dunkerque, which has chosen to make its public transport network completely free from 2018 and to make it more visible through its colorful buses.
The Communauté Urbaine de Dunkerque is actively working to transform its fleet of vehicles into a zero-emission one. The Dunkirk territory is banking on the development of the hydrogen sector to decarbonize its industrial port area, whose strategy is based on producing a very high volume of hydrogen to replace fossil fuels and reuse the residual CO2 captured. The hydrogen produced will also benefit heavy mobility, with 10 hydrogen-powered buses joining the city's public transport fleet.
"We are very proud to have won this new contract, which reinforces the company's strategic choice to move to Generation 2, with HYCITY®. Our teamwork has been rewarded with this announcement, and we look forward to seeing these 10 vehicles on the Dunkirk network next year," said Eric Baleviez, Safra Chief Commercial Officer, at the announcement of Dunkirk's decision.