Safra unveils its new hydrogen bus: ladies and gentlemen, here is the Hycity
Despite its physical absence in Safra's booth space at the European Mobility Expo in Paris, the novelty brought to EuMo by the French manufacturer carved out an important space in the three-day event dedicated to the transportation and mobility sector. That's right, because Safra officially unveiled its new fuel cell bus. Its name? Hycity. While […]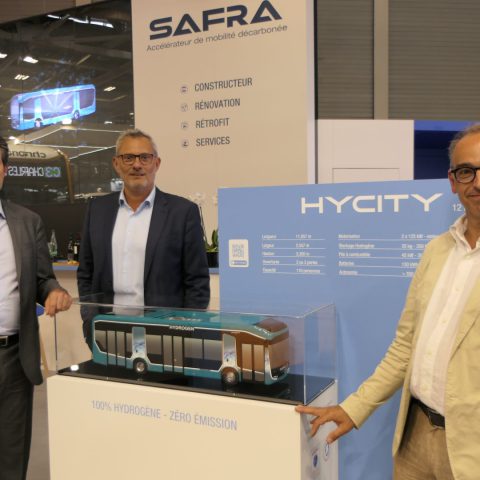 Despite its physical absence in Safra's booth space at the European Mobility Expo in Paris, the novelty brought to EuMo by the French manufacturer carved out an important space in the three-day event dedicated to the transportation and mobility sector.
That's right, because Safra officially unveiled its new fuel cell bus. Its name? Hycity. While waiting to touch it and photograph it live, the parent company displayed a miniature model and, on the sidelines of the presentation press conference, told us a little more.
In fact, as President Vincent Lemaire and General Manager Stèphane Prin explained to us, the Hycity will replace the Businova line, which, in their words, «ill go out of production in the short term, within a few weeks». The two, therefore, pointed out how the hydrogen vehicle, currently available in the 12-meter length – in the three-door version with a completely flat floor – lends itself to Class I as well as Class II mission profiles.
And that's not all, in addition to confirming the company's willingness to move away from hybrid powertrains, Lemaire and Prin outlined the vehicle's range of action in H2: «Certainly the market we want to initially go and conquer is the French one, but we don't set limits, or rather boundaries: we want to take market slices in Germany, Italy, Spain and Portugal as well».
Giving some numbers, the range claimed by the manufacturer is 350 km, while it takes just 15 minutes to quickly recharge the batteries, supplied by Microvast. More than 100 passengers, on the other hand, the maximum capacity. High-quality components: the fuel cells are by Symbio, by Thermo King the ventilation and by ZF the axles.