TMB rolls out the first hydrogen bus in Spain
TMB has put into service, for the first time in Spain, a fuel cell bus on a public transport network. On Thursday 7 April, users of line X1 will be able to travel with this innovative zero-emission vehicle, produced by CaetanoBus, which is loaded at Iberdrola's green hydrogen plant. Tomorrow Transports Metropolitans de Barcelona (TMB) […]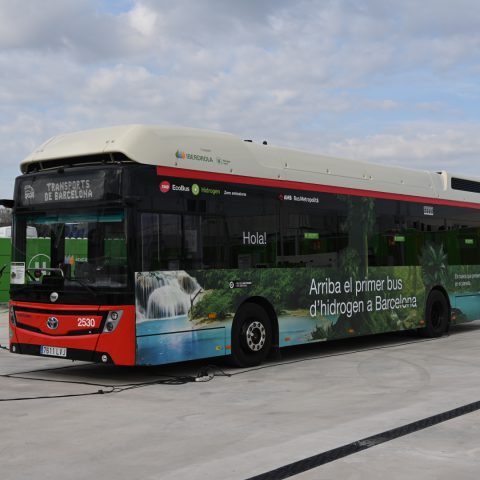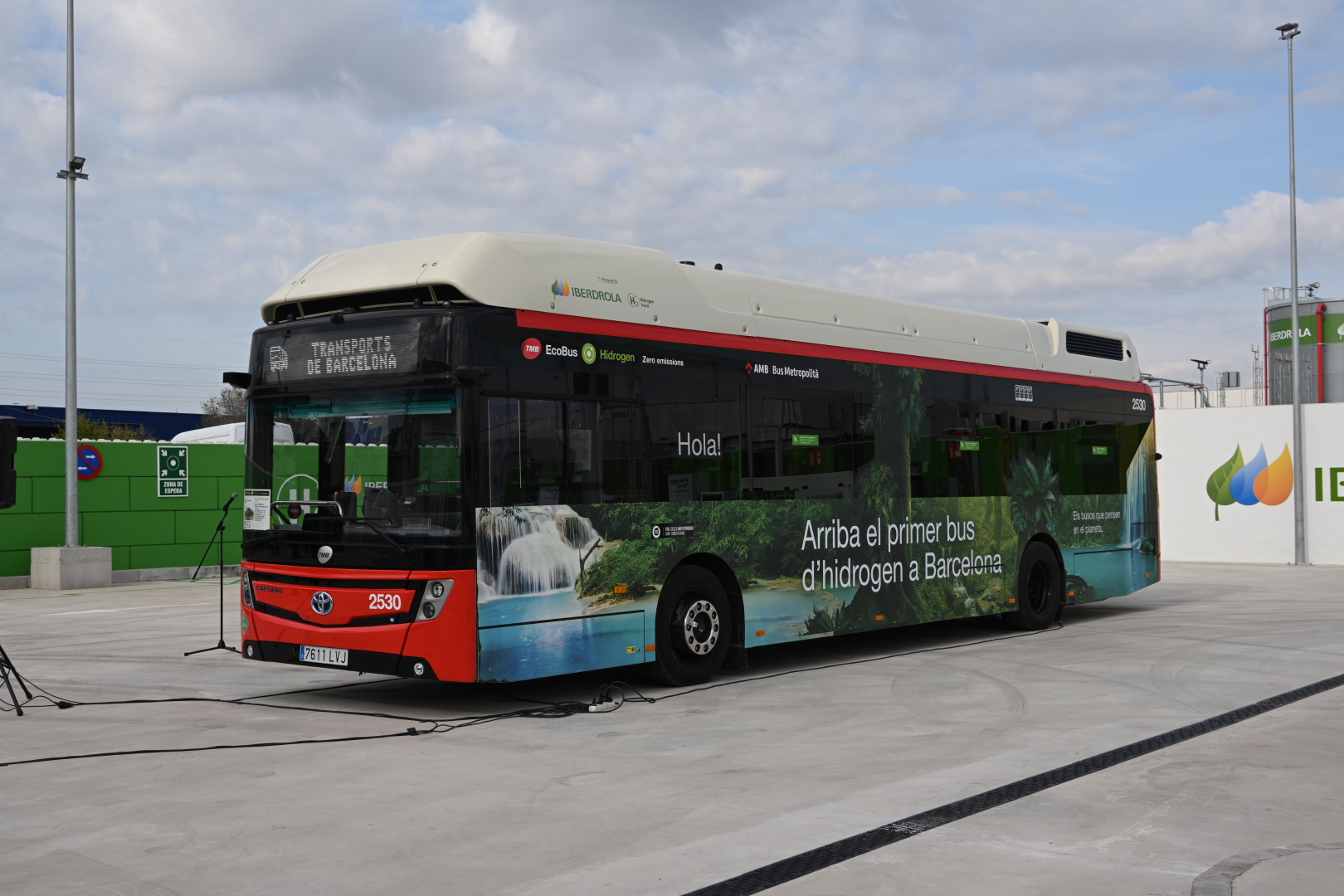 TMB has put into service, for the first time in Spain, a fuel cell bus on a public transport network.
On Thursday 7 April, users of line X1 will be able to travel with this innovative zero-emission vehicle, produced by CaetanoBus, which is loaded at Iberdrola's green hydrogen plant.
Tomorrow Transports Metropolitans de Barcelona (TMB) will put Barcelona's first hydrogen bus into service on line X1, the semi-direct XPRESBus service that connects the city centre with the intermodal hubs of Francesc Macià and Glòries.
This is the first time that this type of renewable energy vector has been generated in Spain for commercial use and with fleet capacity, making TMB and Iberdrola pioneers in the decarbonisation of heavy urban mobility. Eight vehicles are going to be put into service.
Caetano hydrogen buses delivered
The vehicle delivered by Caetano, the H2 City Gold, arrived last December (and was purchased within JIVE 2 European programme) and has been undergoing a period of testing without passengers, which is now coming to an end. This bus, which emits only water vapour, will be supplied with green hydrogen (about 20 kilos per day) from the supply plant located in the Zona Franca industrial estate, near the depot where it will be based, promoted by TMB and owned by Iberdrola, which has been supported with a grant from the Connecting Europe Facilities for Transport programme of the European Executive Agency for Climate, Infrastructure and Environment (CINEA).
The new zero-emission hydrogen bus manufactured by CaetanoBus for TMB is a standard bus, 12 metres long, with a lightweight aluminium body with three doors. It features Toyota fuel cell, rated at 60 kW, and five type 4 hydrogen tanks with a total capacity of 37.5 kg H2 storage.
The Siemens traction motor delivers a maximum output of 180 kW and the ELFA 2 voltage inverter, also from Siemens, manages all the engine power. The hydrogen system is complemented by the LTO-type lithium-ion technology traction batteries with a total capacity of 44 kWh, where the energy generated by the fuel cell and the regenerative braking system is stored.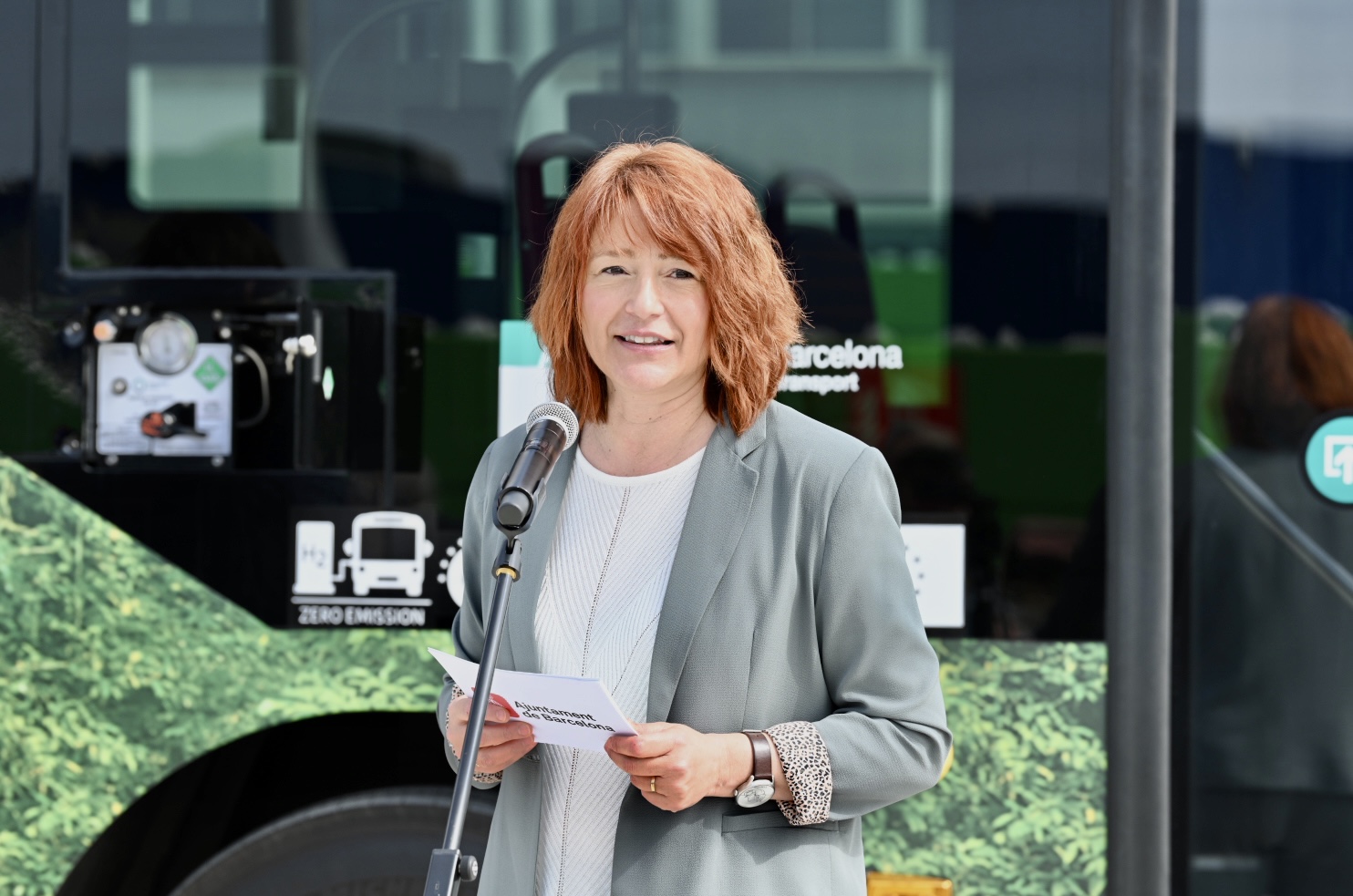 Laia Bonet on TMB's 2025 Strategic Plan
TMB President Laia Bonet said that this is "an important step in the fight against climate change that we are taking in Barcelona and at TMB" and recalled that "we are moving towards a fleet of sustainable vehicles" as set out in TMB's 2025 Strategic Plan, which calls for the incorporation of 508 clean energy buses, of which 233 will be electric and 46 hydrogen buses.
Iberdrola's Global Director of Green Hydrogen, Millán García-Tola, stressed that "Iberdrola welcomes TMB's determined drive to decarbonise urban transport with the incorporation of battery-electric and now hydrogen buses, we share their vision of progress towards a renewable-powered electrified world".