TMB Barcelona launches a tender for 8 fuel cell buses
TMB will welcome in its fleet 8 fuel cell buses, and a filling station will be built thanks to a cooperation between the public transport company and the Zona Franca Consortium. The tender for the vehicles is currently underway. Zona Franca Consortium (CZFB) and Transports Metropolitans de Barcelona (TMB) have reached an agreement to develop […]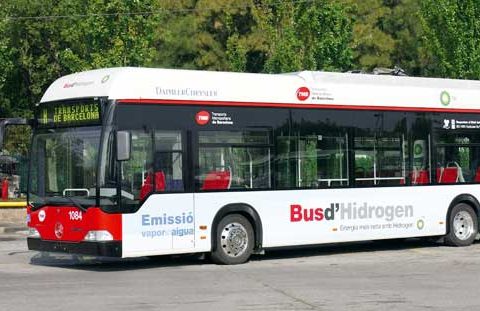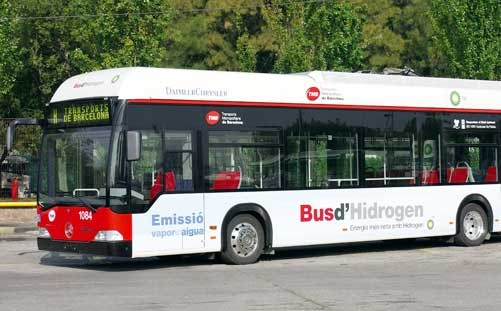 TMB will welcome in its fleet 8 fuel cell buses, and a filling station will be built thanks to a cooperation between the public transport company and the Zona Franca Consortium. The tender for the vehicles is currently underway.
Zona Franca Consortium (CZFB) and Transports Metropolitans de Barcelona (TMB) have reached an agreement to develop a hydrogen testing station, to be built by TMB through a tender. And eight 12-meter fuel cell buses will land in the city in November 2021 and are expected to start service at the beginning of 2022.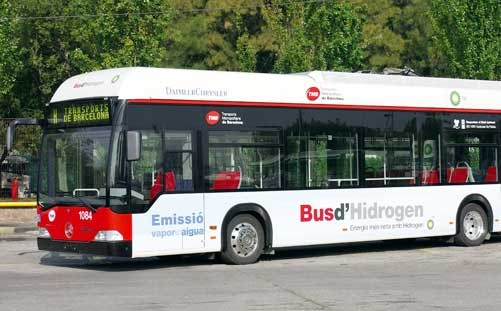 Hydrogen charging station in Barcelona. With CZFB
Through an agreement signed recently by the special State Delegate of the CZFB, Pere Navarro, and the president of TMB,  Rosa Alarcón, it has been agreed to allocate 5,000 square metres, located at number 45-47 of Carrer D. This is where a hydrogen production, storage and charging plant will be built, to be used by TMB buses with this technology. It will also potentially be used by other fleets and general industries of the estate, along with individual vehicles which use this alternative energy solution.
At present, there is no filling stations addressed at commercial vehicles in Spain. Hence there are no vehicles using this technology. Many countries in Europe have identified the potential of this energy storing system and are working intensely on its deployment.
TMB will look for a supplier, through an open call for tender, to install a hydrogen supply station. The main goal of this infrastructure will be to supply TMB buses.
TMB Barcelona, a tender for fuel cell buses
At the same time, TMB has launched a tender to purchase its first hydrogen buses after the experiment of the CUTE project in 2003-2005. Eight 12-meter fuel cell buses will land in Barcelona in November 2021 and are expected to start service at the beginning of 2022. The vehicles will be assigned to the Zona Franca Operational Business Centre. They will be supplied with hydrogen from the charging plant, created through the agreement signed today, with an estimated consumption of 160 kilos per day.
The acquisition of the 8 hydrogen vehicles requires an investment of 6.5 million euros, and is backed by the European JIVE 2 programme, for the promotion of fuel cell vehicles and zero emission, co-financed by the European Union. The project is developed with the collaboration of the Autoritat del Transport Metropolità de Barcelona (ATM).
Fuel cell buses for TMB, a strategic option
The commitment to hydrogen forms part of the strategic option of TMB towards modernization and greening of its bus fleet, always under the criteria of green purchasing and progressive electrification, the company points out. Last February, a supply of 23 articulated electric vehicles was secured. Between end of 2018 and beginning of 2019 the public transport company rolled out three articulated electric buses from Solaris and four units of ie tram supplied by Irizar. Investment will continue in successive years (115 millions are estimated in the years 2019-2021), for the purchase of electric and hybrid buses, plus the corresponding charging infrastructure.
TMB, bus fleet electrification is underway
TMB's aim is to replace all pure diesel buses by 2024, except minibuses, for which the industry does not have competitive electric alternatives so far, the operator points out. In fact, TMB Barcelona had issued a tender for 16 electric minibus in 2019. Anyhow, the tender failed «due to the lack of bids able to meet the requirements of range and performances», TMB highlights. Therefore, the new tender is for diesel Euro VI vehicles.
The TMB bus fleet started environmental reconversion between 2011 and 2014. This means that today the service is not provided with vehicles of an environmental category under Euro III. To achieve this, 70 diesel buses and 13 CNG buses were converted into hybrids. Furthermore, 425 diesel buses were equipped with SCRT filters, which retain nitrogen oxides and fine particles.