TPER Bologna has published a tender for 127 fuel cell buses (with option for further 140)
The tender for the purchase of 127 fuel cell buses in Bologna and Ferrara area (with option for further 140 vehicles) has been published in the Official Journal of the European Union. Municipal operator TPER, in agreement with the Municipality and Metropolitan City of Bologna, aims to achieve zero emissions in the urban area of […]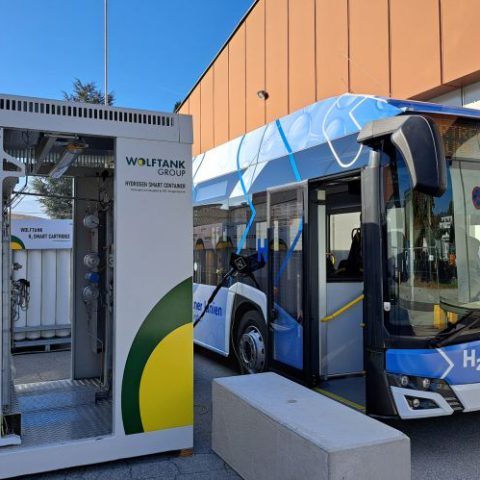 The tender for the purchase of 127 fuel cell buses in Bologna and Ferrara area (with option for further 140 vehicles) has been published in the Official Journal of the European Union. Municipal operator TPER, in agreement with the Municipality and Metropolitan City of Bologna, aims to achieve zero emissions in the urban area of Bologna by 2030, twenty years ahead of the target set by the European Union for 2050.
The plans for the tender was announced in December 2022. In view of this deployment of hydrogen vehicles, the German group Wolftank has been selected by TPER as operational-industrial partner for TPH2. The consortium will be in charge of creating an integrated hydrogen fueling systems for buses.
TPER Bologna issues tender for 127 fuel cell buses
In line with the decarbonization target, the fleet will also include locally produced biomethane-powered vehicles, a fossil-free and renewable fuel.
The supply of fuel cell buses for TPER Bologna will take place in stages, with 34 buses for Bologna and 3 for Ferrara to be delivered by 2024, and the remaining buses by June 2026.
The call for tenders is for 127 twelve-meter hydrogen buses, with an option for another 140 vehicles, to be put into service in Bologna and Ferrara by 2026. The tender also includes the supply of spare parts for the entire lifecycle of the vehicles.
Next Generation EU funds for fuel cell buses in Bologna
The purchase of the buses is funded by resources from Next Generation EU, with a base price of €76.2 million for the 127 buses. Additional sources of funding, such as the National Strategic Plan for Sustainable Mobility, may be used for the optional vehicles, TPER says.
However, there is a concern about the significant increase in inflation and the general rise in supply prices for projects financed with European funds. Institutional discussions are ongoing regarding the possible adjustment of public funds allocated for the purchase of vehicles. In the absence of national coverage, TPER plans to co-finance any extra costs with its own resources.