Uk-Australia hydrogen pact: Volgren will test Wrightbus fuel cell powertrains
A British and an Australian manufacturer to develop the hydrogen supply chain: Wrightbus has partnered with Volgren to supply hydrogen fuel cell propulsion technology for two test buses. In the intentions of the parent company across the English Channel, Volgren represents a great opportunity to open doors in a huge market like Australia, given the […]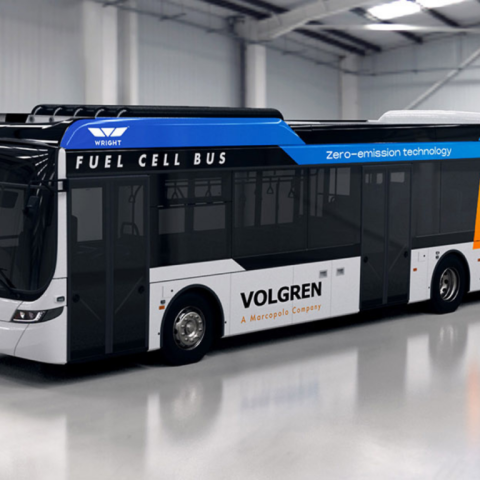 A British and an Australian manufacturer to develop the hydrogen supply chain: Wrightbus has partnered with Volgren to supply hydrogen fuel cell propulsion technology for two test buses.
In the intentions of the parent company across the English Channel, Volgren represents a great opportunity to open doors in a huge market like Australia, given the Ocenia country's intentions to replace tens of thousands of buses with zero-emission vehicles over the next decade.
The new fuel cell buses will be powered by Wrightbus NexGen hydrogen fuel cell powertrains, which will be built at the Wrightbus plant in Ballymena, Northern Ireland. They will use the same technology that powers the zero-emission StreetDeck Hydroliner double-decker and GB Kite Hydroliner single-decker buses. The Wrightbus-Volgren buses are expected to be ready for Australian trials in early 2023.
Volgren to trial Wrightbus hydrogen powertrains
«As the UK's leading bus manufacturer with world-leading products, we're incredibly proud to be partnering with Australia's number one bus body builder in Volgren. This is the first time we've exported our powertrain technology to a bus body manufacturer, the first time we've entered the Australian market as a business, and the hydrogen buses will be the first of their kind to be built in Australia so this is a significant deal for everyone involved. We know from our extensive experience the significant part hydrogen can play in the decarbonisation of public transport and we believe the scope for uptake across the Australian market is huge as the country makes the vital switch to zero-emission vehicles», said Buta Atwal, Wrightbus CEO. Who, in the end, added: «We believe that hydrogen has an important place in Australia and Wrightbus is one of the most important global players in hydrogen buses. We are confident the partnership will help speed up the deployment of hydrogen buses in Australia. Wrightbus builds bodies for their products in the UK and Europe. In fact, they use similar body technology to Volgren, namely bolted extruded aluminium profiles. This shared expertise and understanding is one of the many aspects of the partnership that we think will make it a success».