100 Yutong fuel cell buses headed to Beijing
100 Yutong hydrogen buses are bound to Beijing's public transport operation. 30 fuel cell bus units have been delivered on December 2021. On the same day, the "Batch Delivery and Strategic Cooperation Signing Ceremony for Yutong Group · State Power Investment Corporation Fuel Cell Products" was held in Zhengzhou, Henan Province, where Yutong is based. […]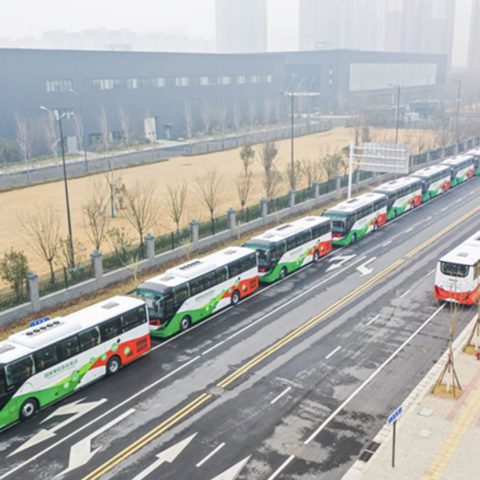 100 Yutong hydrogen buses are bound to Beijing's public transport operation. 30 fuel cell bus units have been delivered on December 2021. On the same day, the "Batch Delivery and Strategic Cooperation Signing Ceremony for Yutong Group · State Power Investment Corporation Fuel Cell Products" was held in Zhengzhou, Henan Province, where Yutong is based.
Yutong has been developing fuel cell buses since 2009, has now completed the development of the third generation of fuel cell buses and is developing the fourth generation of fuel cell city buses. Up to now, Yutong says its fuel cell buses have accumulated more than 27.3 million kilometers in operation.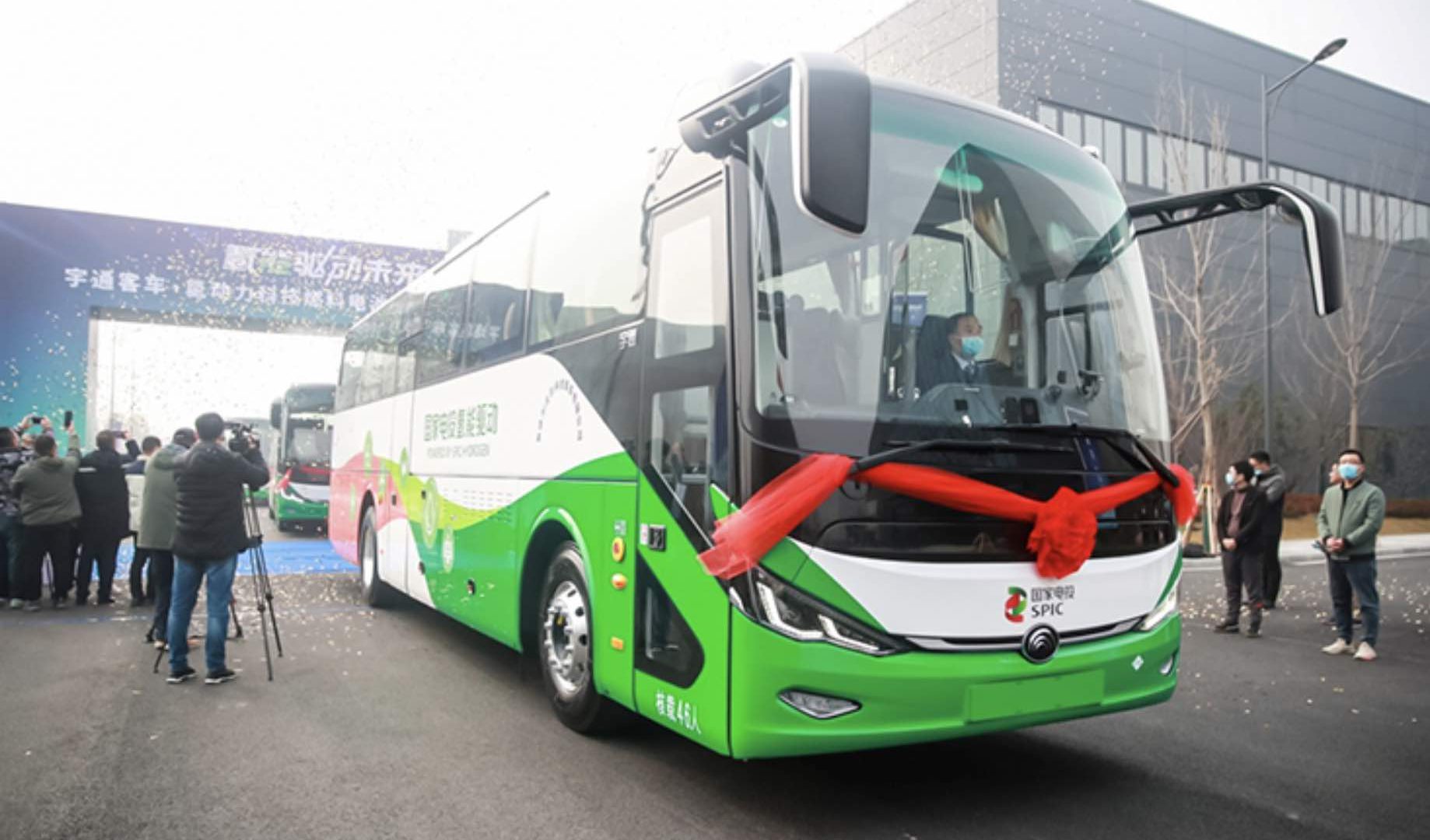 100 fuel cell buses for Beijing
The fuel cell buses on delivery in Beijing are all 11-meter high floor with 46 seats. The vehicles are equipped with airbags, luxury seats, ultra-low temperature heat pump heating and cooling A/C thus are comfortable to ride, Yutong says.
According to Zhang Yinguang, Deputy Secretary of the Party Committee and General Manager of State Power Investment Corporation Hydrogen Energy Co., Ltd., "The hydrogen buses delivered this time are the first achievement of cooperation with Yutong, and the large-scale application demonstration of 100 buses will be realized later in Beijing."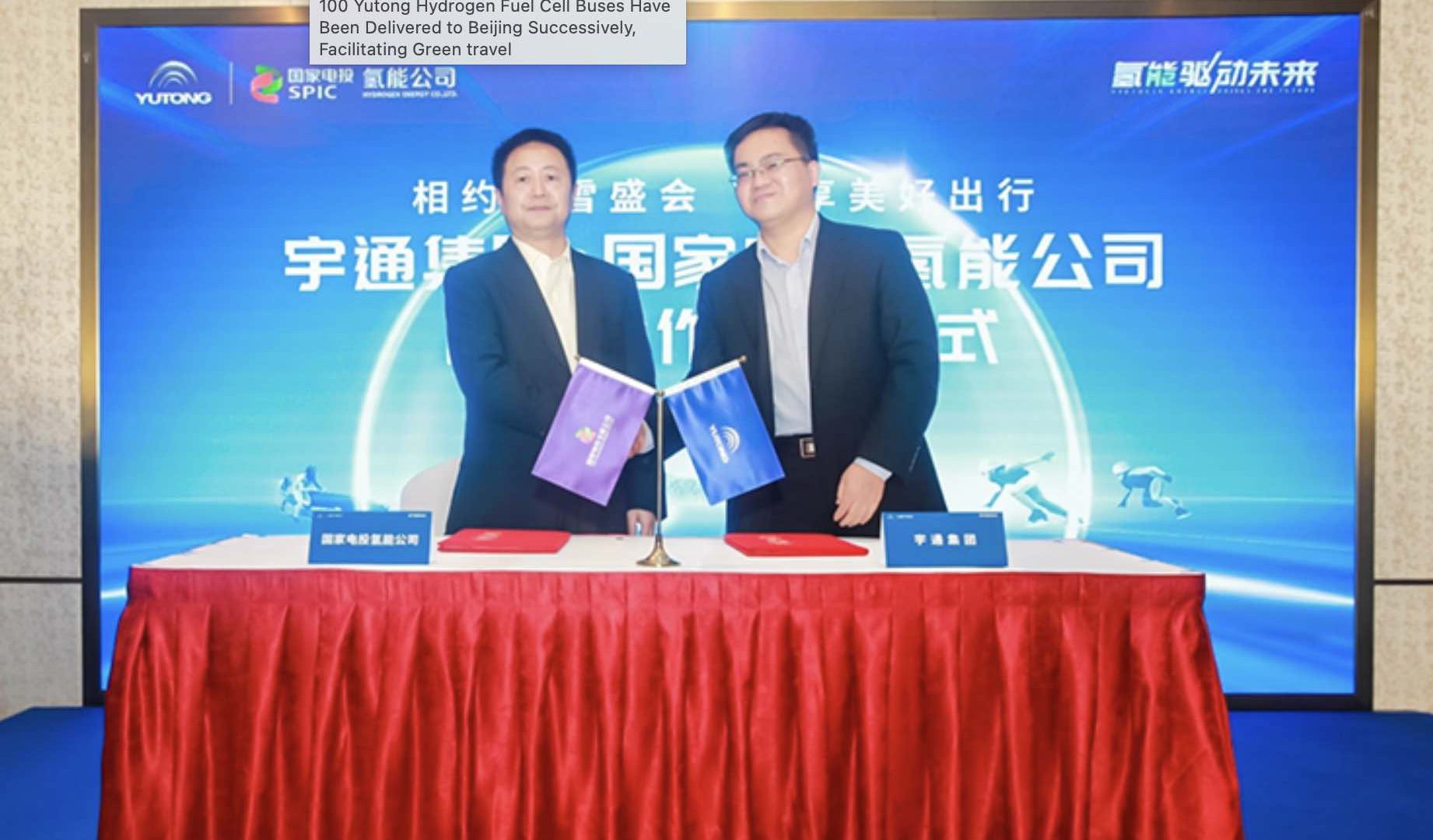 On the day of the delivery, these vehicles were filled with hydrogen in Zhengzhou, and then were driven to Yanqing, Beijing across 800 kilometers. In the future, these vehicles are expected to be promoted as shuttle and tourism buses in Beijing and even Beijing-Tianjin-Hebei and other regions, Yutong adds.
At the event site, Yutong Group and State Power Investment Corporation Hydrogen Energy Co., Ltd. also signed a strategic cooperation agreement. The two parties will take this event as a starting point to further deepen cooperation in the transportation field, and give full play to Yutong's advantages in vehicle brand and product quality, as well as the advantages in aspects of hydrogen energy technology, hydrogen energy supply and application scenario development of State Power Investment Corporation Hydrogen Energy Co., Ltd., expanding the market to the whole country and jointly facilitating the transportation sector to achieve carbon neutrality and carbon peak.