Yutong: the Chinese leader on worldwide expansion (as electric buses gain ground)
Yutong aims at a worldwide expansion together with the increasing electric bus deployment outside China. Europe and Latin America are already in the spotlight, with batches of vehicles running in Scandinavia (mainly in Bergen, Norway) and France and a large e-bus fleet delivered by the Zhengzhou-based manufacturer in Santiago de Chile. In late November 2020 […]
Yutong aims at a worldwide expansion together with the increasing electric bus deployment outside China. Europe and Latin America are already in the spotlight, with batches of vehicles running in Scandinavia (mainly in Bergen, Norway) and France and a large e-bus fleet delivered by the Zhengzhou-based manufacturer in Santiago de Chile.
In late November 2020 the producer secured the widest order so far for battery electric buses in the world: 741 e-buses are set to be running in Qatar in late 2022 during the FIFA World Cup Qatar. The delivery was completed in early 2022.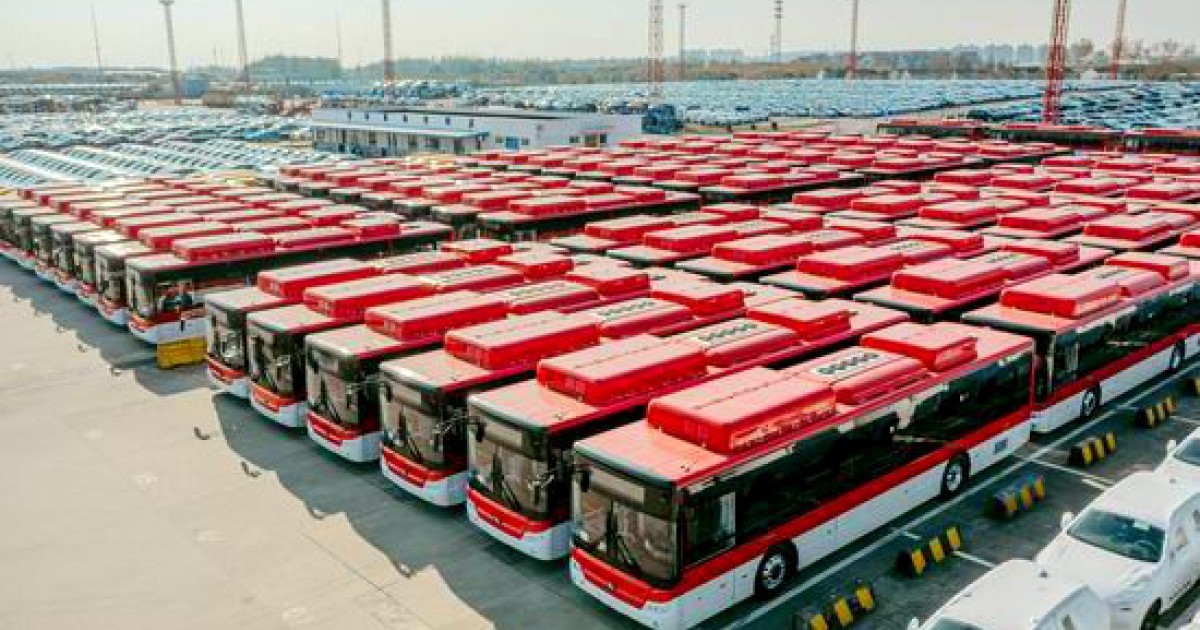 Yutong U12, addressed at Europe
Yutong strategy aimed at Europe has been clearly revealed at Busworld 2019 in Brussels, in October. Where the Chinese group showcased an electric bus specially dedicated to European market. Named Yutong U12, it's a 12 meter bus outcome of a intense work on the design. Anyhow, it should be added that no units of this model have been procured in Europe so far.
94 passengers can find a place on board of the Yutong U12. The bus is equipped with as many as 422 kWh battery. Axles are provided by ZF. With regards to of active safety systems, Yutong announced it has heavily invested in developing the "BusEYE Pro driving assistant system".
Still Europe is the targeted region of the coach Yutong T13. With regards to electric coaches, the manufacturer in late 2019 has delivered a Yutong ICE12 to the private operator Martini Bus in Venice. An electric coach by Yutong, the is among the finalists for the Sustainable Bus Award 2023.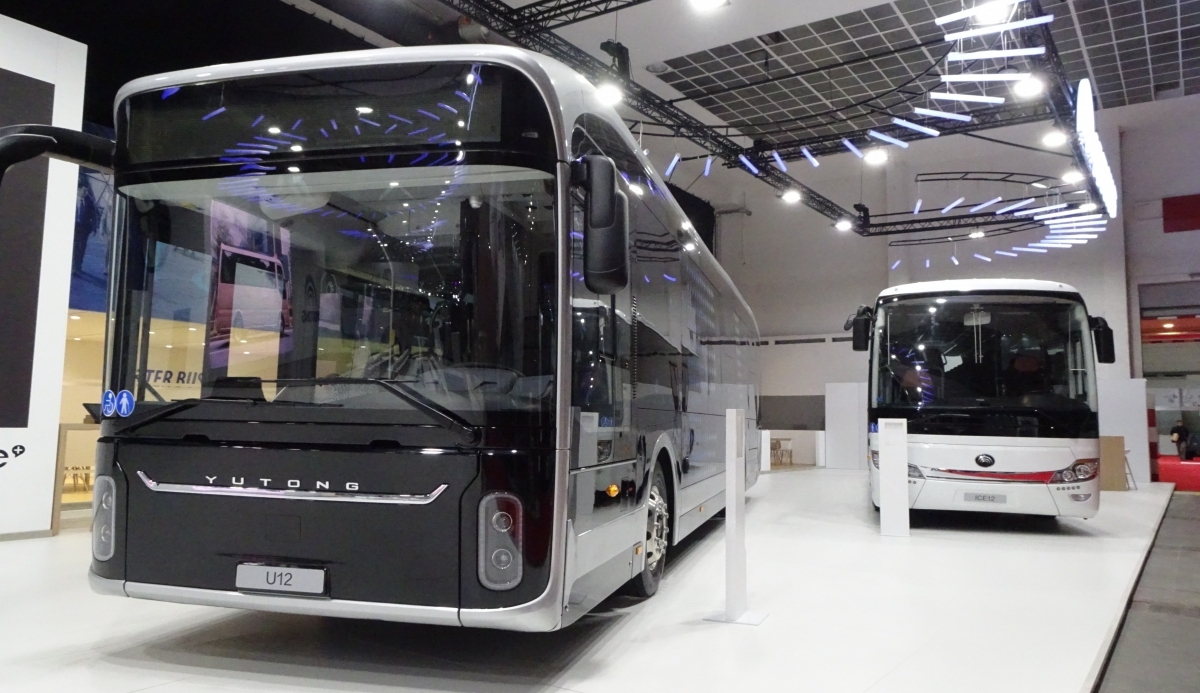 Yutong, an exclusive dealer for Baltic markets
And in Europe, with an eye to the Baltic markets (Lithuanian, Latvia, Estonia) and Poland, Yutong is represented since early 2020 by an exclusive dealer named BUSNEX. BUSNEX is part of AviaAM Leasing group, an holding company mainly active in the aviation field.
Over 90,000 new energy buses sold (as of 2018)
But let's make a quick step back. In September 2018, Yutong unveiled that in the Chinese area of Macau the manufacturer has as many of 1,400 buses in operation on a total number of 2,700 buses and coaches. Since 2014, in fact, Yutong-branded buses have made up 70% of all the newly purchased buses in Macau, the company reported. The milestone has been achieved by the delivery of 20 electric buses. Being more specific, the 20 electric buses delivered in Macau include eighteen 11m coaches and two 10m city buses used for picking up tourists in Macau.
This leading position was announced together with an interesting figure concerning Yutong electric bus sales volumes: at that date (September 2018), the manufacturer had sold 90,000 new energy buses globally.
Yutong in Singapore and Chile
It was October 2018 when Yutong was included among the awarded manufacturers for a batch of 60 electric buses in Singapore. ST Engineering and BYD will each be providing 20 single deck electric buses valued at 17 and 15 million dollars, respectively. Yutong-NARI Consortium will deliver ten single-floor and ten double decker electric buses for a total of 18 million dollars. First buses started operations in spring 2020.
Still in 2018, a large contract was awarded to Yutong in Latin America. The Chinese manufacturer, in fact, delivered in Santiago de Chile as many as 100 electric buses E12. The same amount of vehicles already ordered to BYD. Having sent more than 20,000 vehicles to Latin America over the previous 15 years, Yutong had become with this contract the largest Chinese bus supplier on the continent, the company stated in a press release.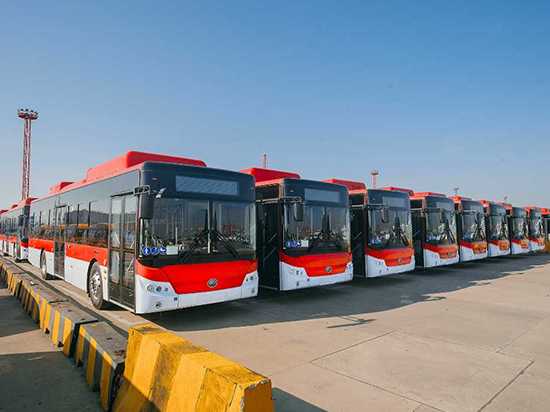 Franco Miniero, Yutong: Europe is our target
«In 2018 Yutong produced 62,000 buses, 24,800 of which are electric vehicles. In addition to the bus sector, our group realizes also special vehicles (garbage trucks) and is involved in the sectors of real estates and finance. Only in China we have two plants. In particular, the one in Zhengzhou covers an area of 2.4 million square meters and produces as many as 400 buses a day. For instance, in one week we could cover the needs of Italian market for a whole year…».
This is Yutong's ID card as explained to Sustainable Bus by the Italian Franco Miniero, Managing Director for the European and North American markets and responsible for the strategic development of Yutong for markets outside China. An interview, held in spring 2019, where Miniero disclosed the scenarios for the Chinese group in Europe.
A new interview dated November 2020 shows that the brand is betting strongly on Nordic countries, with a focus on a direct presence on the European markets. And the road is paved for the commercialization of the U12 in parallel with the E12.
Yutong ready for Bergen (Norway)
In December 2019 Keolis Norge has signed an order for 88 electric buses Yutong E12 and thus set a new record as Norway's largest battery-electric bus order. The vehicles, to be produced by Yutong Eurobus Scandinavian, will be delivered in 2020.
The contract for public transport in Bergen urban area has been awarded to Keolis in June 2019 by PTA Skyss. In the requirements it is specified that 75% of the bus operation in the concession must be converted to electricity. Following this commitment, Keolis has ordered 88 fully electric buses manufactured by the Chinese group.
The model, named Yutong E12, is a 12-meter electric bus with 34 seats and 422 kWh battery capacity. The pilot bus will be ready for technical inspection in January, then the production of the whole order will start.
The vehicles were deployed in December 2020 in the framework of a carbon-free public transport fleet. And also 14 units of the 15-meter e-bus from Yutong are set to come.
Roskilde to switch to zero emission buses. With Yutong
The same model is in operation in Roskilde (Denmark), which has plans to be the first municipality in Denmark to switch to full electric public transport. Of course the small size of the city (50,000 residents, 20 buses in operation on 9 routes) makes it easier to achieve the goal… but the step is anyway important. The buses have been supplied by the Chinese group. On each bus there is room for almost 400kWh of electricity.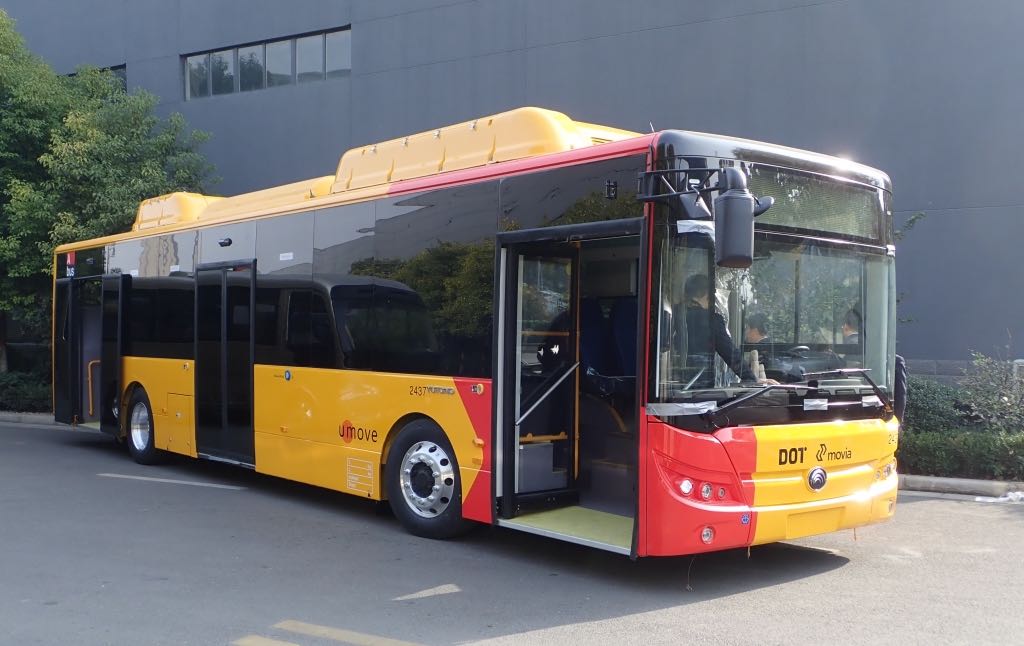 The debut in Scotland
Yutong is ready to make its first step in Scotland with McGill. The private bus and coach operator thus has finalized in March 2020 the first zero emission bus order with Yutong in Scotland. The pilot order follows a trial held last year on route 38 into Glasgow city centre.
The bus was sold to McGill through Pelican Bus & Coach, which is the UK and Ireland importer and distributor. McGill is the main Scottish private bus operator with nearly 1,000 employees, four depots, over 400 buses and a network of around 110 routes.
Yutong year 2019, 58,000 buses sold
58,688 buses sold and a market share of 37.1 % on the Chinese market, that saw a decrease of 11 % in 2019. On March 30 2020, Yutong Bus disclosed its 2019 annual report. The results have been reported by the Chinese bus air conditioning supplier Cling, whose products are mounted on Yutong electric buses.
The domestic market share of Yutong has been 37.1% in 2019, increased by 2.6 percentage points compared to 2018.
April 2020, 100 e-buses in Guandong…
In April 2020 Yutong delivered no less than 100 electric buses to Shunde Automobile Transport Group, in the Chinese province of Guangdong. Shunde AT has a total of 1,362 buses, of which 1,022 are new energy vehicles, including 151 plug-in hybrid buses and 51 hydrogen fuel cell buses. It means that the carrier has no less than 820 battery-electric buses in operation. Shunde AT has established the cooperation with Yutong since 2003, and so far, Yutong buses accounts for 30% of the company's total, the manufacturer highlights.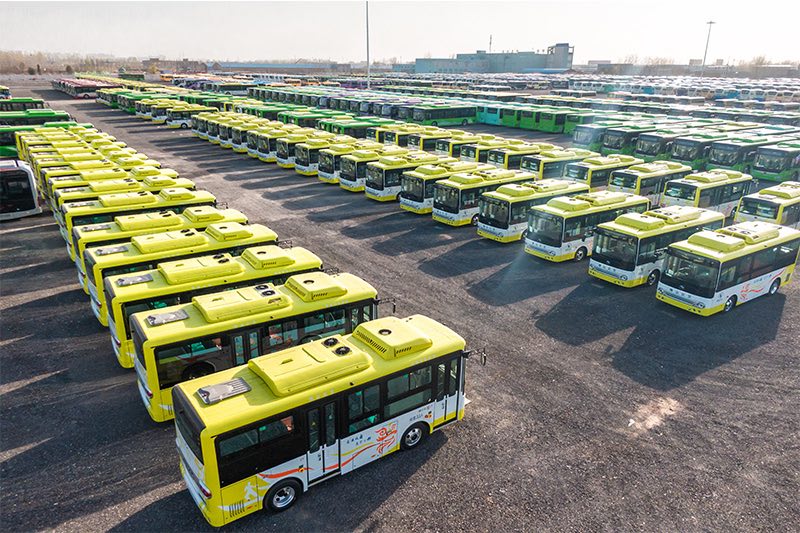 …and further 100 e-buses in Kazakhstan
Anyhow, in the same month of April 2020, the Chinese manufacturer also completed the delivery of one hundred e-buses in Kazakhstan, where the capital city Nur-Sultan announced it will upgrade the bus fleet purchasing zero emission vehicles. The vehicles are jointly developed by the Chinese manufacturer and Kazakh manufacturer and distributor Saryarka AvtoProm.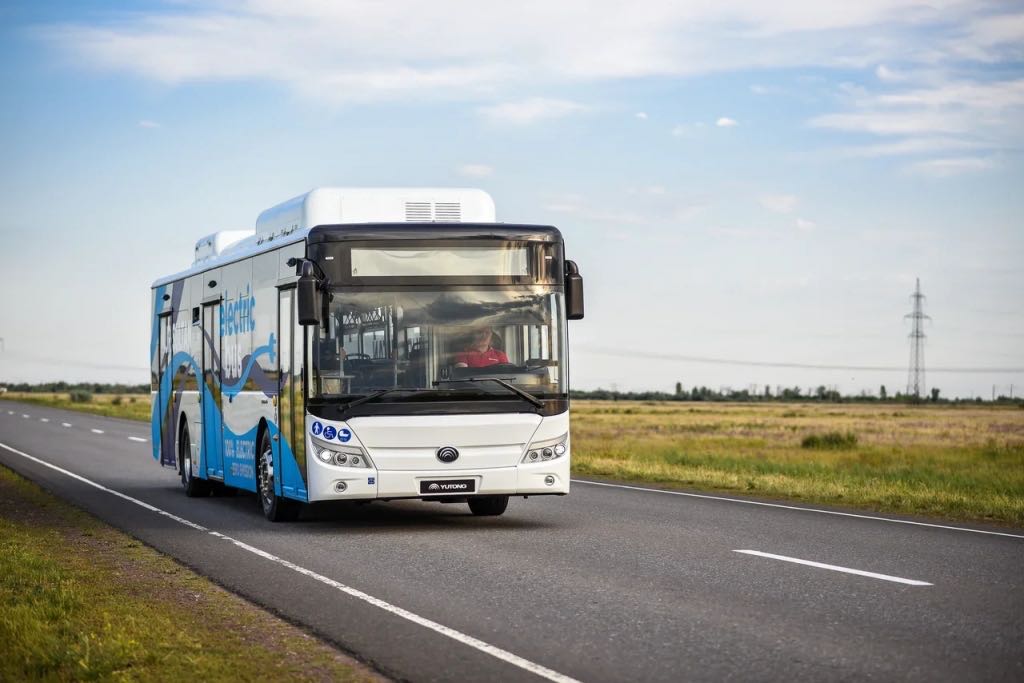 Trolleybuses in Mexico City
But Yutong is active also in the trolleybus market. In fact, the Chinese group delivered during the second half of 2019 40 Yutong battery-powered trolleybus units in Mexico City. The vehicles began operations in late 2019. The contract awarded by STE to Yutong include as many as 63 trolleybuses. Their main feature is the battery on board, that according to In Motion Technology scheme, allows zero emission operation even in the areas not covered with wire line.
Followingly, in July 2020, Yutong announced that a major batch of 130 battery-powered trolleybuses was on its way to Mexico City. The new trolleybus fleet is divided into 80 12-meter vehicles and 50 18-meter ones. «This order is the largest batch of double source trolleybuses in the world in recent years, and also the first batch of 18-meter double source trolleybuses exported overseas in China bus industry», Yutong claims.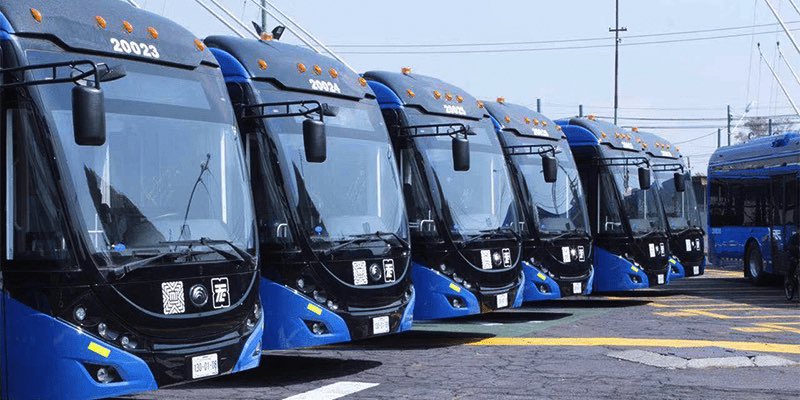 Yutong and the largest single order of e-buses ever
Yutong announced on 30th November 2020 that it has received a record order for as many as 1,002 buses (yes, you read it correctly). 741 of them will be electric, making it the largest order of EV buses ever. The contract comes from Mowasalat, the Qatar public transport company, that will provide commuting services for the FIFA World Cup Qatar 2022.
Yutong Bus signed a framework agreement with Qatar Free Zones Authority (QFZA) and Mowasalat to establish a KD factory in Qatar. Qatar 2022 will be the first World Cup event to adopt the largest number of electric buses with zero emissions, Yutong points out.
Yutong takes stock of 2021
With around 42,000 buses sold In 2021, Yutong Bus achieved growth against the global trend. What is significant, the Chinese group exported 4,911 large and medium buses. Up to now, Yutong states it has exported accumulatively over 80,000 buses of various types, covering six major regions including Europe, America, Asia-Pacific, CIS, Middle East, and Africa etc.
In June 2021, Yutong's autonomous bus Xiaoyu 2.0 won the 2021 Red Dot Award, becoming the world's first autonomous bus to win the World Industrial Design Award. Following Xiaoyu, Yutong won the "2021 Red Dot Brand and Communication Design Award" for its outstanding performance in the "Internet of Vehicles Digital Fleet Management System", becoming the first domestic bus digital solution company to win this honor.