Kempower enters North American market
EV charging technology provider Kempower has launched its Kempower C- and S-Series product range to the North American market. The Finnish company will first operate in North America through its global and local partners. Kempower has recently signed a deal with Scania, thus becoming an official supplier of DC fast charging equipment to Scania and […]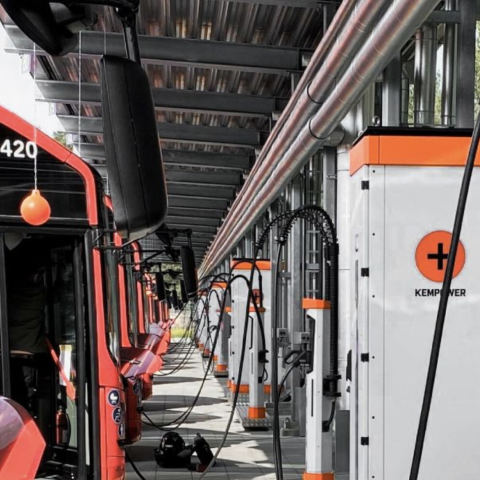 EV charging technology provider Kempower has launched its Kempower C- and S-Series product range to the North American market. The Finnish company will first operate in North America through its global and local partners.
Kempower has recently signed a deal with Scania, thus becoming an official supplier of DC fast charging equipment to Scania and its affiliates worldwide. The agreement enables Scania to provide both its own network and its customers with Kempower's DC fast charging technology and solutions, the partners explain. The supplier has also been chosen to deliver electric bus fleet fast charging solutions to Keolis in Gothenburg, Sweden. The delivery will cover approximately 70 fast chargers, including Kempower S-Series and C-Series fast charging systems.

Kempower in North America
North America needs to urgently expand its network of fast-charging EV stations to help reduce emissions from the transportation sector in the fight against climate change. The U.S. currently has approximately 43,000 public EV charging stations and around 120,000 charging ports, though the vast majority of these are AC charging devices (Level 2) rather than DC chargers (Level 3), which offer rapid charging. Nevertheless, expansion plans are already in motion, with Electrify America planning to double its number of fast-charging stations in the U.S. and Canada by the end of 2025.
North American market on the way to electrification
Kempower in North America will initially offer its Kempower C- and S-Series Level 3 fast charging solutions to the U.S. and Canadian markets following confirmation of certification according to Underwriters Laboratories (UL) and Canadian Standards Association (CSA) standards from Intertek Group' ETL Mark. The company's chargers will help meet the growing demand for fast charging capabilities in sectors including electric passenger cars, commercial vehicles, and mobile work machinery, Kempower says. The product offering will expand later with the Kempower T-Series movable fast charger.
Commenting on Kempower's North American market launch, Tomi Ristimäki, the company's CEO, said: "We're very excited to expand into North America. The region's market is growing and internationalizing rapidly, which requires us to move quickly to meet customer demand. According to market research, the U.S. will soon be the world's fastest-growing EV market. This trend is supported by the country's new clean technology policies, including the infrastructure bill that President Biden signed into law in late 2021, which included US$7.5 billion in funding for EV charging."