Master Transportation Bus Manufacturing: the strategies of the leading Taiwanese e-bus OEM
Master Transportation Bus Manufacturing, based in Taiwan, is the leading bus producer in the country. We run into the company at the exhibition 2035 E-Mobility Taiwan, held in mid-April in Taipei. In this interview, Lucky Yu, Planning & Marketing Dept. Manager at Master Transportation, shares his insights into the company's journey in manufacturing electric buses, […]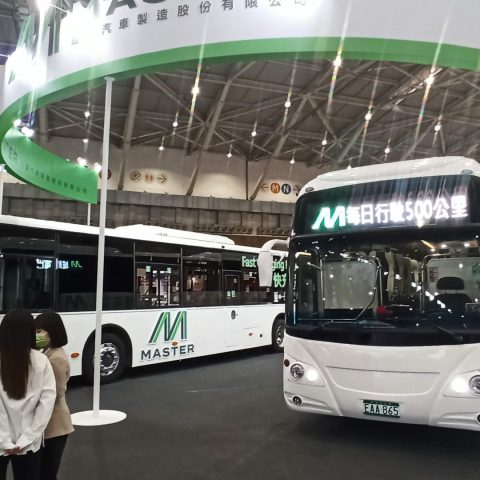 Master Transportation Bus Manufacturing, based in Taiwan, is the leading bus producer in the country. We run into the company at the exhibition 2035 E-Mobility Taiwan, held in mid-April in Taipei.
In this interview, Lucky Yu, Planning & Marketing Dept. Manager at Master Transportation, shares his insights into the company's journey in manufacturing electric buses, the battery technology used in their buses, and the impact of the pandemic on the supply chain. He also discusses the company's plans for the future and the role they aim to play in shaping sustainable transportation.
Master Bus Transportation, e-bus leader in Taiwan
Can you tell us about Master Bus Transportation and your experience in bus manufacturing?
"Master Bus is a bus manufacturer based in Taiwan. We have almost 20 years of experience in bus manufacturing, and within the group, we are not only a bus OEM but also one of the biggest long-distance bus operator in Taiwan, with over 70 years of experience. We also have our own after-sales and parts supply companies, as well as a power supply account. We want our clients to know that we don't just sell buses; we provide a total solution for e-transportation".
How did you begin manufacturing electric buses?
"At the beginning, we designed and manufactured our own diesel buses, but then we began to develop our own technology for electric buses. As mentioned, we have both operators and manufacturers within our group, which allows us to design our buses while keeping in mind the needs of the operators. We then produced our first intercity electric bus, here unveiled at 2035 E-Mobility Taiwan".
Can you tell us about the battery technology you use in your electric buses?
"The most important feature for us is the battery material we use, and we believe that safety is crucial since we are a public transportation company. We use LTO cells from Japan, which are the safest batteries in the industry. The chemistry of this material is also more stable than other battery materials, which means that the battery has a very long lifespan. Within the bus life cycle of 10 to 12 years, we don't need to change the battery. After that, we can use the battery again for energy storage, combined with renewable energy sources like solar panels. Our charging strategy is also different from other electric buses, as we only need 10 to 15 minutes to recharge the bus, which takes place during the 20-30 minute rest period of the driver. This strategy is safer and more efficient."
Battery, safety comes first
Do you use the same technology for your city buses?
"Yes, we use the same system for all our buses, including the fast charging system and LTO batteries. After years of research, we found that we must use a safe technology, as we can't take any risks with the battery. Therefore, we use LTO cells battery from Japan, which is manufactured by Toshiba. Modules are manufactured in house"
How has the supply chain been affected by the pandemic?
"We are suffering from longer delivery times for components than usual. However, we have sold 250 units of electric buses, which will be running in six different cities in Taiwan by the end of this year. Our current capacity is around 1,000 units, but we are under construction for a new factory that is 200,000 square meters with an annual capacity of 10,000 units, which will be ready by next year. Our suppliers for components like semiconductors and microchips are based in Taiwan"