AWAKE Mobility secures €4M financing to push AI-based monitoring of bus fleets
German tech start-up AWAKE Mobility has secured around €4 million in funding after concluding a seed financing round led by B&C Innovation Investments GmbH (BCII), which is part of Austria's B&C Group. That money will be invested in the improvement and development of the software (already operational) to monitoring the condition of bus fleets with the […]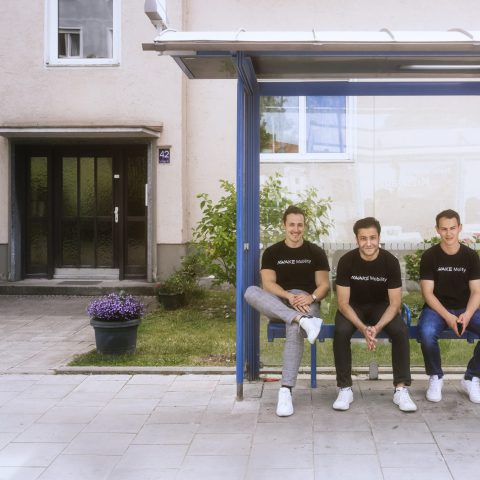 German tech start-up AWAKE Mobility has secured around €4 million in funding after concluding a seed financing round led by B&C Innovation Investments GmbH (BCII), which is part of Austria's B&C Group. That money will be invested in the improvement and development of the software (already operational) to monitoring the condition of bus fleets with the aid of AI.
Co-investors include High-Tech Gründerfonds (HTGF), SEK Ventures (the investment firm of Flixbus' founders), Joachim Drees (former CEO of MAN Truck & Bus), Carl-Peter Forster (former President/CEO of General Motors Europe, former CEO of Tata Motors, former member of the BMW Board of Management) and Synapse Partners from Silicon Valley.
This capital increase supports the further technical development of our hardware and software platform, and will thus help us to launch new services for our customers

Daniel Tyoschitz, Co-Founder and CEO at AWAKE Mobility
AWAKE Mobility secures financing for real-time bus monitoring
AWAKE Mobility has developed a hardware and software solution to facilitate the process of harnessing real-time vehicle data in order to make bus services more reliable. The technology, which has already been launched on the market, is able to remotely monitor the condition of buses at all times and can determine when it's time for a trip to the workshop.
AWAKE Mobility mainly has its sights set on public transport bus services. The live monitoring of the vehicles' condition provides insights that feed into forward-looking recommendations for mechanics to consider when working on and maintaining the buses, in turn helping to reduce vehicle downtimes, repair costs, fuel consumption and emissions.
The solutions devised by the Munich-based start-up, which was founded in 2020, also ensure that buses are more punctual, which increases customer satisfaction. This intelligent live monitoring technology is particularly important, not just for individual companies and AWAKE Mobility's customers, but also for the overall economy and especially the environment. Coach trips and public transport are tipped to see strong growth across Europe in the coming years, with rail transport also being expanded to meet climate goals.
Artificial intelligence for bus maintenance and passenger services
AWAKE Mobility's customer base already includes a number of well-known bus companies and fleets in three European countries, including Autobus Oberbayern and VAG Nürnberg. The company's technical platform, which can also be used with modern electric and hydrogen-powered buses, not only accesses the data available via the conventional vehicle diagnostics interfaces, but can also read the data from various CAN systems.
This data is transferred in real time and undergoes an automated evaluation process. The insights gained are then used to provide maintenance recommendations. Every link in the chain – workshop, control centre, driver, management – can detect at an early stage when a vehicle is in need of maintenance or when individual components are about to break, enabling action to be taken before any damage actually occurs (predictive maintenance), AWAKE Mobility points out.
This helps to largely avoid vehicle downtimes on bus lines as well as the additional costs associated with towing and arranging replacement vehicles, for example. In addition, bus drivers can use an app developed by AWAKE Mobility to provide information to the workshop when they become aware of any damage or problems.
AWAKE Mobility and predictive maintenance
Daniel Tyoschitz, Co-Founder and CEO at AWAKE Mobility, says: "This capital increase supports the further technical development of our hardware and software platform, and will thus help us to launch new services for our customers. We are of course also looking to rapidly accelerate the further expansion of our company. In B&C Group, we have an experienced partner at our side as we navigate this important phase of development and growth, and we'll benefit from their support in many different areas."
B&C Managing Director Thomas Zimpfer says: "For bus fleets and local public transport, we strongly believe that reliability, cost efficiency and eco-friendliness are highly relevant factors for Europe, both economically and structurally. Through our investment, we are looking to accelerate the digitalisation of the bus industry and local public transport services – a process that has only just begun. AWAKE Mobility's technology and its strong team of founders are set to be a key driver of this positive industry transformation."
"With its predictive maintenance solution, AWAKE Mobility helps ensure lower downtimes and greater reliability for bus fleets. We are delighted to help the team boost the appeal of local public transport for the long term," says Jens Baumgärtner, Principal at High-Tech Gründerfonds.