Via launches on-demand microtransit service in Ohio through NEORide consortium
Via has launched TARTA Flex on-demand public transit service in Toledo (Ohio, USA). The service has been launched with Toledo Area Regional Transit Authority (TARTA). What is interesting, Via stresses that "this is the first microtransit launch made possible through a transit agency's membership to NEORide, an consortium of 20+ transit agencies across 5 states funded partially by the […]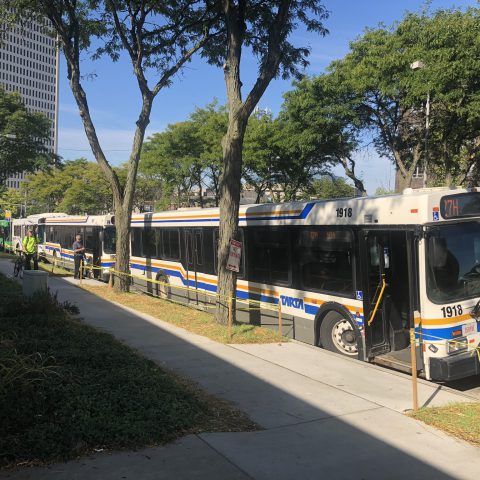 Via has launched TARTA Flex on-demand public transit service in Toledo (Ohio, USA). The service has been launched with Toledo Area Regional Transit Authority (TARTA). What is interesting, Via stresses that "this is the first microtransit launch made possible through a transit agency's membership to NEORide, an consortium of 20+ transit agencies across 5 states funded partially by the FTA and FHA, which essentially allows its members to launch and scale innovative mobility programs through an expedited contracting process".
Headquarters in New York, one hundred employees in Europe divided between the London, Paris and Berlin offices, one CEO Europe (Chris Snyder). Via Transportation is a tech company whose core business is helping to increase public transport efficiency through the use of data and on-demand transport management (more info in our interview with Anthea Greco, Head of Partnerships Southern Europe).
Microtransit model in Ohio, with Via and TARTA
TARTA Flex's microtransit model is set to expand access to convenient, equitable, and sustainable public transit in Lucas County and Rossford, OH, allowing anyone in the TARTA Flex service zones to order a pre-booked or on-demand shared ride through the TARTA Flex app. Special service for paratransit and senior riders will also be available through TARTA Flex.
Via's intelligent algorithms match multiple riders going in the same direction into one vehicle, providing more flexibility than traditional mass transit with fixed routes and schedules. TARTA Flex is designed to fill in "transit deserts" by providing coverage in areas where TARTA's 30 fixed-route lines do not reach.
With NEORide's partnership agreement with Via (effective as of November 2022), NEORide members can introduce Via's TransitTech solutions into their public transportation networks without undergoing a separate formalized request-for-proposal (RFP) process. They also benefit from NEORide's cooperative agreements, joint purchasing power, and strategic management offerings, Via highlights.
As a result of the new partnership with Via, NEORide's over 20 transit agency members (including those from Ohio, Kentucky, Michigan, West Virginia, and Arkansas) gain substantial support to deploy innovative public transportation options like TARTA Flex, including on-demand microtransit and paratransit services.
NEORide's new microtransit and paratransit launch offering with Via follows several other integrations to advance the implementation of innovative transit – including EZfare's consolidated ticketing platform, the largest multi-county, multi-state ticketing system in the country. In addition, NEORide will be utilizing the Via system in its next major project EZConnect for joint scheduling, dispatching and customer service.
TARTA, Via, NEORide
"Via and NEORide share a vision that technology is the key to catalyzing equitable transportation for communities of all sizes," said Laney Cloud, Central Regional Lead at Via. "Our partnership with NEORide will make it easier for transit agencies to discover Via's innovative and impactful software solutions, and we hope to see membership of this revolutionary organization continue to grow."
"NEORide is excited to bring this innovative technology powered by Via to its member agencies including both large urban and small rural transit agencies," said Katherine Conrad, Director for NEORide. "By building on the cooperative buying power of multiple transit agencies, transit customers across the region will benefit from stronger and more innovative public transit service."