UK, a single QR code to travel via bus and rail on First Bus and Great West Railway vehicles (thanks to a cooperation with Ticketer)
Bus and rail services together via a single QR code, thanks to a collaboration between First Bus, Great West Railway (GWR) and the ticket machine provider Ticketer. Passengers can now purchase a rail and PlusBus ticket for their complete journey with First Bus and GWR for travel to and around Weston-super-Mare – on just one […]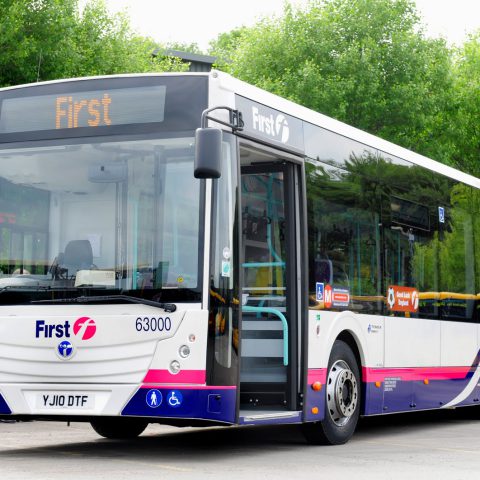 Bus and rail services together via a single QR code, thanks to a collaboration between First Bus, Great West Railway (GWR) and the ticket machine provider Ticketer. Passengers can now purchase a rail and PlusBus ticket for their complete journey with First Bus and GWR for travel to and around Weston-super-Mare – on just one electronic ticket.
The electronic rail and PlusBus ticket can be purchased from GWR onboard and at stations for issuing a ticket with a QR code, to the Rail Delivery Group standard, available through a smartphone. Passengers can scan and validate the QR code on the Ticketer Electronic Ticket Machines (ETMs) onboard all First West of England Badgerline services within Weston-super-Mare. 
Ticketer, First Bus, GWR
Issuing only one e-ticket for an entire integrated train and bus journey will further eliminate the stumbling block relating to the collection of tickets at the station. With no paper tickets involved, and with the ticket safely stored and accessible through a smartphone, passengers can travel seamlessly across bus and rail with no additional hassle.
Ticketer is the first provider to bring validation of QR codes for joint rail and PlusBus tickets to market, simplifying the on-bus boarding experience and making it much easier for passengers to travel intermodally.
Rob Pymm, Commercial Director at First West of England, says: "Taking the hassle out of multi-modal journeys is an important part of encouraging sustainable travel, so we're delighted that through our work with GWR and Ticketer we've been able to launch this new innovation in Weston-super-Mare. Being able to scan the integrated rail and PlusBus ticket on our buses will benefit our customers and drivers by making boarding faster and simpler, and we look forward to it being available across our services in other areas over the coming months."
Jason Mann, Head of Product at Ticketer, comments: "We are always keen to launch new and innovative solutions to our ticket machines. Automatically scanning and verifying PlusBus QR coded tickets will introduce ease and convenience for both operators and passengers, help deliver a more efficient service, and enable smarter planning and better data collection. Any of our operators who have QR scanners on their ticket machines can take advantage of our latest innovation."
Luke Farley, Transport Integration Manager at GWR, concludes: "It's fantastic to offer GWR customers, who also travel by bus before or after their rail journey, a digital, integrated train and PlusBus ticket in a single transaction. This first-of-a-kind innovation has been a multi-transport industry collaboration and we look forward to rolling this out further as customers embrace the benefits of public transport."