MobiBrasil has chosen Optibus to manage operations in San Paulo and Recife
Optibus conquering Brazil as well. Yes, because the Israeli company's in-house software has been chosen by the MobiBrasil Group for planning and scheduling in its Recife and São Paulo operations, where the greenoro operator carries 10.8 million passengers a month. MobiBrasil is also responsible for bringing the first Bus Rapid Transit (BRT) system to Recife, […]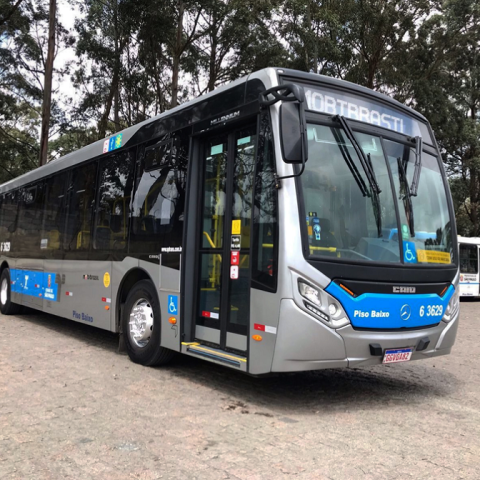 Optibus conquering Brazil as well. Yes, because the Israeli company's in-house software has been chosen by the MobiBrasil Group for planning and scheduling in its Recife and São Paulo operations, where the greenoro operator carries 10.8 million passengers a month.
MobiBrasil is also responsible for bringing the first Bus Rapid Transit (BRT) system to Recife, in the state of Pernambuco, the economic center of northeastern Brazil with 1.6 million inhabitants. The MobiBrasil Recife operation is one of the most influential in the region, with 4.4 million monthly passengers and 2,650 daily rides on BRT and traditional lines.
Across its operations, MobiBrasil has more than 5,000 employees responsible for planning, scheduling, and managing more than a thousand buses that carry more than a million passengers a day. That is about 30 million passengers per month.

Now MobiBrasil is optimizing these important transportation networks using Optibus' software platform. The technology partnership will contribute to innovation in Brazil's public transportation sector by introducing cloud computing, artificial intelligence and optimization algorithms into MobiBrasil's daily work processes.
«We are focused on adding more and more technology to our operation, with the aim of providing a positive mobility experience to our passengers, so that they can save time with comfort and safety. In this sense, we see that our mission goes hand in hand with Optibus' mission of using state-of-the-art technology to raise the quality of public transport services, which will also help our operation to provide highly reliable services with efficiency gains», says Manoel Marinho, executive director of MobiBrasil São Paulo.
«Optibus and MobiBrasil share the mission of bringing innovation, efficiency, and sustainability to public transportation, as well as offering excellent services to passengers. There is a great movement of change in urban mobility, such as the adoption of exclusive lanes for buses and also the electrification of bus fleets, and we are ready to provide all the necessary solutions for MobiBrasil to adapt to these developments», said André Vieira, Optibus' Regional Director for Brazil.