Florida, Tampa Bay's transit agencies implement contactless tickets relying on INIT technology
Transport companies in Tampa Bay (Florida) have implemented open payments, allowing passengers to easily pay their fares using various digital payment credentials, including credit and debit cards, digital wallet-enabled smart devices, as well as the Flamingo Fares card or mobile app. Hillsborough Area Regional Transit (HART), Hernando County (The Bus), and Pinellas Suncoast Transit Authority […]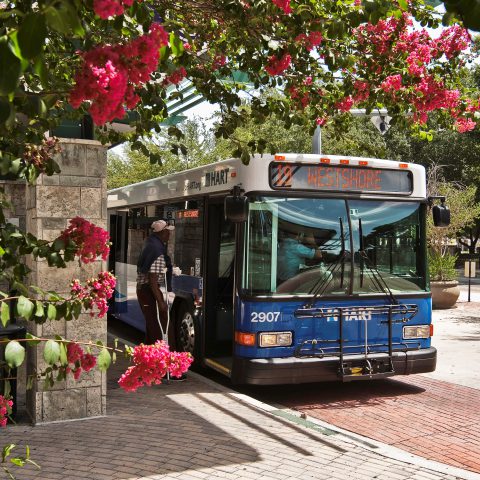 Transport companies in Tampa Bay (Florida) have implemented open payments, allowing passengers to easily pay their fares using various digital payment credentials, including credit and debit cards, digital wallet-enabled smart devices, as well as the Flamingo Fares card or mobile app.
Hillsborough Area Regional Transit (HART), Hernando County (The Bus), and Pinellas Suncoast Transit Authority (PSTA) have worked together to implement this system as part of the Flamingo Fares account-based fare system from German provider INIT. This system has made these transit agencies the first in Florida to introduce contactless payments using Visa's global urban mobility framework.
INIT and Visa for contactless tickets in Tampa Bay
The Tampa Bay project is just the beginning of the expansion of INIT's open payment system, the supplier says. Several other open payment projects, including those in Grand Rapids, Spokane, and Nashville, are set to be launched later in 2023. Other cities that have fare projects with INIT are currently finalizing their launch dates to take advantage of this innovative open payment platform.
Passengers no longer need to worry about carrying cash or purchasing a specific transit card or pass. Instead, they can use the digital payment credential they prefer, making public transit more accessible and convenient for everyone. The move to open payments is part of a larger trend in the transportation industry towards more innovative, user-friendly, and sustainable transportation solutions.
Contactless payments on Tampa Bay buses
"We are excited to offer our customers another way to pay their fare," said Adelee Le Grand, Chief Executive Officer, HART. "Contactless payments on Flamingo Fares not only provides our customers with greater ease of access, removing another barrier from riding transit, but also assists in speeding up the boarding process, improving travel times."
"We are excited to see INIT work with HART, The Bus, and PSTA to make paying for transit as easy as buying other everyday essentials," said Julie Scharff, Head of Contactless Payments, North America, Visa. "Contactless payments combined with fare capping means riders have access to the best possible fares, leading to an equitable and convenient transit experience."
"The adoption rate of open payment media in public transit has skyrocketed over the last few years, and that number will continue to rise as more and more people acclimate to using what's in their wallets to pay for travel," states Andy Singh, INIT COO.