ABB powers New Flyer electric buses in St. Louis (23 chargers installed for Metro Transit)
The St. Louis fleet in the USA will operate 18 New Flyer buses, seating approximately 60 people each, on the city's busiest routes and will be electrified by ABB's high-powered charging infrastructure. ABB claims its charging solution for St. Louis «represents the largest deployment of chargers in the U.S. for a transit authority». ABB will […]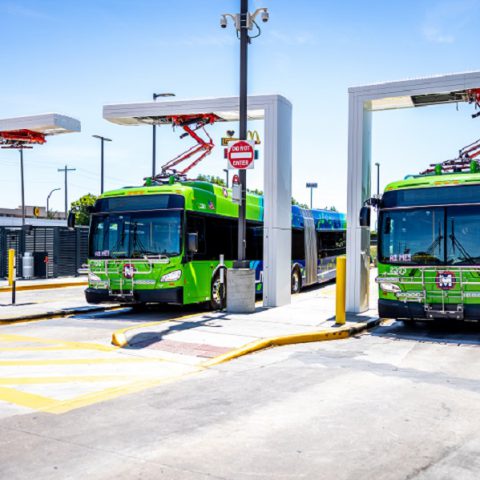 The St. Louis fleet in the USA will operate 18 New Flyer buses, seating approximately 60 people each, on the city's busiest routes and will be electrified by ABB's high-powered charging infrastructure.
ABB claims its charging solution for St. Louis «represents the largest deployment of chargers in the U.S. for a transit authority». ABB will provide 23 chargers e-bus Buy America-compliant chargers, with over 4,350 kW (4.35 MW) of charging capacity for this project. The system consists of 20 plug-in depot chargers with 150 kW of power and three additional pantograph chargers.
ABB powers New Flyer electric buses in St. Louis
This collaboration between Metro Transit, New Flyer and local, state, and federal governments are expected to save 100 to 160 tons of carbon-polluting emissions every year and up to $125,000 in maintenance savings and up to $400,000 in fuel savings over the 12-year lifespan, ABB points out in a press note.
"We are proud to have a role in this big shift to cleaner transportation for the city of St. Louis. The adoption of electric buses is where large cities can make a meaningful impact," says Bob Stojanovic, Senior Vice President of ABB E-mobility, North America "Our mission is to ensure that our EV charging solutions contribute to a zero-emission future. We are confident that the deployment of our intelligent technologies will reduce operational costs, inspire increasing electric bus adoption in a safe, smart and sustainable way," adds Stojanovic.