Alexander Dennis selects contract manufacturing partner for restarting DD production in North America
Alexander Dennis has appointed Big Rig Manufacturing as contract manufacturing partner for the production of Enviro500 double decker in North America. Big Rig Manufacturing is a subsidiary of Big Rig Collision Group, a leading provider of truck, bus and motorcoach accident repairs in Canada and the United States. Starting next year, it will assemble clean […]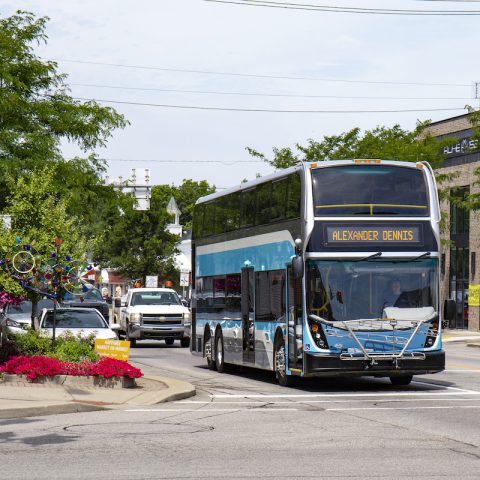 Alexander Dennis has appointed Big Rig Manufacturing as contract manufacturing partner for the production of Enviro500 double decker in North America.
Big Rig Manufacturing is a subsidiary of Big Rig Collision Group, a leading provider of truck, bus and motorcoach accident repairs in Canada and the United States. Starting next year, it will assemble clean diesel Enviro500 double deck buses and the zero-emission Enviro500EV CHARGE to Alexander Dennis designs, specifications, and processes at a new facility in Las Vegas, Nevada, the group announces.
Alexander Dennis – Big Rig Manufacturing
The new arrangement "replicates the highly successful partnerships Alexander Dennis has in the Asia-Pacific region with contract manufacturers in China and New Zealand. With US and Canadian bus and coach production facilities within NFI Group responding to the group's largest order book and backlog in history, cooperation with Big Rig Manufacturing allows Alexander Dennis to meet North American demand for its double deck range with Buy America-compliant arrangements", the manufacturer highlights.
Alexander Dennis engineering and production staff will be located permanently on site at the brand-new facility in Las Vegas, supporting chassis production, major sub-assembly and full production of the bus body.
Alexander Dennis closed its previous Enviro500 production facilities in Toronto, Ontario and Nappanee, Indiana when the COVID-19 pandemic delayed orders. The longer-term order book has remained buoyant with orders from new and existing customers in the pipeline.
Alexander Dennis restarts double-decker production in North America
Stephen Walsh, Vice-President and General Manager of Alexander Dennis in North America, said: "We're excited about this new opportunity with Big Rig Manufacturing which provides an elegant solution to restarting double deck production in North America. I'm pleased that we have been able to team up with a familiar partner for many of our current double deck customers who have previously selected Big Rig Collision Group to complete comprehensive mid-life overhauls on their buses. Their intimate knowledge of our bus construction and design processes will help Big Rig Manufacturing to ensure a smooth production of the Enviro500. The Enviro500's combination of high seating capacity on a compact road footprint is proven by its ongoing popularity and an active fleet of more than 1,000 Alexander Dennis double deckers across the continent. Many of our long-standing customers have older vehicles coming up for replacement and this production agreement allows us to support their fleet investment."
Kenton Schultz, President of Big Rig Manufacturing, said: "We are very proud to be working with such a historic and prominent leader in transit bus innovation as NFI Group and Alexander Dennis. Big Rig Manufacturing will provide a depth of experience and expertise to streamline this manufacturing process and lean on our long-established knowledge in the heavy-duty and large vehicle repair markets. Our long running partnerships with transit and public transportation service providers throughout Canada and the US in refurbishments, overhauls and collision repair via Big Rig Collision Group further strengthen this partnership and will fuel long-term growth. This next step in evolution is particularly exciting, as it will allow Big Rig Manufacturing to bring cutting-edge safety features and newly pioneered zero-emission technologies to life, supporting Alexander Dennis in fulfilling their surging customer demand."