An hydrogen bus headed to Vienna. Solaris Urbino 12 hydrogen ready for a pilot
57 units are already in the order book. And the European tour continues. After tests held in Polish, German and Italian cities, the hydrogen bus Solaris Urbino 12 hydrogen has now been presented in Vienna. Wiener Linien, one of the biggest public transport operators in Europe, has added the hydrogen Solaris bus today to its fleet where it is going to stay until 12 June. The first vehicles will make it to […]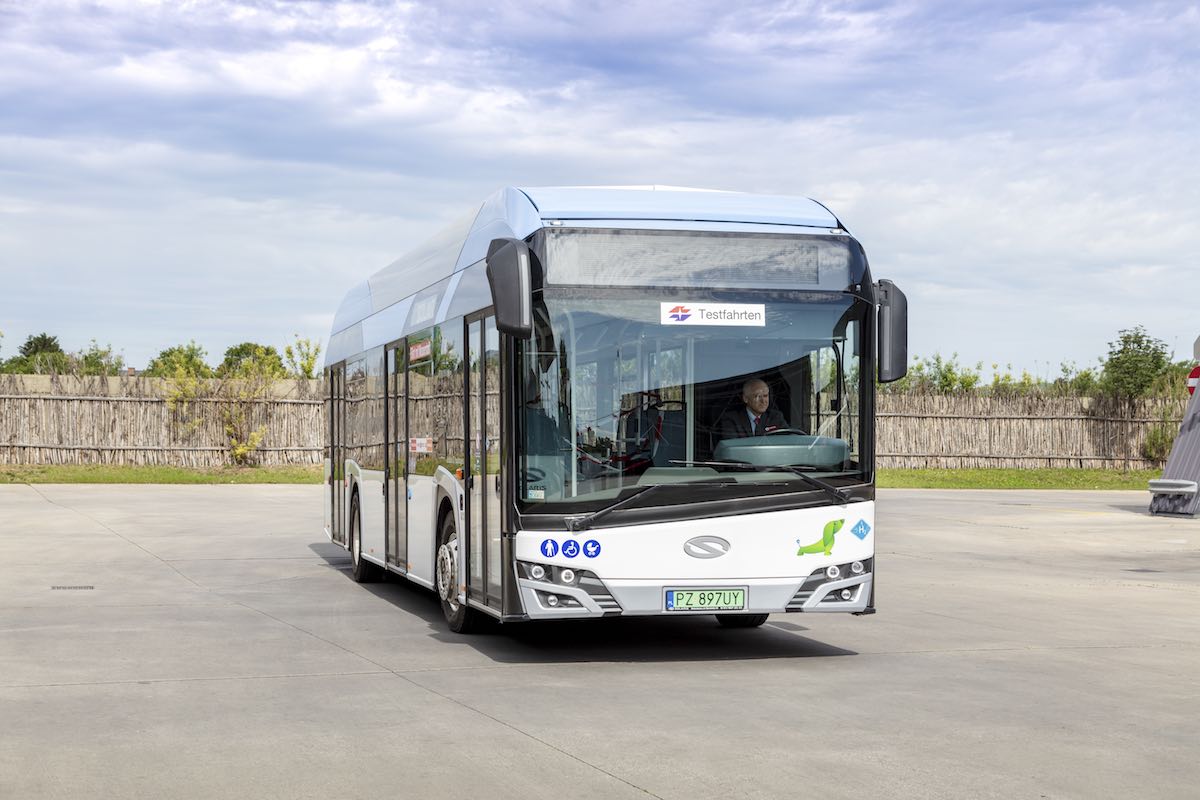 57 units are already in the order book. And the European tour continues. After tests held in Polish, German and Italian cities, the hydrogen bus Solaris Urbino 12 hydrogen has now been presented in Vienna. Wiener Linien, one of the biggest public transport operators in Europe, has added the hydrogen Solaris bus today to its fleet where it is going to stay until 12 June.
The first vehicles will make it to Bolzano, Cologne and Wuppertal by the end of this year. A batch of 25 hydrogen buses is bound to the two German cities. SASA Bolzano has been the first operator to secure an order with Solaris for the fuel cell buses, that was unveiled at UITP Summit in Stockholm in June 2019.
Last but not least, Connexxion (Transdev group) will put into service hydrogen buses in the Netherlands, which prides itself to be the most dynamic country in Europe with regards to energy transition in public transport sector. An agreement with Solaris has been secured for the delivery of 20 Urbino 12 hydrogen.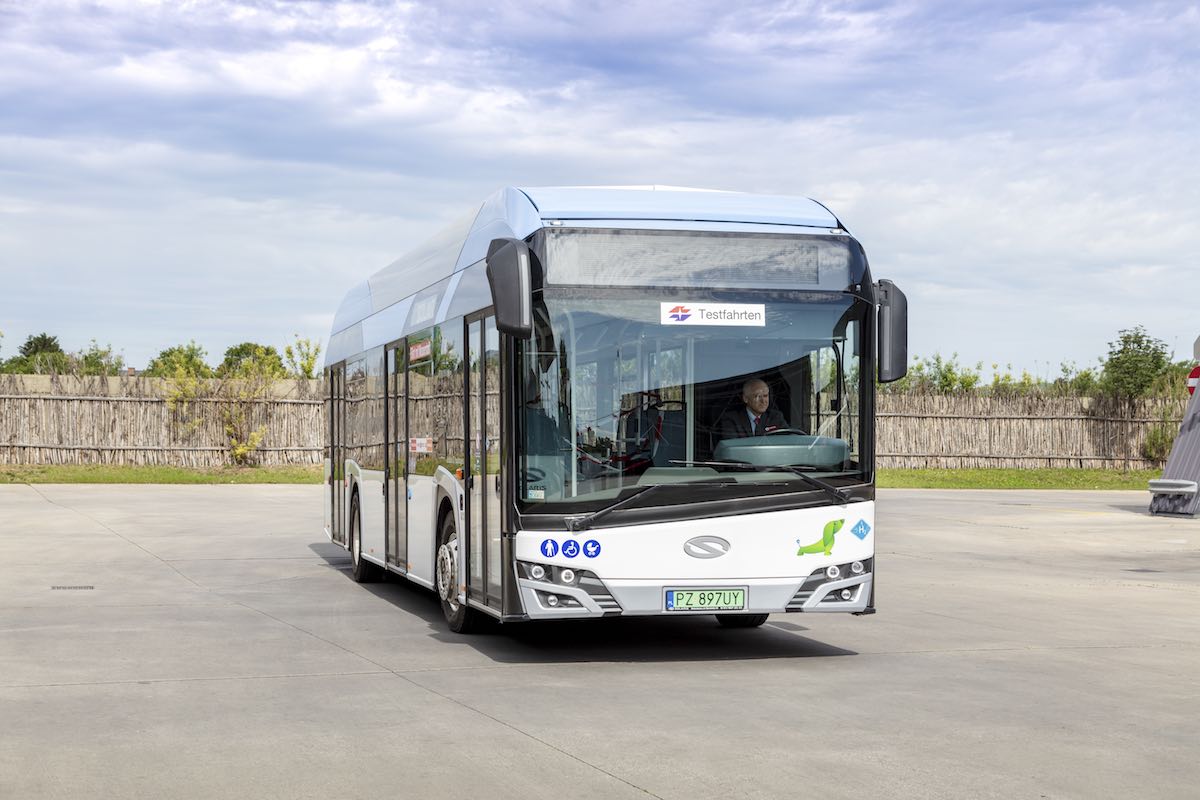 Solaris Urbino 12 hydrogen, a test in Vienna
The Solaris Urbino 12 hydrogen buses use a set of fuel cells, provided by Ballard Power Systems, with a power of 70 kW. The hydrogen is stored in gaseous form in five new-generation tanks mounted on the bus roof. The set of type 4 composite tanks (of the latest generation available on the market), placed longitudinally above the first axle of the vehicle, has a total volume of 1560 litres.
The energy needed to power the bus is produced in the fuel cell that is supplied with hydrogen stored in the roof-mounted tanks. That hydrogen is turned into electricity, which, in turn, is feeding directly the bus driveline which consists of an axle with electric engines. The bus is also fitted with a Solaris High Power battery acting as an additional electric power storage facility. The sole by-products generated during the operation of the Solaris Urbino 12 hydrogen are heat and steam. Consequently, the vehicles do not generate any noxious substances whatsoever.
Solaris has been present in Austria since 2003 and over that time it has delivered nearly 400 buses to 40 cities there. Every day 53 of these are cruising the streets of Vienna and its outskirts, including on special lines transporting passengers to the biggest Austrian airport.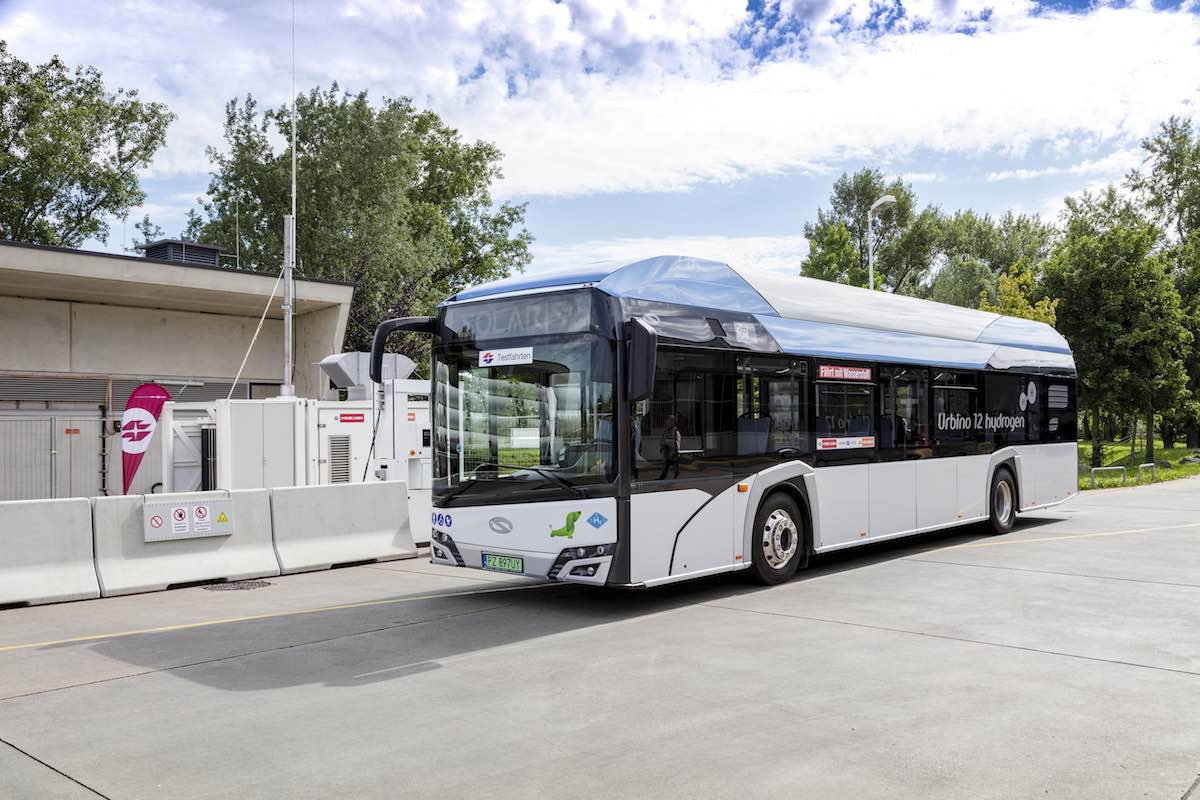 Wiener Linien, pioneer in electric bus deployment
"With the test drives of the hydrogen-powered bus Solaris Urbino 12 hydrogen the operator Wiener Linien has once again proven it leads the way towards an even more environment-friendly future of public transport. We are very pleased that, with Solaris, we have a Europe-wide renowned industry expert on board for this milestone that is hugely important to us all. Together we will promote further development of hydrogen buses as the requirements for vehicles in regular service in Vienna are tremendous", says Günter Steinbauer, the CEO of Wiener Linien.
"Vienna is a pioneer of e-mobility in public transport and one of the first European capitals to have introduced electric buses to regular service. Wiener Linien continuously invests in emission-free solutions. I am therefore extremely happy to present today our Solaris Urbino 12 hydrogen bus in Vienna", says Petros Spinaris, Vice-President of Solaris Bus & Coach S.A.