Anadolu Isuzu transformed the 8-meter full electric NovoCiti Volt into a driverless vehicle platform: tests passed
Autonomous driving? Anadolu Isuzu is on it, too. Yes, because the Turkish manufacturer transformed the 8-meter all-electric NovoCiti Volt into a driverless vehicle platform, successfully passing all tests. And so solutions developed with open-source technologies make the next-generation medium-sized buses produced by Anadolu Isuzu ready for fully autonomous driving. In the field of autonomous driving […]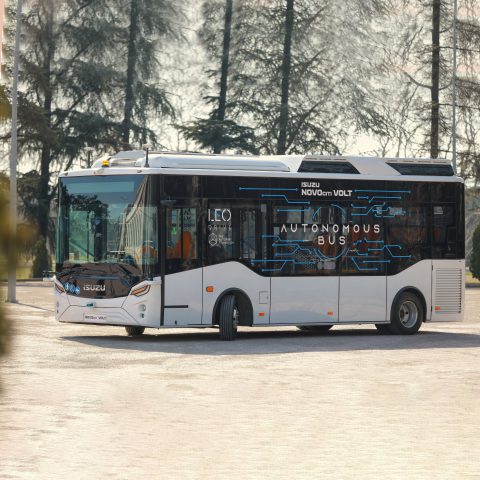 Autonomous driving? Anadolu Isuzu is on it, too. Yes, because the Turkish manufacturer transformed the 8-meter all-electric NovoCiti Volt into a driverless vehicle platform, successfully passing all tests.
And so solutions developed with open-source technologies make the next-generation medium-sized buses produced by Anadolu Isuzu ready for fully autonomous driving.
In the field of autonomous driving technologies, Anadolu Isuzu collaborates with Leo Drive, an initiative that develops scalable and reliable software, hardware, and algorithmic solutions specifically for autonomous driving technologies. The project is run in collaboration with the Autoware Foundation, a nonprofit organization that aims to provide autonomous driving technology for all and supports open source-based solutions.
Just as part of the collaboration with Leo Drive, Anadolu Isuzu transformed the NovoCiti Volt into a driverless vehicle platform: the test vehicle, equipped with numerous advanced technology LiDAR cameras, sensors, special processors and controllers, and connected driving systems, was tested in a wide range of scenarios, with and without passengers.
Considered a Level 3 autonomous vehicle, the NovoCiti Volt autonomous test vehicle demonstrated safe driving ability in obeying traffic signs and traffic lights under various traffic conditions, as well as in crossing pedestrians and moving or parked vehicles.
Anadolu Isuzu General Director Tuğrul Arıkan said: «We don't just follow the trends transforming the automotive industry, we actively participate in shaping them. Our strength stems from our more than 40 years of experience in the commercial vehicle field, our innovative and environmental character, and our superior research and development capabilities. As Anadolu Isuzu, we are an industry leader with our continuously developing portfolio of electric vehicles, as well as environmentally friendly biogas- and hydrogen-powered vehicles and our efforts in autonomous driving technologies. This project, which we have successfully implemented using the world's most advanced open-source technologies at autonomous driving level 3, is a very important component of our vision to produce innovative, sustainable, safe and comfortable vehicles. With our production infrastructure, technology and expertise, we are ready to meet the needs of our customers in both domestic and foreign markets».