Bravo: fuel cell buses for the future of Hong Kong public transport
Bravo, owner of Citybus and New World First Bus, is supporting Hong Kong's Carbon Neutrality Task Force in considering hydrogen solutions for the future decarbonization of the region's public transport. As an advocate of clean energy mobility solutions, Bravo was delighted to be invited to present to the Environmental Protection Department's Carbon Neutrality Task Force […]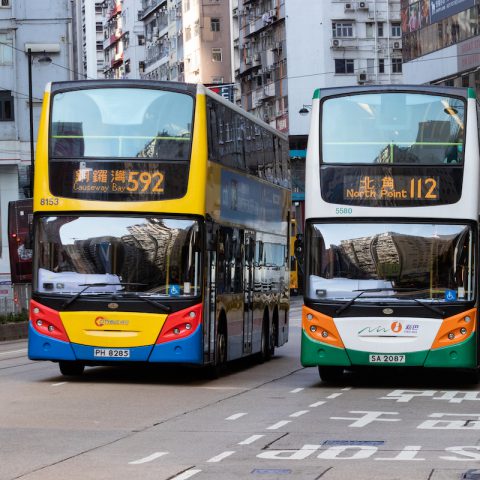 Bravo, owner of Citybus and New World First Bus, is supporting Hong Kong's Carbon Neutrality Task Force in considering hydrogen solutions for the future decarbonization of the region's public transport.
As an advocate of clean energy mobility solutions, Bravo was delighted to be invited to present to the Environmental Protection Department's Carbon Neutrality Task Force at their first formal workshop.
Bravo shareholder, Ascendal Group, shared their past experience of leading world-class fuel cell bus services in London from 2011, with co-shareholder, Hans Energy, presenting possible options for sourcing and distributing hydrogen within Hong Kong.
Given the operational challenges of Hong Kong's unique topography and demanding requirements for vehicle air-conditioning, we believe that hydrogen fuel cell technology could be a viable solution for the local operating environment.

Adam Leishman, Bravo CEO and Ascendal Group founder
Bravo, electric buses in Hong Kong
Bravo first launched electric bus services on Hong Kong Island in December 2015 operating on Routes 11, 12, 25A, 78 and 81. The company continues to invest in zero emission solutions, with three new electric charging stations being installed at Hong Kong Station Bus Terminus, Central Ferry Bus Terminus, and Kai Tak Cruise Terminal Bus Terminus before the end of the year. However, for long distance or high frequency services in Hong Kong, battery electric buses face many operational challenges given the local climate and topography, Bravo points out.
Therefore, Bravo says it «remains fully supportive of the Government's efforts to explore options around the potential for a hydrogen future and recognizes real advantages for hydrogen buses in Hong Kong». To support this objective, Bravo can leverage the international expertise of its operating partner and shareholder, Ascendal Group, whose leaders are now serving on Bravo's Executive Team. Off the back of this success, Transport for London has recently deployed double deck hydrogen buses across this network.
Bravo: there's room for hydrogen in Hong Kong
Bravo CEO and Ascendal Group founder, Adam Leishman, said: "We are very familiar with the operation of hydrogen fuel cell technology and its ability to serve as a like-for-like zero emission replacement of diesel-powered vehicles. Given the operational challenges of Hong Kong's unique topography and demanding requirements for vehicle air-conditioning, we believe that hydrogen fuel cell technology could be a viable solution for the local operating environment. We fully support the Government's initiative to thoroughly investigate hydrogen and other alternative clean energy propulsion systems as options for Hong Kong."
Bravo Deputy COO, Richard Hall, adds: "I led London's first fully-electric bus operation in 2014. Since then, the technology has steadily improved and continues to be tested in a wide variety of international operating environments. Battery-electric vehicles definitely play a huge role in decarbonising the transport sector; however, this is both market and area specific, and based on the stringent local operating conditions in Hong Kong, we believe that hydrogen presents a potential viable zero emission solution that should be explored fully."
Yang Dong, CEO and Executive Director of Hans Energy Co Limited – shareholder of Bravo – states: "We are delighted to have had the opportunity to be the first to present to the Government's Carbon Neutrality Task Force, identifying realistic solutions for developing a hydrogen future for Hong Kong. We are proud to be able to offer a full turnkey solution, from hydrogen supply to fuel cell operations and we are excited to help the Government on this journey towards decarbonization."