Australia, BusTech will provide 16 e-buses for Keolis Downer in Queensland
Australia: BusTech Group will manufacture 16 new electric buses for operation on Queensland roads, following the announcement of a strategic partnership with Keolis Downer, Australia's largest private provider of public transport. Earlier this year, BusTech Group announced that the production of ZDi electric buses will commence in NSW in 2021, providing the first facility in […]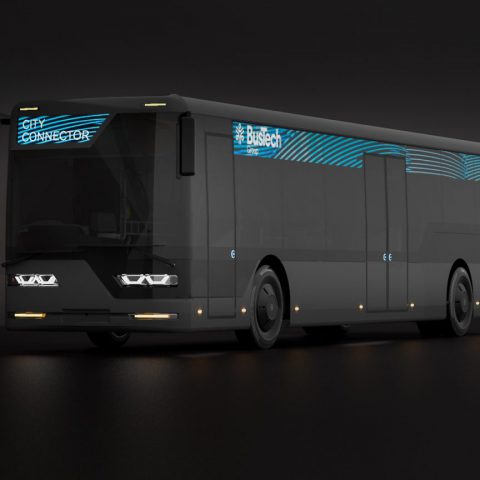 Australia: BusTech Group will manufacture 16 new electric buses for operation on Queensland roads, following the announcement of a strategic partnership with Keolis Downer, Australia's largest private provider of public transport.
Earlier this year, BusTech Group announced that the production of ZDi electric buses will commence in NSW in 2021, providing the first facility in Australia focused on zero emission buses. Through a strategic engineering and supply partnership with Proterra, BusTech Group has developed an all-electric ZDi 12.5-meter transit bus. It delivers 450 kwH of stored energy, 420 of them of usable capacity.
A 100 per cent electric bus depot
"This deal will see the largest rollout of electric buses in Queensland to date," Transport and Main Roads Minister Mark Bailey said. And adds: "The Palaszczuk Government has made a commitment that by 2025 every new urban bus we add to the fleet in SEQ will be zero-emissions, by 2030 we'll roll that out to the rest of the urban fleet – and of course we want them to be built here in Queensland".
The $15.6 million deal with Keolis Downer will also create the state's first 100 per cent electric bus depot in North Lakes at the home of Hornibrook Bus Lines, BusTech says.
The first bus is due to arrive at the North Lakes depot in September 2022, ahead of all 16 being ready for service by late 2023.
BusTech to build electric buses for Queensland, Australia
Assistant Minister for Hydrogen Development and the 50% Renewable Energy by 2030 Target Lance McCallum said the electric bus rollout was a key part of the Palaszczuk Government's renewable energy commitments: "By 2030, 50 per cent of our state's energy will be from renewable sources and this deal with Keolis Downer will play its role in helping Queensland meet that target. While this depot and locally built buses will be electric, we are also keen to encourage the use of renewable hydrogen in transport. Our investment in renewable hydrogen production as a cleaner, cheaper fuel gives us potential to create jobs, reduce transport emissions and export Queensland's renewables to the world. We want to continue to position Queensland to take advantage of emerging technologies and mobility options."
Keolis Downer CEO David Franks: "We are proud to be partnering with the Queensland Government to transition our North Lakes depot to 100 per cent battery electric buses. This means the depot will be using 100 per cent renewable energy, to power a fleet of electric buses, making it a first in Australia, and cementing Keolis Downer's commitment to accelerate the energy transition with large-scale deployments in public transport. With this project, we are also encouraging local manufacturing through our partnership with BusTech Group, Australia's leading bus manufacturer, based in Burleigh Heads. BusTech Queensland will manufacture the 16 Australian-designed and engineered electric buses in their facility in the Gold Coast, bringing more than $17 million of estimated value into the economy for local suppliers, contractors and local job creation."
BusTech Group Executive Chairman Christian Reynolds comments: "BusTech Group is delighted to partner with Keolis Downer to deliver Australian designed, engineered and manufactured zero-emission buses with the most energy dense battery solution. Manufactured in Queensland, BusTech's all-electric ZDi is built with the highest local content of any electric bus available on the Australian market