BusWorld India 2018
Busworld India 2018. Who's who Busworld India 2018, Bangalore, has closed its doors on August 31th. Sustainable-bus.com has gone to see closely what the word sustainability means on the Indian subcontinent, the second huger bus&coach worldwide market. India bus industry currently makes over 50,000 buses and coaches every year (Automotive Research Association of India). Here, in […]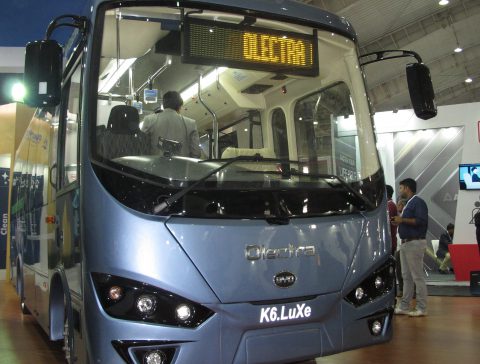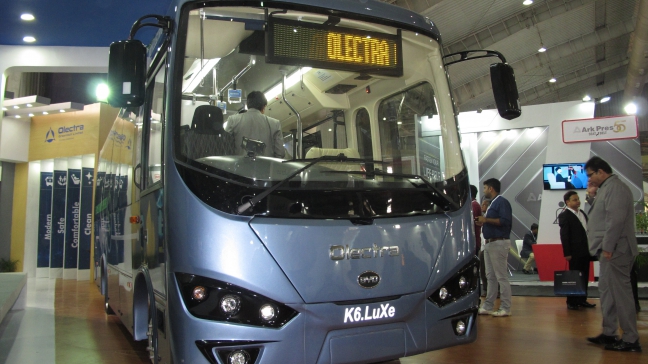 Busworld India 2018. Who's who
Busworld India 2018, Bangalore, has closed its doors on August 31th. Sustainable-bus.com has gone to see closely what the word sustainability means on the Indian subcontinent, the second huger bus&coach worldwide market. India bus industry currently makes over 50,000 buses and coaches every year (Automotive Research Association of India). Here, in the capital of the Karnataka state, the IT Asian hub, BYD shows the electric way under the name Olectra, in partnership with Goldstone Greentech Ltd (formerly Goldstone Infratech Ltd). The Belarus manufacturer Belkommunmash announced to be ready for joining the Indian challenge with E-buses. CNG is an available and mature technology, spread in all the country, with a strong diffusion in Uttar Pradesh and in the federal capital New Dehli. A CNG minibus was been under the spotlights on the Force Motors booth.
BusWorld India 2018. Tata is platinum sponsor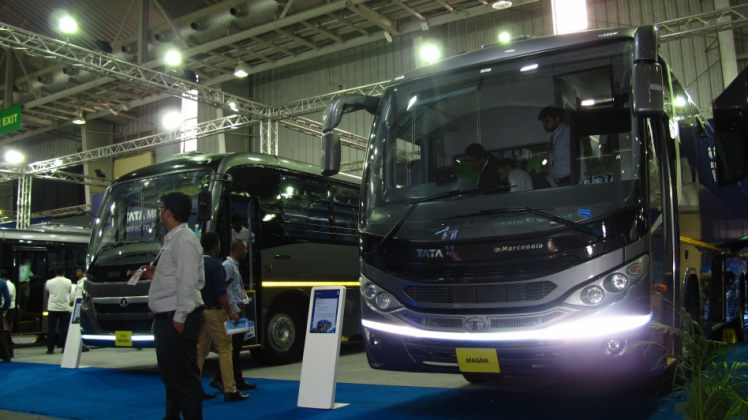 At Busworld India 2018, we felt the tangible interest of the operators. In particular, the components supply chain has been represented and received acclaim, as automatic transmissions (such as Allison and ZF), safety systems and devices for the disabled manufacturers (such as the Spanish company Hidral Gobel).
Among bus makers, the star has been Tata Motors. The Indian automotive giant has joined the 8th edition of Busworld India as a platinum sponsor with a booth of 600 sqm. What is Tata doing for accomplishing the mission of sustainability?
For first, an electric bus is the core of Tata R&D. Indian engineers are developing an electric citybus, Chinese batteries and control system entirely by Tata. There are currently 30 hybrid buses running in Mumbay, powered by Tata endothermic engine together with battery pack and electric motor.
At the moment, the premium segment assembled in Karnataka facilities together with the Brazilian coachbuilder Marco Polo is still completely fueled by diesel. Under all new vehicles bonnets unveiled at BIEC in Bangalore there is a diesel engine. Tata 407 Maxicab is a minibus, 686 HP and 25,5 kgm, 12 seats, and Starbus, a series available in the EX version, three different wheelbases with lengths of 6.9, 8.2 and 9.3 meter, and ULTRA version, 4.2 and 5.2 meters long, 33, 36, 41 and 51 seats.
BYD meets Goldstone. It's time of Olectra
BYD spreads its presence worldwide, in India with the Goldstone support. The two companies signed a partnership, headquartered in Hyderabad, in Southern India, called Olectra. K6, K7 and K9 electric buses are equipped with Li-ion phosphate battery, with autonomy till 200 km and 3-4 hours charging time.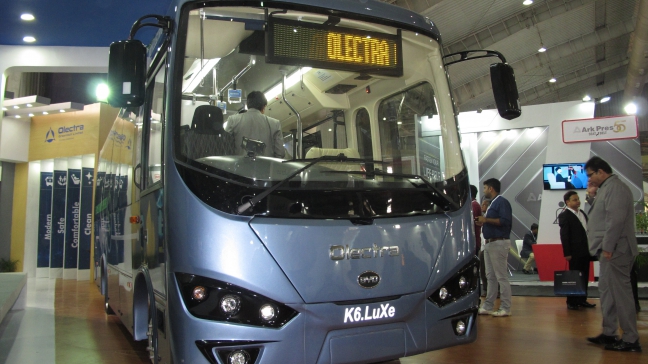 Force Motors and CNG
Electricity from Belarus: Belkommunmash
Two years ago Belarus tram manufacturer Belkomunmash set up an electric buses division and identified the Indian market as the first target for the growth of the company. The strategy is clear: supercapacitors for city buses and battery pack for intercity ones. Vehicles are manufactured in the Minsk factory, the Belarus capital where 30 E433 city buses are running on three lines reservated to electric vehicles. The Chinese company Aowei is the partner for supercaps. The batteries are from Russia. Talking about supercapacitors city buses, the E433 Vitovt Max Electro is a three-axle low floor, 38 seats, and 153 passengers capacity, the natural evolution of E420 Vitovt Electro, 29 seats and 87 people capacity.
Force Motors, the new 41 seats Traveller and CNG
Force motors unveiled a monocoque panel Traveller 33 – 41 seater bus. The both versions, 33 and 41 seats, are powered by 3.24 liter diesel Euro 4 (Bahrat 4) Mercedes engine, 115 HP, 35.7 kgm, 5-speed synchromesh gearbox with double cone synchronizer rings, disk brakes on all wheels and uni-booster hydraulic braking technology. At the Force Motors stand it was in the double version, coach (41 seats) and schoolbus (33 seats).
Force Motors assembly engines for Mercedes in the Pune factory since 1997 and for BMW in the Chennai factory since 2015.
The Traveller minibuses monopolize shuttle services in India and are also available with CNG engines. Under the bonnet the 3.2 liters, 115 HP and 29.5 kgm.
Talking about CNG. Agility Fuel Solutions
Agility Fuel Solutions is an American CNG-Propane-LNG technology company. The goal of its presence at Busworld in Bangalore is to emphasize its entry into the Indian market. The Bharat VI is approaching, 2020 is just around the corner, and gas engines could make life easier for many automotive manufacturers. The Costa Mesa, California, company provides all you need for CNG: storage systems, composite CNG cylinders, pipelines, electronic control units. They also converted a 6 cylinder GM engine, certified by CARB and EPA.
Prakash and MG were also present in Bangalore, with some sleeping buses on display, Bahrat Benz and Ashock Leyland chassis. MG signed, for the first time at Busworld, the Gliden Z and the 3-axles Dreamz.