BVG plans to buy another 350 e-buses (and to install up to 90 chargers at bus stops). Ebusco vehicles are on delivery
Berlin's public transport company, BVG, is planning to install up to 90 new charging stations in the city to accelerate the electrification of its bus fleet. The news, reported on the German media Tagesspiegel, comes in a moment when the new Ebusco vehicles are on delivery (with 18 units on the road as of today). […]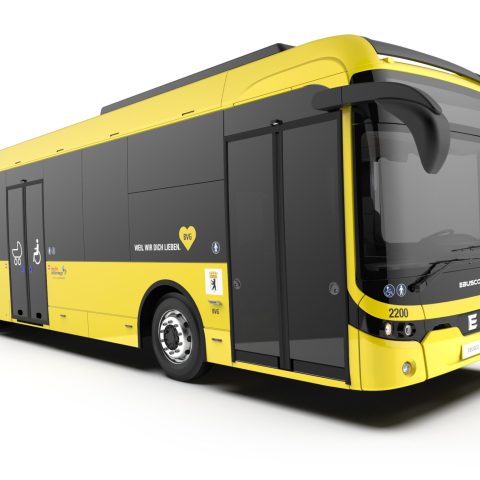 Berlin's public transport company, BVG, is planning to install up to 90 new charging stations in the city to accelerate the electrification of its bus fleet. The news, reported on the German media Tagesspiegel, comes in a moment when the new Ebusco vehicles are on delivery (with 18 units on the road as of today).
And the municipal operator plans to purchase another 350 articulated e-buses which are due to be delivered by the end of 2024. Today BVG has 156 e-buses in operation.
New e-buses replacing diesel vehicles one to one
What is interesting, "For each of the 90 Ebusco electric buses, one diesel bus is to be taken out of service – the Tagesspiegel article reads -. The previously known additional demand for switching to e-buses is thus largely history. However, with the current state of the art, this does not yet apply to each of the lines in the BVG network, the transport authority explains".
The order for 90 Ebusco electric buses dates back to December 2021 and has been delayed due to global supply chain disruptions and Corona's impact on production planning, as reported on the Berliner Zeitung in end 2022.
To ensure that the new electric articulated buses can be used throughout the day, the BVG plans to install charging infrastructure at several terminal spots in the city.
"We have already identified the 70 to 90 locations, but the coordination is still ongoing," BVG chief operating officer Rolf Erfurt told the Tagesspiegel. "It is important that we can implement this quickly. For that we need the support of the state". However, it is still mr Erfurt quoted on the media as saying that with the new Ebusco buses "The jump in range is gigantic".
Overall, the BVG's efforts to electrify its bus fleet are a significant step towards reducing the city's carbon footprint and improving air quality.