BYD – ADL showcase the electric bus with mobile charging unit. Chassis production starting in Hungary
10.8 meters long, 33 seats on board and one wheelchair space. Where, and this is the news, a mobile charging unit can be accomodate, in order to enable operators to trial the bus without needing to install permanent charging infrastructure beforehand. BYD and ADL took part at Euro Bus Expo 2018 in Birmingham showcasing a […]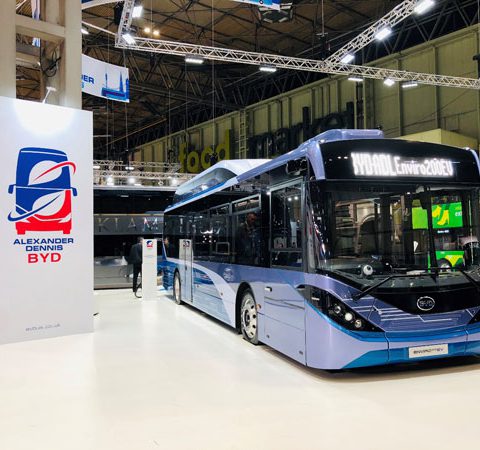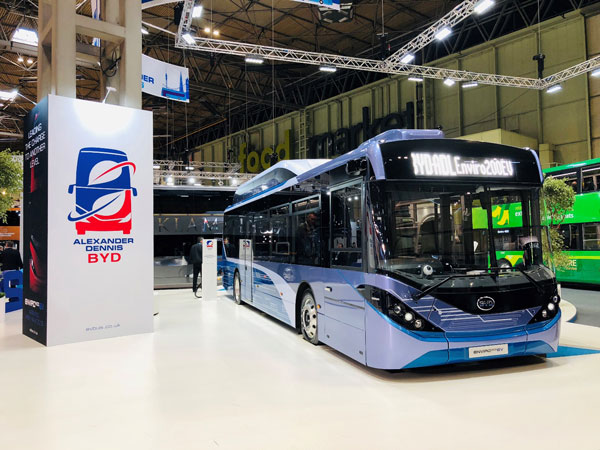 10.8 meters long, 33 seats on board and one wheelchair space. Where, and this is the news, a mobile charging unit can be accomodate, in order to enable operators to trial the bus without needing to install permanent charging infrastructure beforehand. BYD and ADL took part at Euro Bus Expo 2018 in Birmingham showcasing a new version of Enviro 200EV. And in Birmingham BYD announced that from November 2018 the company is beginning the manufacturing of chassis for ADL in Hungarian plant (as also declared to Italian magazine AUTOBUS). And in the future of BYD there is also the building of a battery facility in Europe…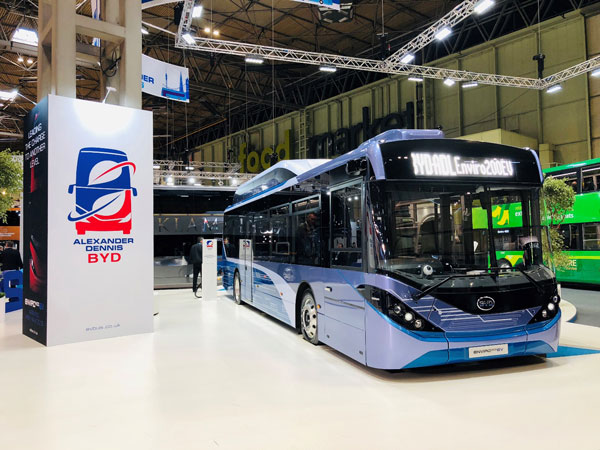 The innovation of mobile charging unit
As already mentioned, the innovation is the BYD-built mobile charging units that makes the Enviro200EV a good choice for operators willing to try electric buses on their routes. At Euro Bus Expo in Birmingham, Alexander Dennis Chief Executive Colin Robertson and Isbrand Ho, Managing Director of BYD Europe, underlined the heathy working relationship between the two companies which has led to well over 215 joint buses in service, delivered or on order in the UK.
BYD – ADL looking to major UK cities
With regards to the Enviro200EV, Colin Robertson stated: "Not only does this vehicle respond to zero emission requirements, it also delivers an outstanding on-board passenger experience. This Enviro200EV is bristling with the latest technology features to transform bus travel for passengers – wireless chargers, our high backed SmartSeat and console, mood lighting to name a few – as well as improving safety for pedestrians and other road users thanks to our new SmartVision system. It's an all-round winning package". "BYD ADL joint products are already in service in Liverpool and soon Guildford but this new model will allow us to win confidence and hopefully sales in major cities such as Manchester, Birmingham and Coventry", said Isbrand Ho, managing director BYD Europe.
BYD Chassis for ADL? From Hungary
Ho added: "I'm pleased to be able to report that we are close to beginning to build the chassis for our buses for the UK at our BYD plant in Hungary". In Komárom plant BYD produces mainly electric city buses now in 12m and soon also 8.7m and 18-metre versions. Electric motors, batteries and charging infrastructure are built elsewhere, mainly in China. BYD – ADL's success in the UK is inspiring the joint team, BYD states in a press release, to extend its offer to other right-hand drive global markets. Sales have been announced in New Zealand, where Red Bus will introduce the first fully electric bus service in the country, following the signing of a deal to purchase three electric buses as part of the commitment of the operator to gradually introducing new innovative technology. The buses are Enviro200Ev single deck manufactured by ADL – BYD.
A BYD battery facility in Europe in the future
Anyway, there are other projects in the pipeline. Mr Ho said that, for BYD, this is part of growing success in markets and market sectors across the world. "I'm referring to our exciting rail transit operation – the Sky Rail: a unique, battery-driven monorail system, to approaching plans to offer specialised electric commercial vehicles in Europe and of our intention to locate a battery plant in Europe".