An Heuliez electric bus on a test in the French Alps
Compagnie des Alpes, in France, is launching an experiment with an electric shuttle in Val d'Isère and Tignes, French media Mobilités Magazine reports. As part of a partnership with the manufacturer Iveco Bus, Compagnie des Alpes (ski and leisure park specialist), via its subsidiaries STVI (Société des Téléphériques de Val d'Isère) and STGM (Société des […]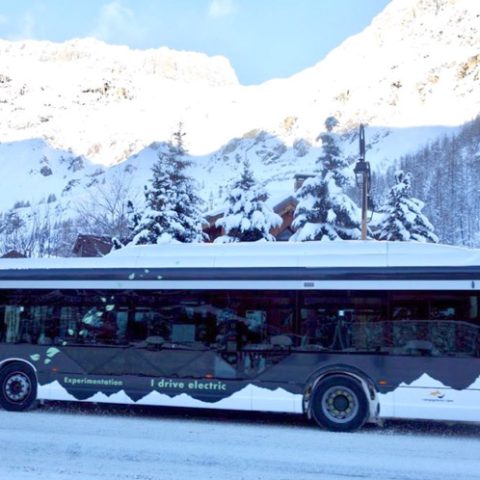 Compagnie des Alpes, in France, is launching an experiment with an electric shuttle in Val d'Isère and Tignes, French media Mobilités Magazine reports.
As part of a partnership with the manufacturer Iveco Bus, Compagnie des Alpes (ski and leisure park specialist), via its subsidiaries STVI (Société des Téléphériques de Val d'Isère) and STGM (Société des Téléphériques de la Grande Motte), in Tignes, will be testing a Heuliez shuttle till 15 January 2022 (the pilot started in December 2021).
The goal of the test is to evaluate the most recent electric mobility technologies in specific conditions in the resort (intense cold, altitude and unevenness) and to test their behaviour and autonomy with a view to possible future deployment. Documented feedback will be made available to local authorities in order to help them make decisions regarding the development of mobility solutions for customers in ski resorts.
Depending on the feedback from these local authorities and on technological developments, other solutions may also be studied by Compagnie des Alpes as an operator, such as mobility solutions based on hydrogen, the French media says.
Picture credit: Mobilités Magazine