e-Traction launches RetroMotion. In-wheel motors for e-bus conversion
e-Traction presents RetroMotion, an in-wheel motor electric drivetrain addressed at the market of commercial fleet conversion. «To ensure sustainability for transit buses, sightseeing double deckers or coaches, these vehicles can be retrofitted with electric drive technology», e-Traction points out while presenting its latest solution. RetroMotion by e-Traction is presented by the company as «the one-stop […]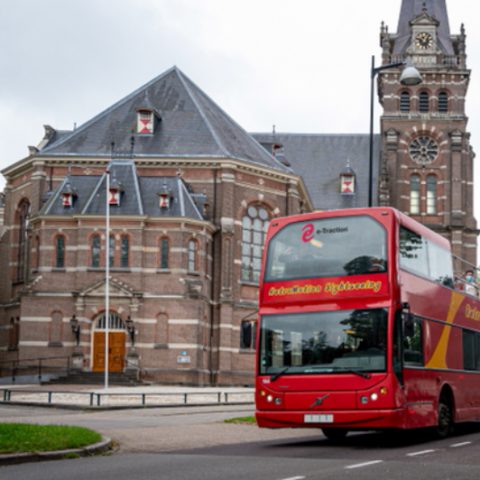 e-Traction presents RetroMotion, an in-wheel motor electric drivetrain addressed at the market of commercial fleet conversion. «To ensure sustainability for transit buses, sightseeing double deckers or coaches, these vehicles can be retrofitted with electric drive technology», e-Traction points out while presenting its latest solution.
RetroMotion by e-Traction is presented by the company as «the one-stop shop for retrofitting diesel-powered buses with electric in-wheel motor drivetrains».
The segment of ICE retrofitting with electric drivetrains is addressed also by companies such as Greenmot (in France) and e-troFit, which has recently entered a cooperation with Paul Nutzfahrzeuge GmbH.
e-Traction RetroMotion for bus conversion to electric drive
Rather than having to completely replace a conventional fleet with brand-new electric vehicles, current ones can be adapted to electric drive by means of e-Traction's in-wheel motor drivetrain. Just replacing a conventional diesel-powered drivetrain with modern, clean and quiet technology allows one to retain current vehicles and bring down the total cost of ownership, e-Traction highlights.
e-Traction's engineers are specialized in the electrification of buses in all segments. The core business of the company consists in delivering a complete solution incorporating every step of the process. The in-wheel motor drivetrain 'TheMotion 2.0' is designed and produced in-house.
When retrofitting this highly efficient technology, RetroMotion by e-Traction «takes all relevant systems into account, such as batteries, vehicle energy management, power steering and air conditioning. The company ensures mechanical, electrical and software integration with the electric drivetrain for best-in-class performance, noise and regeneration, in synergy with the existing brake system. Additionally, e-Traction can provide tailor-made drive and charge cycles, online monitoring and training of maintenance staff» still e-Traction states.