25,000 e-buses are going to be deployed in Latin America by 2030, research says
25,000 e-buses are expected to be on Latin American roads by 2030. Recent data indicates a growth of over 100% in the number of electric public buses between 2020 and April 2023 in the region, marking a pivotal moment in the quest for sustainable urban mobility. Currently, according to the E-Bus Radar, electric buses constitute […]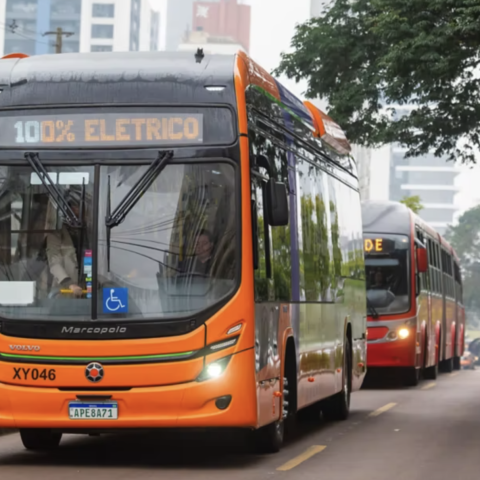 25,000 e-buses are expected to be on Latin American roads by 2030. Recent data indicates a growth of over 100% in the number of electric public buses between 2020 and April 2023 in the region, marking a pivotal moment in the quest for sustainable urban mobility.
Currently, according to the E-Bus Radar, electric buses constitute 4.5% of the total bus fleet in the 32 cities under examination in the new study "Pipeline of Electric Bus Projects in Latin America", commissioned by C40 in conjunction with the Clean Transport Finance Academy 2023.
The research estimates the deployment of over 25,000 e-buses by 2030 and a staggering 55,000 by 2050. This projected growth comes with a substantial investment of $13.2 billion.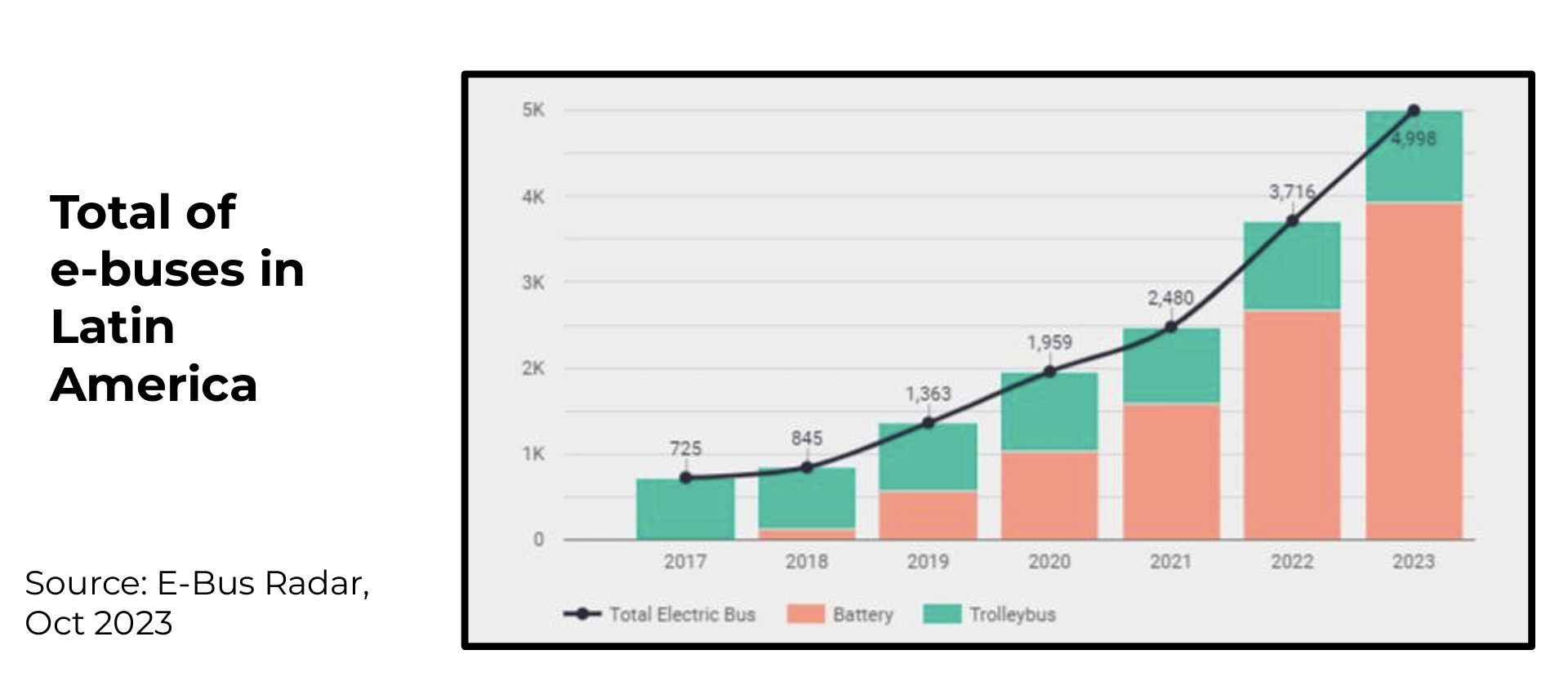 25,000 e-buses in the future of Latin America
Brazil, Colombia, Chile, and Mexico emerge as the frontrunners, collectively accounting for 82% of the e-bus market share by 2030.
With a fleet of 1,485 electric buses out of a total of 9,540, Bogotà exemplifies a commitment to green transportation. Identified risks include financial model uncertainties and the dependence on government investment. However, potential mitigations such as political agreements and comprehensive public transport policies aim to address these challenges. The city anticipates a pipeline of 4,770 e-buses by 2030, in line with legislative mandates for zero-emission buses.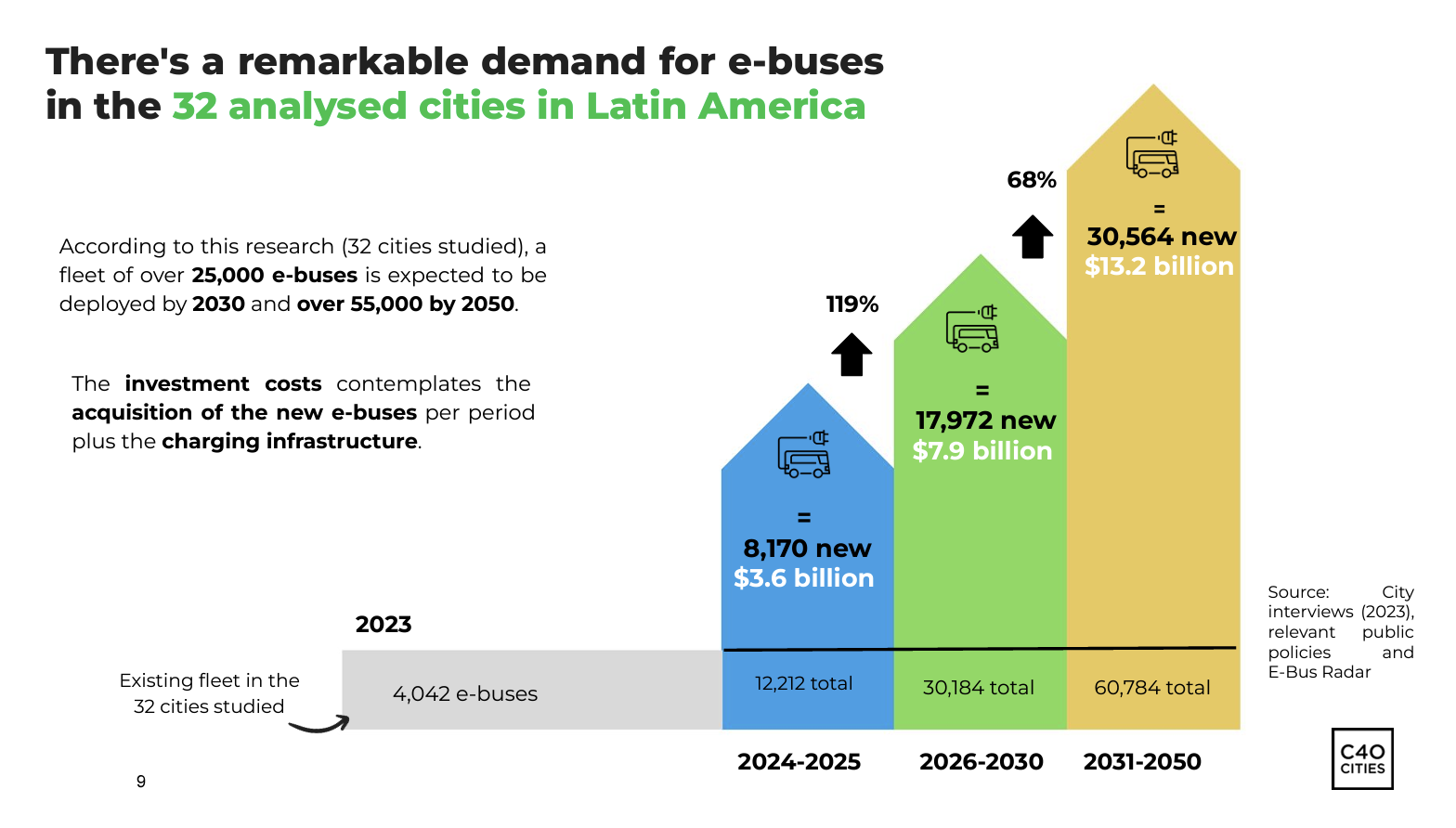 In Rio de Janeiro, a city with a bustling conventional bus system, the transition to electric buses is marked by a commitment to deploy 720 e-buses by 2030. Operational challenges for private operators and financing complexities are recognized risks, yet negotiations with operating companies and innovative business models are proposed mitigations. The city's commitment to a 20% electric fleet by 2030 reflects a dedication to a sustainable future.
Let's stay in Brazil. São Paulo aims for an impressive 8,060 e-buses by 2030, aligning with its ambitious targets for a 50% electric fleet by 2028 and complete electrification by 2038.