Enel X launches the first 'bus as a service' project in Italy with Autoguidovie
Enel X and Italian public transport operator Autoguidovie (through the company Cavourese) will be "teaming up to electrify part of the bus fleet serving Turin, Piedmont's largest city". Autoguidovie was awarded Lot 2 of the subcontracting tender that was put out by the Turin-based GTT (Gruppo Torinese Trasporti), and has chosen Enel X as its […]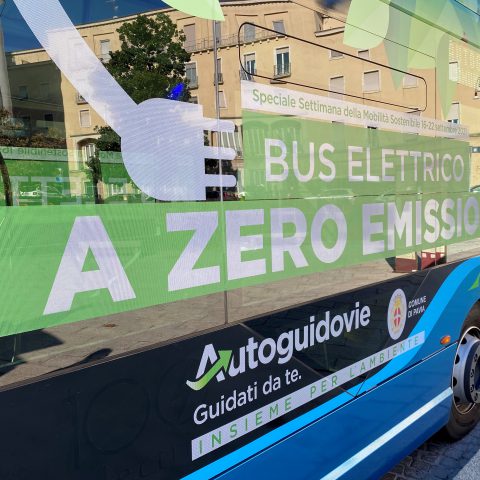 Enel X and Italian public transport operator Autoguidovie (through the company Cavourese) will be "teaming up to electrify part of the bus fleet serving Turin, Piedmont's largest city".
Autoguidovie was awarded Lot 2 of the subcontracting tender that was put out by the Turin-based GTT (Gruppo Torinese Trasporti), and has chosen Enel X as its strategic partner for the first 'bus as a service' project to be implemented in Italy, with 14 electric buses and charging stations where the vehicles can be fully charged.
The first tender won by Enel X in Italy dates back to July 2022. Autoguidovie, the main Italian private-owned public transport company, has issued in April 2022 a tender for up to 120 e-buses.
Autoguidovie with Enel X in Turin
The innovative 'bus as a service' solution was developed by Enel X with the aim to electrify urban public transport. It involves offering power according to the number of kilometers travelled: clients purchase the electric kilometers they need to cover the bus routes, thus ensuring an efficient and sustainable service.
This model also entails vehicle supply and maintenance, charging stations, an electrical infrastructure (in transformer cabins and at the depot), software for monitoring charging operations remotely to avoid energy consumption peaks, as well as financing the entire investment.
First bus a service project of Enel X in Italy
"Electrifying local public transport does not just involve replacing a thermal vehicle with an electric one, but it is actually an opportunity to rethink mobility in our cities by adopting a smarter, more sustainable approach," said Francesco Venturini, Head of Enel X. "This agreement represents an important step for Enel X as it brings the "bus as a service" to Italy, a solution that offers partners and administrations a comprehensive range of innovative services, allowing them to electrify the local public transport fleet. We will be starting with Turin, which is one of Italy's biggest and most modern cities. With our help, the city will be able to offer citizens a new service, with high-performance electric buses that are also efficient and environmentally friendly."
"Cavourese is a long-standing Piedmont-based company that has made a name for itself through its commitment to innovation and sustainability," said Giovanni Tresoldi, CEO of Cavourese. "On the one hand, having been awarded this major contract proves that we have come up with a good project, and on the other hand there is an urgent need to focus on zero-impact public transport, which is a true driving force for the local economy. We are confident that our service will have an immediate positive impact not only on the environment, but also on the economy and employment, providing the technical expertise that will be needed in the industry in the near future."