EU Commission proposes all new city buses to be zero emission starting in 2030
European Commission has today proposed new CO2 emissions targets for new heavy-duty vehicles (HDVs) from 2030 onwards. "To stimulate faster deployment of zero-emission buses in cities", the Commission proposes to make all new city buses zero-emission as of 2030. Concerning all new heavy-duty commercial vehicles, the EU Commission proposes a mandatory 45% emissions reductions from 2030; 65% […]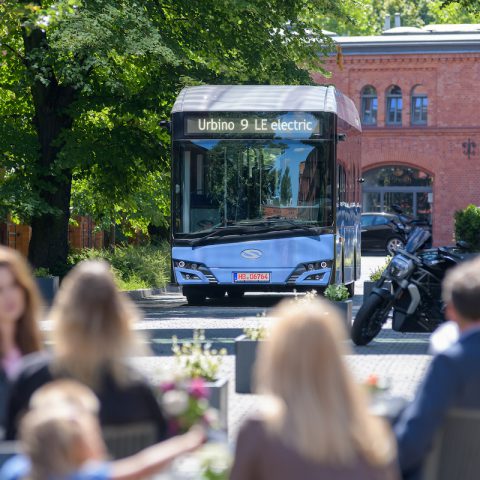 European Commission has today proposed new CO2 emissions targets for new heavy-duty vehicles (HDVs) from 2030 onwards.
"To stimulate faster deployment of zero-emission buses in cities", the Commission proposes to make all new city buses zero-emission as of 2030. Concerning all new heavy-duty commercial vehicles, the EU Commission proposes a mandatory 45% emissions reductions from 2030; 65% emission reductions from 2035; 90% emissions reduction from 2040.
The electric bus market in Europe has been growing 26 per cent last year, up to 4,152 units registered (it was 3,282 in 2021, with a growth of 48% on 2020). In 2022 around 30% of all registered city buses were zero emission.
Europe: the push for zero emission buses only for cities
In October 2022 11 European cities (Barcelona, Cluj-Napoca, Copenhagen, Hamburg, Malaga, Milan, Palma, Paris, Rotterdam, Seville and Valencia) asked the EU to make purchase of zero emission buses for public transport mandatory from 2027. "Without action at EU level, demand for zero emission urban buses will not be matched by supply", they wrote in a letter sent to the EU Commission on 24th October.
More recently, in early 2023, the Netherlands, Belgium, Denmark and Luxembourg have urged the European Union to fix a date by which new trucks and buses sold in Europe must have zero emissions.
EU Commission proposal for CO2 limits commercial vehicles
Trucks, city buses, and long-distance buses are responsible for over 6% of total EU greenhouse gas (GHG) emissions and more than 25% of GHG emissions from road transport. These strengthened emissions standards would ensure that this segment of the road transport sector contributes to the shift to zero-emissions mobility and the EU's climate and zero pollution objectives, EU Commission strenghten.
EU Commission highlights that "In line with the European Green Deal and REPowerEU objectives, this proposal will also have a positive impact on the energy transition, by lowering demand for imported fossil fuels and enhancing energy savings and efficiencies in the EU's transport sector. It will provide benefits for European transport operators and users by reducing fuel costs and total cost of ownership, and ensure a wider deployment of more energy-efficient vehicles. It will also improve air quality, notably in cities, and the health of Europeans".