Global electric bus market to reach 670k units in 2027 (from 112k in 2022), according to study
The global electric bus market size is projected to grow from 112,041 units in 2022 to reach 671,285 units by 2027, at a CAGR of 43.1% according to a new report by MarketsandMarkets (entitled: "Electric Bus Market by Propulsion (BEV, PHEV & FCEV), Application (Intercity & Intra-city), Consumer, Range, Bus Length, Seating Capacity, Power Output, Battery […]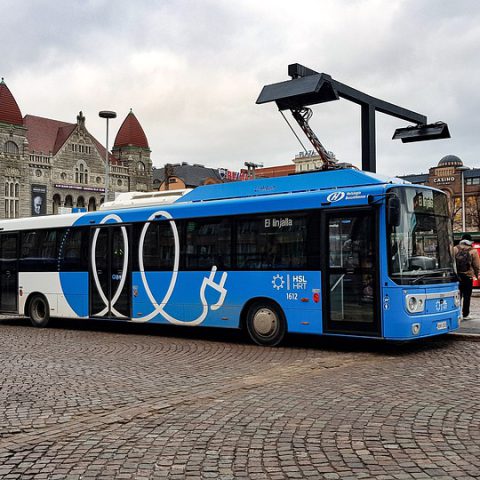 The global electric bus market size is projected to grow from 112,041 units in 2022 to reach 671,285 units by 2027, at a CAGR of 43.1% according to a new report by MarketsandMarkets (entitled: "Electric Bus Market by Propulsion (BEV, PHEV & FCEV), Application (Intercity & Intra-city), Consumer, Range, Bus Length, Seating Capacity, Power Output, Battery Capacity, Component, Level of Autonomy, Battery type & Region – Global Forecast to 2027").
Sustainable Bus' readers may know that, in Europe, registrations increased of 48% in 2021 compared to 2020. 3,282 e-buses were delivered last year, bringing to over 8,500 the vehicles registered in the continent since 2012. What is worth mentioning, in 2021 for the first time as many as three European countries registered over 500 e-buses, with Germany leading the shortlist (555 units) followed by UK (540) and France (512).
Zero emission bus deployment in the US has been growing 27% in 2021, up to 3,533 buses (on the road and on order). CALSTART published its annual inventory of zero-emission buses, (ZEBs) "Zeroing in on ZEBs", providing insight on the current state of ZEBs ahead of $5.25 billion in Infrastructure Investment and Jobs Act funding through the Federal Transit Administration's Low-No Program. Last year the increase registered by CASTART was of 24% on 2019.
North American electric bus market to grow fast
Back to MarketsandMarkets report. As widely known, Asia Pacific is the largest Electric Bus Market in the world. «The growth in the region can be attributed to the dominance of the Chinese market and presence of leading OEMs such as BYD, Yutong, Zhongtong, and Ankai in the country, resulting in exponential growth of the Asia Pacific Electric Bus Market», the report reads.
Still quoting from the report: «The North America which includes US and Canada is projected to be the fastest-growing market during the forecast period. The increasing demand for electric mass transit solutions, renowned OEMs expanding in the region, and government support are factors driving the North American Electric Bus Market. The adoption rate of electric vehicles in these regions is emerging and they can be considered as new revenue pockets for the electric bus segment. Countries in these regions are implementing the electric bus technologies for public and private transportation options. For instance, In 2019, Federal budget of US announced USD 130 million to accelerate zero emission buses and vehicles deployment».