Hyundai unveiled a double decker battery electric bus
Hyundai is expanding its business from cars to buses, starting from a double decker with electric drivetrain (while projects on fuel cell buses are already underway). The zero emission bus unveiled by Hyundai Motor is 13 meter long, boasts a battery capacity of 384 kWh and a power output of 240 kW. Furthermore, the bus (that can carry […]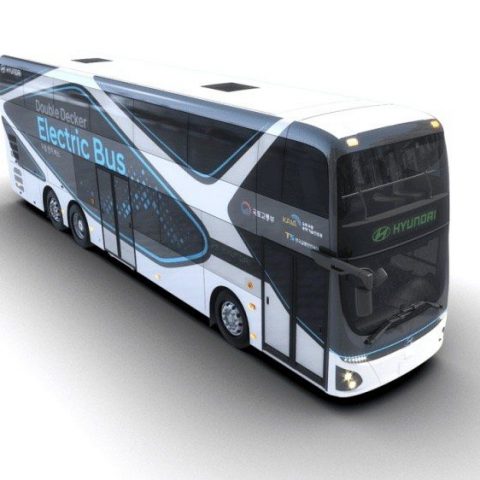 Hyundai is expanding its business from cars to buses, starting from a double decker with electric drivetrain (while projects on fuel cell buses are already underway). The zero emission bus unveiled by Hyundai Motor is 13 meter long, boasts a battery capacity of 384 kWh and a power output of 240 kW. Furthermore, the bus (that can carry up to 70 seated passengers) will be equipped with technological features such as Vehicle Dynamic Control, Forward Collision-Avoidance Assist and Lane Keeping Assist.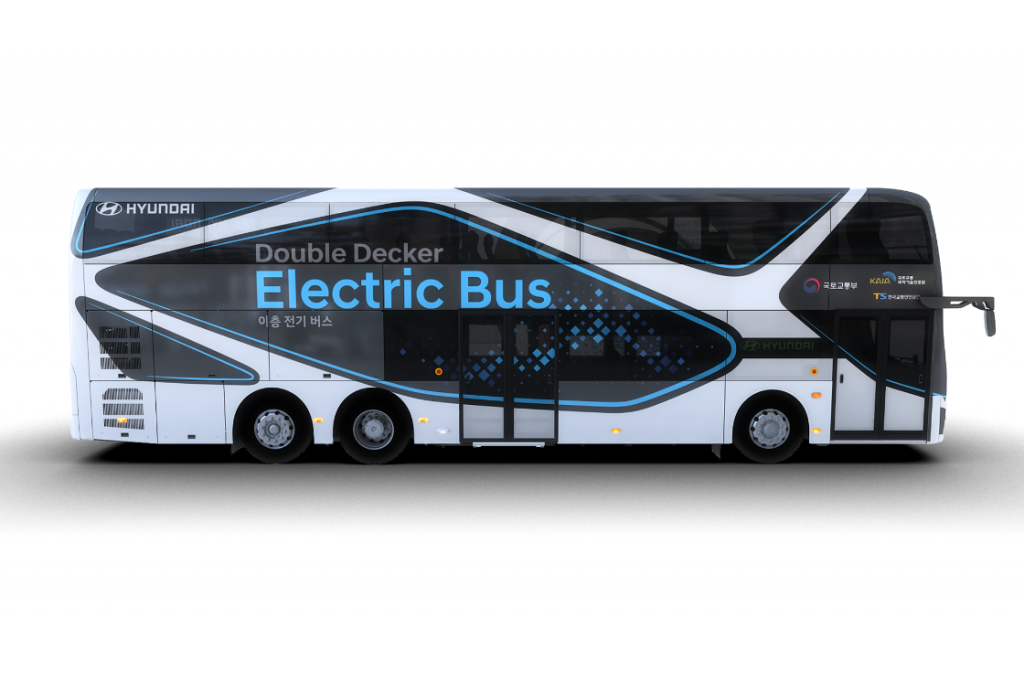 Hyundai zero emission bus unveiled in Seoul
Hyundai Motor unveiled its zero emission bus yesterday (29th May 2019) in Seoul. The new product is part of the company's effort to help reduce traffic congestion and air pollution. The vehicle is the outcome of a project carried on by Hyundai since 2017 and supported by the Korean Ministry of Land, Infrastructure, and Transport.
It should be noted that in 2017, at Hyundai Truck & Bus Mega Fair, the group already presented an electric bus called Elec City (see the picture below), equipped with 256 kWh battery. Mass production was expected to start in 2018. Also, Hyundai is going to deliver 30 fuel cell buses to six South Korean cities: the first pilot has already began. The goal of the Memorandum of understanding signed by Hyundai and institutions is to have a thousand hydrogen buses on the road nationwide by the year 2022.
Coming back to this new venture, the zero emission double decker bus is shown at the 'Land, Infrastructure and Transport Technology Fair' held in Korea, co-hosted by Hyundai and the national Ministry of Land, Infrastructure and Transport, lasting from May 29 to 31.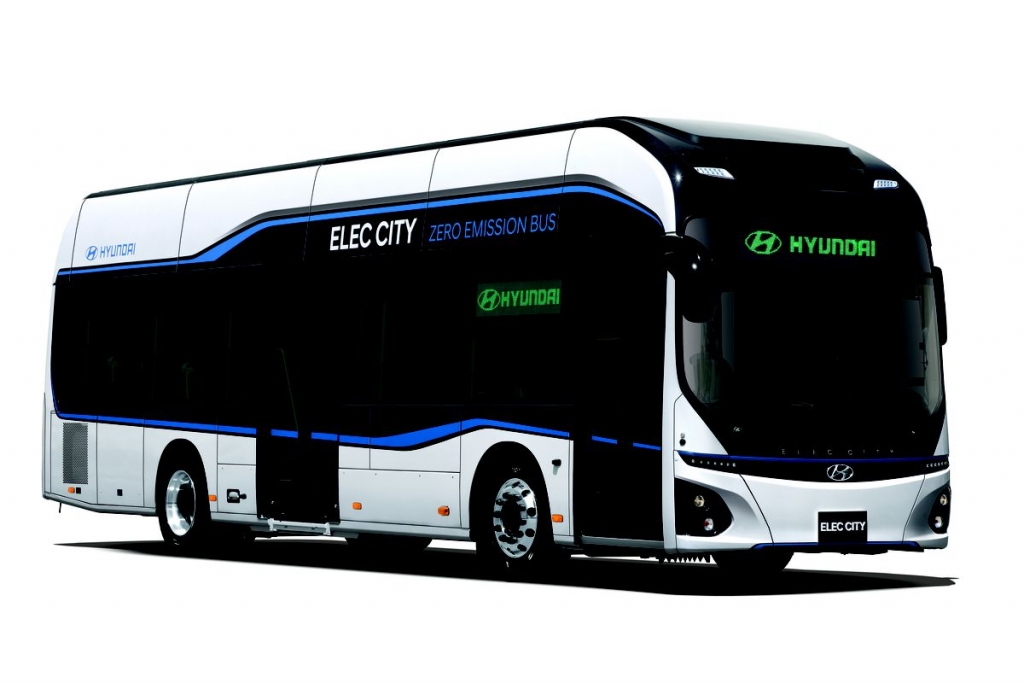 70 passengers on board of Hyundai zero emission bus
The bus allows up to 70 passengers: 11 seats on the first floor and 59 seats on the second floor. Through the implementation of two fixed-in-space wheelchairs, an automatic sliding ramp and low floor design, the double-decker bus secures added accessibility for disabled and mobility impaired passengers, Hyundai points out.
Hyundai equipped its zero emission bus with a 384 kWh water-cooled high-efficiency polymer battery. According to the manufacturer, this would allow 300 km driving range on a single charge. A full charge can be completed in 72 minutes. It has not been stated where the battery modules are placed.
Both axles host a motor
Hyundai zero emission bus (no information were given with regards to the commercial name of the product) is 12,990 mm long and 3,995 mm high. It runs on an independent suspension system in the first driving axle, and a 240kW wheel motor axle combined with a motor in the second axle that minimizes loss of electricity. A rear-wheel steering system works in coherence with the steering system of the first axle, optimizing steering performance.

Safety features for Hyundai zero emission bus
As already mentioned, the bus features a range of technological systems in order to improve safety of the passengers. Vehicle Dynamic Control (VDC) helps identify the driver's intended driving direction and maintain the vehicle in control. Forward Collision-Avoidance Assist (FCA) uses the car's front-facing camera to help detect an imminent collision and avoid impact or minimize damage by braking autonomously. Lane Keeping Assist (LKA) helps prevent accidental lane departure by sensing road markings.
A zero emission bus to improve commuters experience
"The double-decker electric bus is an environmentally friendly vehicle optimized for global eco-friendly trends," said ByoungWoo Hwang, Head of Commercial Vehicle Advanced Engineering team at Hyundai Motor. "This will not only ultimately improve the air quality, but also contribute greatly to easing commuting hour traffic congestion by accommodating more passengers."