INIT launches open-loop fare system in California
INIT has now signed a master agreement with California Integrated Travel Project (Cal-ITP)'s procuring agency, the California Department of General Services (DGS), to deploy an open-loop fare system throughout California and other U.S. states. According to the agreement, the integrated mobility project is established to "make the transition to contactless fare collection and GTFS real-time […]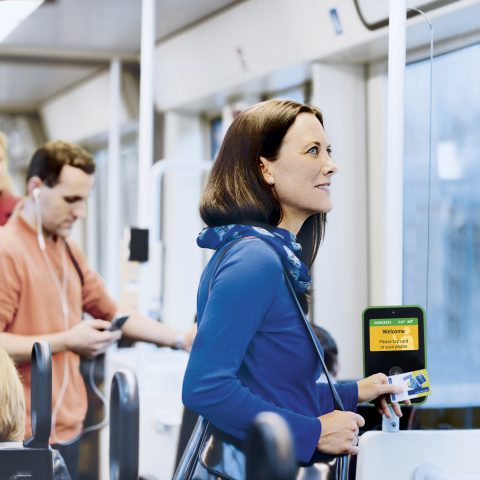 INIT has now signed a master agreement with California Integrated Travel Project (Cal-ITP)'s procuring agency, the California Department of General Services (DGS), to deploy an open-loop fare system throughout California and other U.S. states.
According to the agreement, the integrated mobility project is established to "make the transition to contactless fare collection and GTFS real-time compliance as easy and cost-effective as possible."
California: INIT provides open-loop fare system
In order to make it easier for small and medium-sized public transport companies to access the IT solutions required DGS has signed master agreements with fare system suppliers. INIT, however, is the only one of a total of six companies that is awarded for both its fare payment software and its validation hardware. This means that the PROXmobile3 validator and the MOBILEvario back-office system are available to more than 300 small and medium-sized Californian public transport companies, INITS says.
PROXmobile3, INIT's fare validator supports numerous forms of e-ticketing. It is EMV-capable and awarded with the Information Technology for Public Transport (ITxPT) Label. Passengers simply tap the validator using a credit or debit card, a mobile wallet such as Google Pay or Apple Pay, or smart wearable to make faster and more convenient contactless payments when boarding.
MOBILEvario, INIT's back-office system for billing and payment management, is "Visa ready for transit" certified, which means it meets the security standards and specifications for easy, fast, and secure contactless payments (EMV) of Visa, the global market leader for digital payments. Thanks to MOBILEvario's open system architecture, it is also possible to integrate third-party vendors, thus creating the basis for a Mobility-as-a-Service (MaaS) structure.
"We are pleased that California, the state with the largest and most complex public transport in the U.S., has chosen INIT solutions. Once again, the high innovativeness of our products is demonstrated in an international comparison. We were the only provider to convince both in the field of contactless open-loop fare payment systems and with our back-office system. We are thus helping to significantly improve the quality of public transportation in California through standardized systems and convenient payment options," says Jürgen Greschner, Management Board of init SE.