Challenge accepted. First Bus and the transition to zero-emission buses in UK. MD Janette Bell speaking
First Bus is one of the top five bus companies in the United Kingdom, with operations from Aberdeen in the very north of Scotland down to Cornwall, thanks to about 4,500 buses and 14,000 employees. We interviewed the managing director Janette Bell.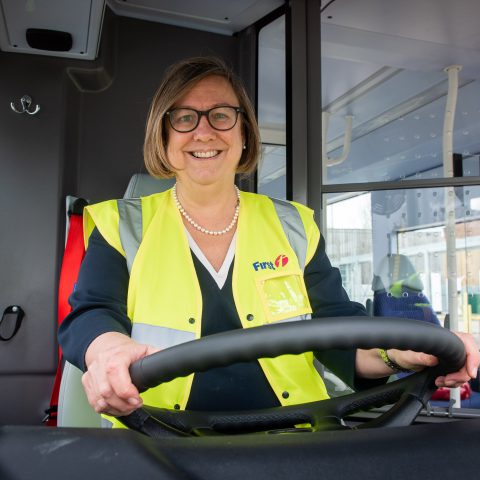 Below, an article published on May 2023 issue of Sustainable Bus magazine.
First Bus is one of the top five bus companies in the United Kingdom, with operations from Aberdeen in the very north of Scotland down to Cornwall, thanks to about 4,500 buses and 14,000 employees. We interviewed the managing director Janette Bell.
First Bus recently reported that at the conclusion of the ZEBRA projects, the company is expected to have over 600 zero-emission buses in its fleet. Could you sum up the deliveries to date, how many vehicles you do have on order today and which timeline you expect for further orders and deliveries?
«We have a very clear statement that we wish to fully decarbonize our fleet by 2035, and we've been making progress towards that goal. As of today, we actually have 229 zero-emission vehicles in operation, with the biggest area of operation being our Caledonia depot in Glasgow. We have 412 buses currently on order, and those are being delivered as we speak. We expect to take deliveries every month now through until March next year, and we will have a total of 622 zero-emission vehicles by then».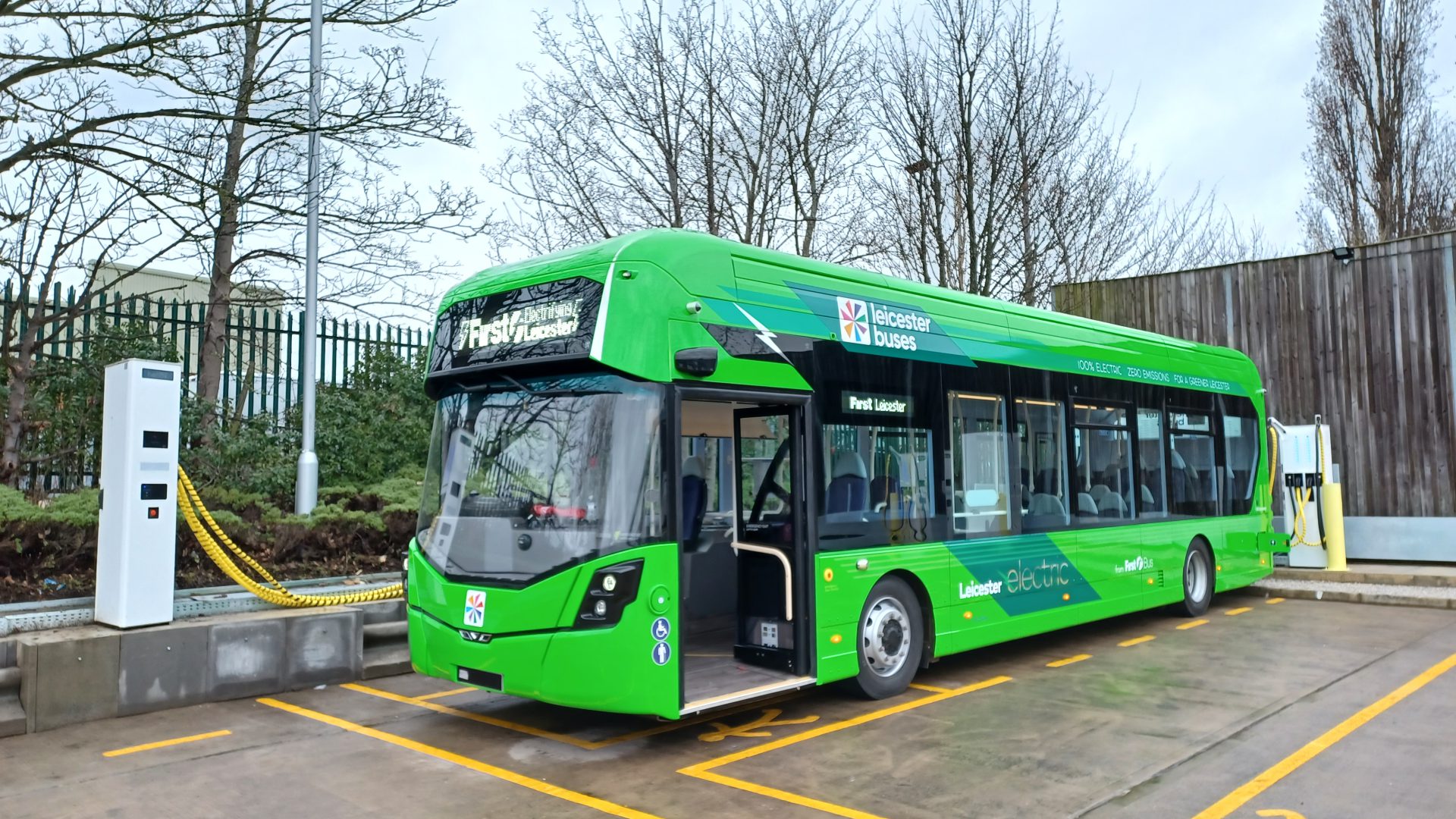 Many believe that innovative financing schemes are necessary to make the large-scale deployment of e-buses from an economic perspective. What is your opinion on this? Do you think the financing schemes currently in place in the UK are enough to kickstart the transition of public transport fleets?
«There are significant differences between the upfront costs of electric and diesel vehicles and their infrastructure. However, the government's funding and support for partnerships with local authorities have enabled us to obtain the initial funding for these vehicles and infrastructure. I believe we are at the forefront of zero-emission vehicles, and there are various funding options available for companies to explore. The strength of a company's balance sheet may determine which financing option they choose. Still, I expect more innovation in vehicles, infrastructure, and financing options, and I believe many are exploring these options now».
Janette Bell: First Bus, decarbonization, post Covid
The pandemic has changed mobility patterns globally. From First Bus's perspective, have the changes generated by Covid-19 led to long-term changes in passengers' behavior? How is your group addressing these changes?
«Absolutely. Covid-19 has accelerated trends that were already prevalent in the United Kingdom. Digital payments have been accelerated, and we have invested heavily in using the data from geolocation and other sources to improve the performance and punctuality of our services. We have also adjusted our fares and product structures to suit the changing habits of our customers, such as introducing three-day tickets in addition to weekly ones. We are looking at where we are relative to what people are doing now and what they may be doing in the future, rather than comparing our business to 2019. It is about adaptation, adjusting our services to what is happening now and in the future».
Can you tell us about your involvement in demand-responsive transport in the UK?
«We've been involved in a few projects. It's a potentially useful solution which could run alongside core services, providing support and potentially feeding into the main network.
I think it's an area that probably could be further developed; however, I think one of the challenges that many operators face is making those services economically sustainable».
On the TCO of e-buses
One of the most debated topic is TCO: which is the comparison between e-buses and diesel buses today, according to the data you have collected so far?
«One of the challenges we face is that we do not have a zero-emission vehicle that has gone through an entire cycle of ownership, including battery replacements. Therefore, there are many theoretical pieces to consider. As we move forward, TCO for e-buses and diesel buses will mature and become more clear over time, and everyone in the industry will learn from these experiences».
Dealing with e-buses and energy transition implies changes in the structure of public transport companies. How is First Bus changing, in terms of organization and skills, to get ready for
the challenge?
«To prepare for this challenge, we've appointed a sustainability executive to oversee our decarbonization efforts. We're also rethinking our operational processes, from upskilling our workforce to changing the way we handle buses in depots. This transformation touches every aspect of our business, so we're building a blueprint model to guide us as we continue to deploy more EVs and learn from our experiences. Additionally, we've established an internal center of excellence and are providing training for our drivers, engineers, and support teams. These efforts are part of our comprehensive plan to transform our entire business».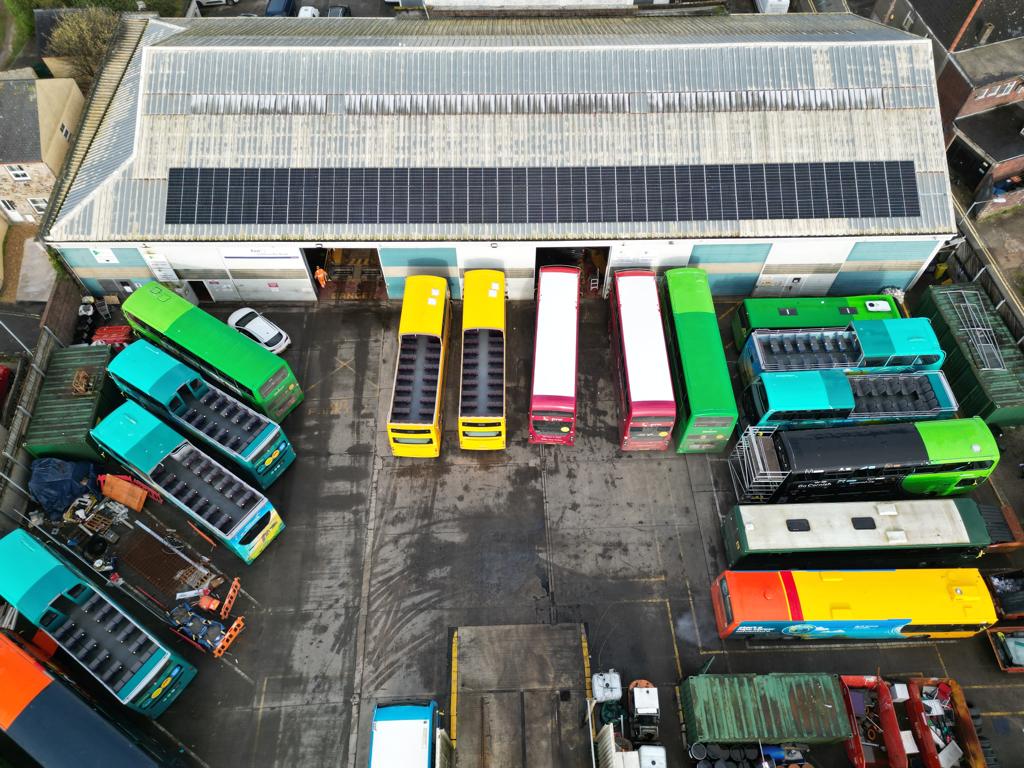 With electrification, what is happening is that maintenance activities are quite often outsourced to manufacturers and service providers within full service contracts…
«No, that's not the case at First Bus. We consider engineering to be a key competence, and we do not outsource our maintenance staff. Instead, we focus on upskilling and reskilling our engineers to adapt to the changes brought by electrification. While we recognize a change in the competencies required, we believe we can handle them internally while maintaining strong relationships with our suppliers and manufacturers».
With the transition to e-buses, public transport companies are often more looking for partners than just for suppliers. What requests do you feel to make at industry players at this stage?
«We've always prided ourselves at First Bus in how we partner with our suppliers. We are now working with more technology and digital suppliers in the zero emissions space and continuing to foster a spirit of innovation through collaboration. Our aim is to learn together with our suppliers and local authorities, which is essential as we embark on this journey towards sustainability».
The public transport market is changing…
What about the delivery time of vehicles? It's another hot topic nowadays…
«At the moment, things are more drawn out. It's very clear that with the disruption to the supply chain that has resulted from Covid and geopolitical issues, we have seen supply chains extend out. What is important is that we work very closely with our manufacturers to ensure that there's maximum efficiency on manufacturing lines and that we're all as efficient in that supply chain as possible».
What do you think of Brexit and its consequences on the evolution of the zero-emission bus market?
«It would be very difficult to isolate any impact of Brexit. Between Brexit, pandemic, and the geopolitical situation, there are multiple issues that have disrupted the supply chain».
The emergence of macro trends such as digitalization and energy transition are already, according to many, bringing towards a concentration of public transport services in the hands of larger companies. And Covid put much pressure on PTOs balance sheets. Do you think these circumstances will end up bringing a push towards large companies getting a larger share of the market? To what extent?
«The market in the UK is made up of five big operators and many small and medium-sized enterprises. As we come through Covid, we have seen some small parts of consolidation, and we've also seen some of our large competitors go into new ownership structures. How we make sure being able to decarbonize our fleet is one thing, but obviously, what we're wanting to do is to play a larger role in the communities that we operate in. Certainly, we are working with third parties, some of those larger companies, but also some small SMEs to make sure that we can share infrastructure and partner with businesses in the community».
Autonomous driving. What is First Bus doing to stay ahead in this area?
«We've been involved in a multi-consortium in Oxford, which has delivered the UK's first autonomous bus. This has been running around Milton Park Science and Technology Park since March. Our reason for piloting this project is to better understand the technology and gather feedbacks from safety drivers, stakeholders, and customers».
We haven't so far mentioned the topic of hydrogen. First Bus is also running a pilot on fuel cell technology. Can you tell us more about that?
«We recognize that the potential range opportunities that hydrogen buses give you are particularly interesting for rural areas. However, the hydrogen infrastructure and vehicles themselves are currently more expensive. At First Bus, we want to make sure that we're not just thinking ahead but also considering cost and sustainability. We've had hydrogen buses operating for over a year now, and they've been performing well».