Zaragoza: 68 e-buses by Irizar for Avanza public transport fleet. Delivery begins
A total of 68 Irizar e-buses will be added to the Avanza public transport fleet in Zaragoza (Spain). 51 will be 12-metre buses and the rest will be 18-metre buses. The first Irizar ie tram 100% emission-free bus was presented at a press conference and marks the start of the modernization and electrification process of […]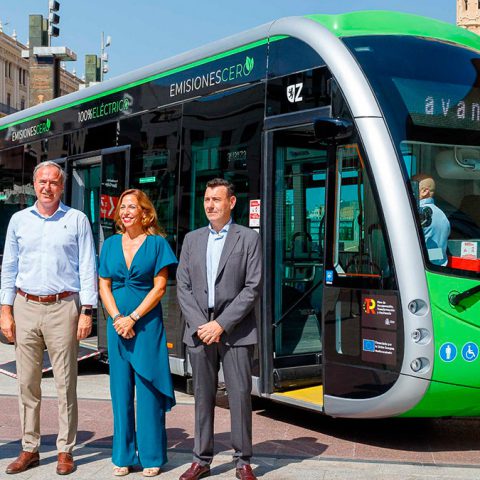 A total of 68 Irizar e-buses will be added to the Avanza public transport fleet in Zaragoza (Spain). 51 will be 12-metre buses and the rest will be 18-metre buses. The first Irizar ie tram 100% emission-free bus was presented at a press conference and marks the start of the modernization and electrification process of the Zaragoza urban bus network. The order was signed in June 2021 and was presented as Irizar e-mobility's largest electric bus project to date. .
First electric buses in Zaragoza
The Irizar ie tram is a 100% electric, zero-emission bus with the appearance of a tram that combines the large capacity, ease of access and interior circulation of a tram with the flexibility of a city bus. The model that now arrives in Zaragoza is 12 meters long and has an on-board battery capacity of 430kWh, which gives it a range of around 220kms, manufacturer says.
It has been designed with a 240kW electric motor and a double charging system -both by inverted pantograph and by hose- with a power of 150kW. It is equipped with a double ramp (electric and manual) and has a capacity for 78 passengers – 26 seated and 52 standing – as well as two wheelchairs.
The Irizar ie tram offers a clean minimalist design and all its features correspond to specific functional aspects allowing it to create an identity and an image that are easily recognizable to its users. Accessibility, safety, passenger flow and passenger comfort are the inspiration behind the interior design architecture, resulting in a bright, comfortable, spacious, pleasant and safe interior.
Accessibility and passenger flow are further enhanced by up to four sliding doors, the integral low floor, the seating arrangement, the interior distribution with wide aisles, the signage on the seats reserved for wheelchairs and/or pushchairs, the audible stop request information, the installation of ticket validation devices, the design of the driving position and the comfortable and effortless access.
The interior design seeks to offer the user the sensation of openness and luminosity. The integral low floor and arrangement of the seats inside the vehicle ensure that passengers can enter and exit smoothly at stations and move around freely inside the vehicle.