Karsan, Iveco and Irizar win the Sustainable Bus Awards 2023
Winners have been elected for Sustainable Bus Awards 2023. The international jury composed of European trade magazines has today announced that Karsan e-ATA 12, Iveco Bus Crossway LE Hybrid CNG and Irizar i6S Efficient have won the sixth edition of the prize. The trophies were received by Okan Baş, Karsan's CEO; Domenico Nucera, President Bus […]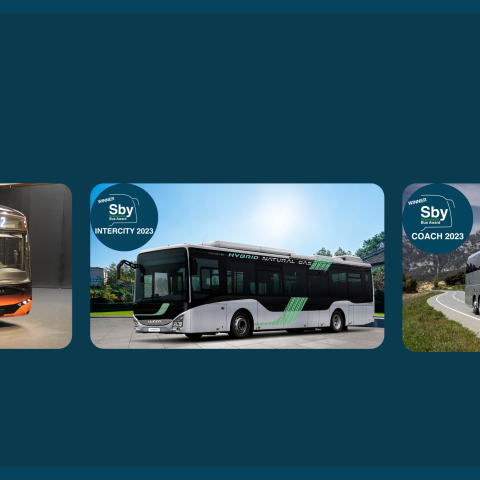 Winners have been elected for Sustainable Bus Awards 2023. The international jury composed of European trade magazines has today announced that Karsan e-ATA 12, Iveco Bus Crossway LE Hybrid CNG and Irizar i6S Efficient have won the sixth edition of the prize.
The trophies were received by Okan Baş, Karsan's CEO; Domenico Nucera, President Bus Business Unit at Iveco Group; Imanol Rego, CEO Irizar Group.
Karsan, Iveco and Irizar crowned with SBY 2023
The winner in the 'Urban' category is the main outcome of Karsan's efforts in switching all investments on zero emission buses: the e-ATA bus range has been built from scratch in order to provide a real native-electric solution. The CNG-powered and mild hybrid version of the leading European Class II bus, the Iveco Crossway, has already been offered in tenders and will be available on the market from 2023. It merges two trends that are today affecting the intercity bus segment: the rise of gas-powered vehicles and the growing interest for mild hybrid applications. Finally, the Irizar i6S represents a project focused on efficiency: improvements in fuel consumption and aerodynamic coefficient allow touristic operators to achieve a lower TCO.

The Sustainable Bus Awards 2023 were handovered today during a live ceremony at Milan's Next Mobility Exhibition. Held from 12 to 14 October and organized by Fiera Milano, it's the first edition of a biennial international event dedicated to the collective mobility community.

The jury represents seven European countries, each of one is embodied by a leading sector-related magazine. Namely: Mobilités Magazine (France), Omnibus.news (Germany), Autobus (Italy), Infotrucker (Romania), Revija Tranzit (Slovenia), Carril Bus (Spain), Bus and Coach (UK).
The motivations of the jury
Sustainable Bus Award 2023 Urban: Karsan e-ATA 12
The e-ATA 12 is the centerpiece of Karsan's ambitious electrification offensive. The group has fully embraced the challenge of decarbonizing urban public transport: it will no longer invest resources in the development of ICE buses. Karsan launched a full range of electric vehicles at the end of 2021, adding the 10-, 12- and 18-metre to the previous six- and eight-metre models (which have enabled the company to lead in the zero-emission mini and midi bus segment for the past two years). What is instrumental, the vehicles are based on a platform built from scratch for the electric powertrain and feature components from industry-leading global brand suppliers. The vehicles full low floor provides the elder and disabled people easy movement. What is more, recycling rate of components is above 95%.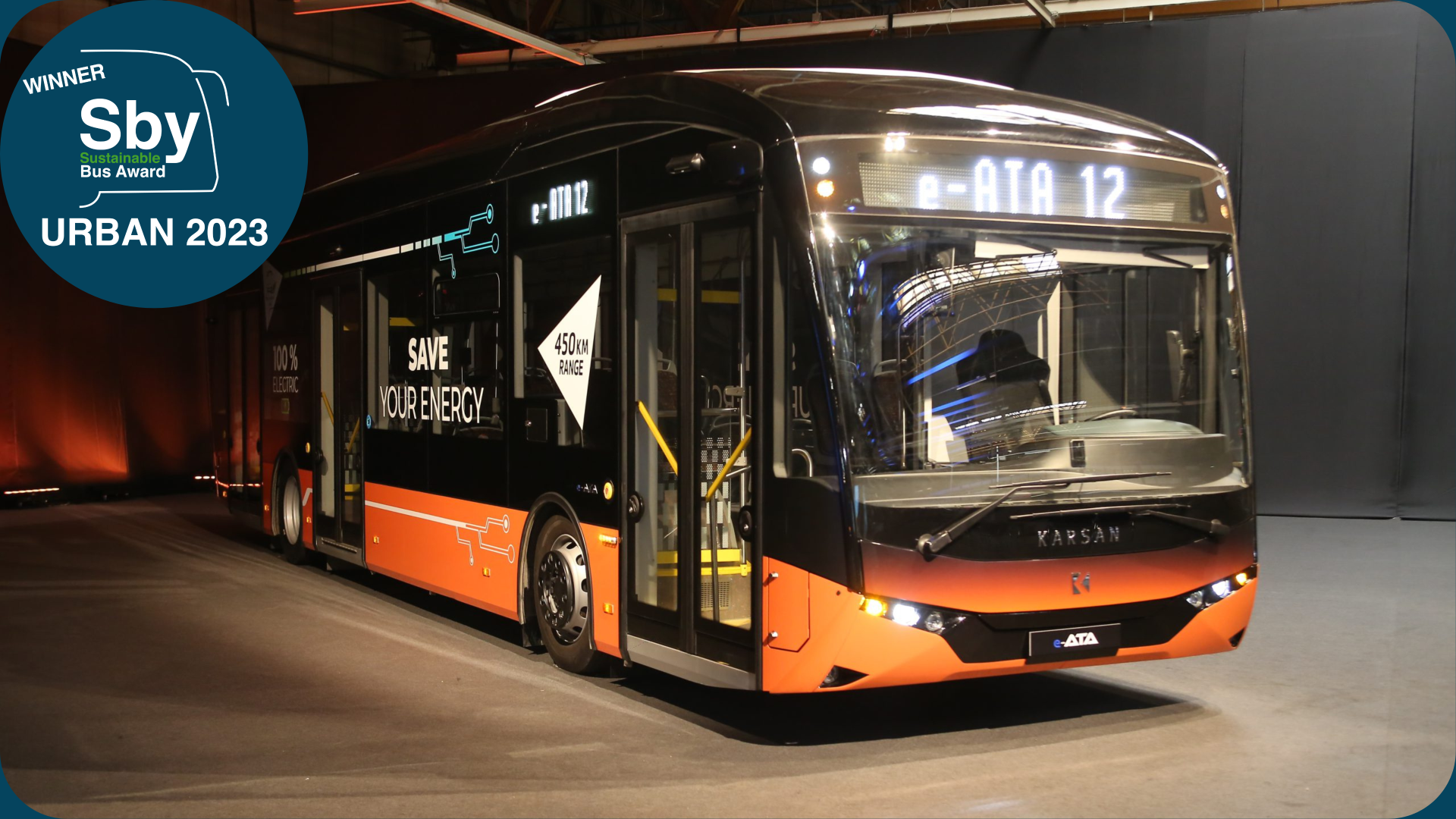 Sustainable Bus Award 2023 Intercity: Iveco Bus Crossway LE Hybrid CNG
A clear trend can be observed on the European market today with regard to the energy transition in Class II: the increase in the volume of gas-powered vehicles (as much as +60% between 2020 and 2021). A technology that only a few years ago was relegated to the urban perimeter is now becoming a real alternative to diesel in intercity operations. Iveco Bus, European leader in the segment, raises the bar by combining CNG roof-mounted tanks with mild hybrid module, signed Voith. The result is a vehicle, already presented this year in a number of tenders and available on the market from 2023, that represents a reliable and sustainable alternative for those who are looking at reducing emissions in the intercity segment. Indeed, the use of this technology is expected to cut fuel consumption by 15%, and TCO by 5%. With biofuel, up to 84% CO2 reduction can be achieved.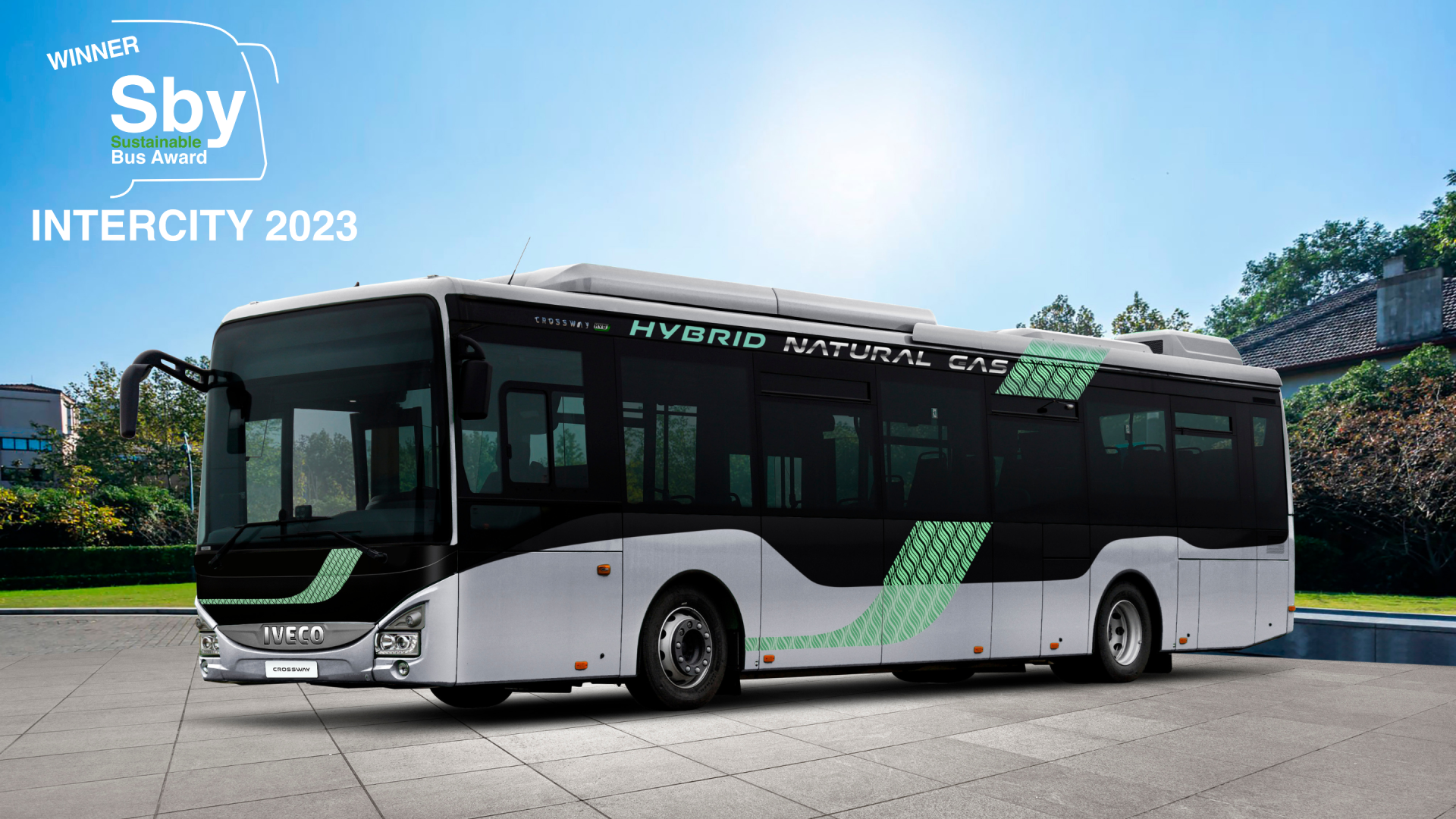 Sustainable Bus Award 2023 Coach: Irizar i6S Efficient
Fuel consumption cut by 13 per cent, aerodynamic coefficient improved by 30 per cent, adoption of composite materials to reduce mass (some 950 kg less) and integrated predictive maintenance technologies to reduce downtime. Irizar has redesigned its i6S with one single goal: achieving greater operational efficiency, which is essential for a sector whose restart is being affected by the price pressure brought about by the energy crisis. The result is a vehicle that combines a proven platform with a series of details that significantly improve its TCO.