DART President & CEO Nadine Lee elected as Chair of UITP North America Division
In early August UITP announced DART President & CEO Nadine Lee as Chair of UITP North America Division and newly-formed North America Committee In 2015, UITP opened its first North America office in New York City, seeking to increase the exchange of best practice and networking between North American members and other UITP members worldwide. […]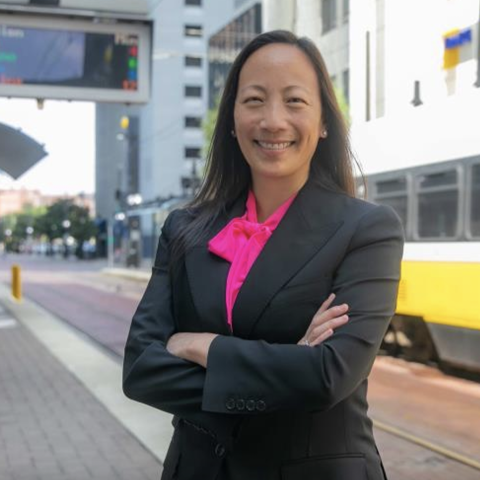 In early August UITP announced DART President & CEO Nadine Lee as Chair of UITP North America Division and newly-formed North America Committee
In 2015, UITP opened its first North America office in New York City, seeking to increase the exchange of best practice and networking between North American members and other UITP members worldwide.
Nadine Lee elected Chair of UITP North America
Now Nadine S. Lee, President & Chief Executive Officer for Dallas Area Rapid Transit (DART), has been elected as both the new Chair of the UITP North America Division, and the newly-formed UITP North America Committee.
Beginning a two-year term, Nadine replaces outgoing Chair Kevin Corbett, CEO of New Jersey Transit. As the President & CEO of DART, UITP states, "Nadine leverages the talents of 3700 employees to deliver connected and seamless mobility for their entire service area. Previously, Nadine served in the roles of Chief of Staff and Deputy Chief Innovation Officer for Los Angeles County Metro, where she established the Vision 2028 Strategic Plan, the Offices of Equity & Race and Customer Experience, and the Better Bus Program. Nadine is a professional engineer by training and believes firmly that public transit agencies play a critical role in ensuring a brighter and more resilient future for everyone".
"I look forward to expanding the reach of UITP through the work of the North America Committee. The wealth of knowledge and experience shared among UITP members around the world inspires and empowers public transport agencies across North America to improve the performance and quality of our services for the benefit of our residents", she commented.
Renée Amilcar, UITP President, said: "I am delighted to see Nadine become the new Chair of our North America activities, leading both the regional Division and the newly-formed NoA Committee. As UITP President, I welcome the development of our activities at the global level, and in my role as General Manager of OC TRANSPO in Ottawa, I look forward to seeing what Nadine has in store for our North America members as she begins her new mandate".