New trolleybus fleets in Czech Republic (30 units involved). The main protagonist? Skoda 32 Tr
by Stefano Alfano Trolleybus in  Czech Republic. The pandemic has not brought to an halt the renewal of trolleybus fleets in the country. In fact, new full electric trolleybuses have been delivered to the Teplice network, and others are being ordered. Being more specific, Opava has ordered new vehicles, Ostrava has published a call for […]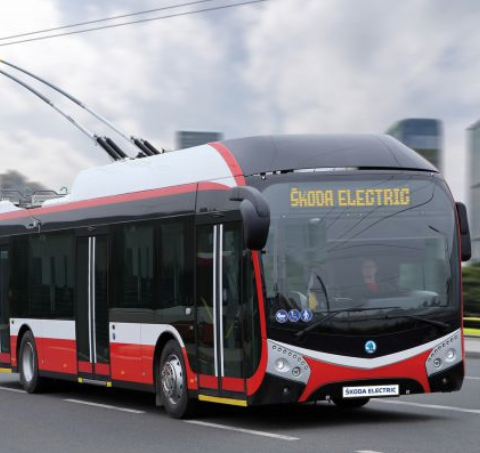 by Stefano Alfano
Trolleybus in  Czech Republic. The pandemic has not brought to an halt the renewal of trolleybus fleets in the country. In fact, new full electric trolleybuses have been delivered to the Teplice network, and others are being ordered.
Being more specific, Opava has ordered new vehicles, Ostrava has published a call for tenders and Marianske Lazne's order is close to delivery. We are talking about a total of 30 trolleybuses involved in these projects.
Not only new trolleybuses in Czech Republic, but also conversions of lines from buses to trolleybuses is underway, as well as extensions of some lines in wireless mode. Small and medium-sized cities (Marianske has about 13,000 inhabitants, Opava and Teplice 50,000, Ostrava reaches 317,000) in Czech Republic still rely on trolleybuses as the backbone of their mobility systems.
Skoda Electric, five trolleybuses in Czech Republic
Skoda Electric has just delivered five new battery-operated trolleybuses to Arriva Teplice in North Bohemia (Czech Republic). The local public transport fleet has been indeed enriched by a new batch of 12-meter low-floor 32 Tr models with 3 doors and bodywork from SOR.
These Skoda 32 Tr can carry up to 95 passengers. The trolleybus is equipped with a modern information system and USB ports for charging mobile device.
The current contract follows previous deliveries from Skoda – SOR for to this North Bohemian town with 50,000 inhabitants. The last delivery was in 2019, when a couple of vehicles of type 32Tr and one in articulated version (33Tr) were delivered. These vehicles, the manufacturer points out, were anyhow delivered as standard trolleybuses, ie without traction batteries. A total of 35 trolleybuses are operating in Teplice.
Still in Teplice, in addition to the intensification of the frequencies of the lines 104 and 106, it is expected the expansion of the 1.3 km trolleybus network and the conversion of the bus lines 122 and 123, each 40/45 minutes long and which already cross the trolleybus network. After the necessary environmental impact evaluation, the two-wire extension works should be scheduled from May to November 2020, including the upgrade and modernization of the Trnovany substation.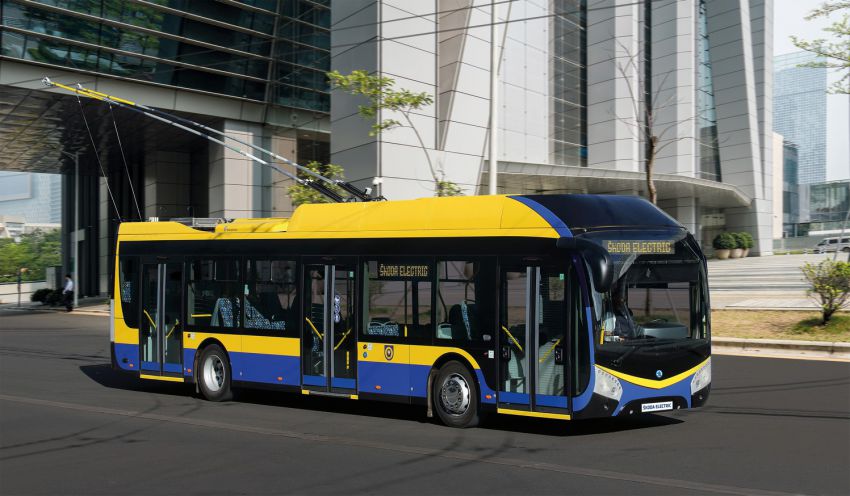 Skoda 32 Tr also in Opava
Five new Skoda 32 Tr trolleybuses were ordered in February 2020 by MDPO (Městský dopravní podnik Opava). The new trolleybuses for Czech Republic will be bodied by SOR, and will be similar to the 10 units that entered service in the first months of 2019. Delivery is expected by the end of 2020.
The Skoda 32 Tr trolleybuses will be equipped with air conditioning for the driver and passenger compartment and will have a particularly spacious passenger compartment, with LED information system and control cameras; like the previous vehicles, these vehicles will also be equipped with battery packs that will allow operation on lines without wires, also increasing the operational flexibility of the fleet in this case. The purchase is partly financed with European Union funds.
Opava therefore continues with the modernization of the fleet, which includes around forty trolleybuses (produced by Solaris and Skoda), carrying around 6 million passengers yearly.
12 new trolleybuses bound to Ostrava in Czech Republic
DPO Dopravní podnik Ostrava, the public transport company of Ostrava, intends to purchase 12 new trolleybuses, and has published a public call for tender. The purchase must be financed with EU funds. The value of the contract is around € 6.2 million.
The construction of 700 meters of new two-wire lines is planned, from the terminus of line 105 in the Karolina district to the tramway and interchange of Vistavistè.
Complete renovation of the rolling stock, modernization of part of the overhead line and substations. These are the pillars of MDML (Mestska Doprava Marianske Lazne) project, which manages public transport in Marianske Lazne and which awarded Skoda Electric with an order for 8 new trolleybuses in August 2019, for a total of some € 3,000,000. The first vehicles, presumably of the Tr 32 type, 12 meters long, should be delivered shortly. They will replace the seven Skoda 24 Tr built between 2003 and 2006. For the works on the network, MDML has requested funding for around € 2,000,000 and it is currently awaiting approval of the application.
Skoda trolleybuses for European markets
Recently, Skoda Electric has supplied new trolleybuses not only for a number of Czech cities – such as Pilsen, Usti nad Labem, Ceske Budejovice, Pardubice, Brno, Opava, or Ostrava – but also for cities abroad such as Hungarian capital city Budapest, Cluj-Napoca in Romania, Bergen in Norway and Limoges and St. Etienne in France. During its history, it has supplied more than 14.5 thousand trolleybuses to the domestic and foreign markets, the manufacturer points out.
"The technical design of the new Teplice trolleybuses is one of the absolute best in what Skoda offers," said Skoda Electric's sales manager Radek Kapr. The traction battery drive allows a standard range of 12 kilometers, of course there is also air conditioning and a camera system monitoring the interior and the closest surroundings outside of each trolleybus.