Rampini turns to Loop Energy as fuel cell provider. The Hydron displayed at Milan's NME
Loop Energy, a designer and manufacturer of hydrogen fuel cells for commercial mobility, joins Italian bus manufacturer Rampini in unveiling its first hydrogen-electric bus, the Hydron, at the Next Mobility Exhibition in Milan, Italy, today. Rampini is the third Loop Energy customer to launch a fuel cell bus platform in a few months, the provider […]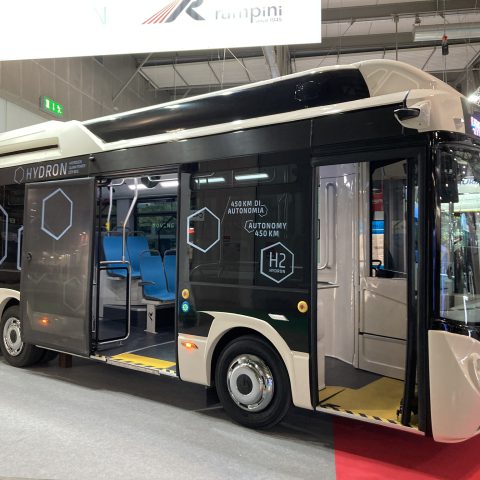 Loop Energy, a designer and manufacturer of hydrogen fuel cells for commercial mobility, joins Italian bus manufacturer Rampini in unveiling its first hydrogen-electric bus, the Hydron, at the Next Mobility Exhibition in Milan, Italy, today.
Rampini is the third Loop Energy customer to launch a fuel cell bus platform in a few months, the provider says. It comes after Rampini decided to stop producing diesel buses in 2018 to focus on offering electric platforms, a trend the industry is following.
Rampini with Loop Energy
"Fuel efficiency was the primary driver in Rampini's decision to select Loop Energy's fuel cell for its hydrogen-electric bus platform. Lower fuel consumption in buses can provide cost savings on fuel, extended range and smaller physical footprint requirements, decreasing the total cost of ownership for fleet operators", Loop Energy adds.
The Hydron is Rampini's first commercially available hydrogen-electric bus. It joins its battery-electric bus, waste collection truck and power equipment product offerings operating in Spain, France, Germany, Austria and Greece. Rampini has several HYDRON buses in production with Loop Energy fuel cells.
Rampini developed the Hydron bus using its battery-electric bus model, with modifications to incorporate fuel storage and a Loop Energy S300 (30 kW) fuel cell engine. At 8-metres long, the bus has capacity for up to 48 passengers and is fitted with a 10.8 kilogram hydrogen tank that allows for a range of 450 kilometres. The extended range of the bus means operators do not have to refuel while in service.
"Rampini is leading the way with their commitment to transition away from diesel and deliver an electric vehicle product line. The launch of yet another hydrogen-electric bus by experienced manufacturers is a strong indicator of the growing demand worldwide," said Loop Energy President & CEO, Ben Nyland. "I was fortunate to tour Rampini's production centre in Umbria, Italy, and I am extremely impressed by their commitment and capacity to manufacture high-performing electric buses to meet the rapidly growing needs of Italian fleet operators."
"We are very grateful for Loop Energy's support at the Next Mobility Exhibition and contribution to the launch of our HYDRON bus," said Rampini General Manager, Fabio Magnoni. "A few years ago, we decided to focus on electric buses instead of diesel and the interest from customers around Europe has been exceptional. To offer a hydrogen-electric bus means we can deliver fleet operators a reliable and economical zero-emissions solution."