Rome to phase out most polluting buses by 2022. 100 mild hybrid buses just received from Daimler
The mayor of Rome, Roberto Gualtieri, and the councillor for Mobility, Eugenio Patané, accompanied by the director of the municipal operator ATAC, Giovanni Mottura, took part on the 22 December at the delivery cerimony of 70 new mild hybrid buses at the Portonaccio depot (they follow a first batch of 30 units). New hybrid buses […]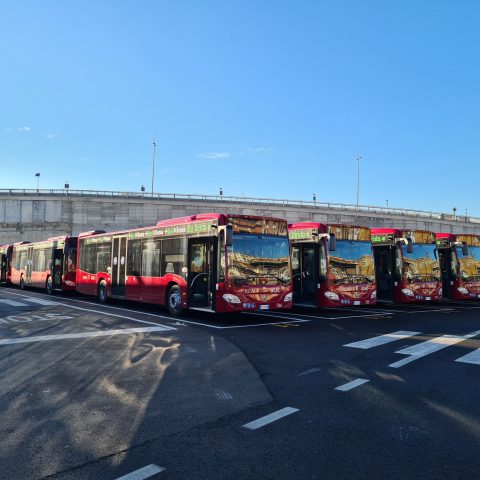 The mayor of Rome, Roberto Gualtieri, and the councillor for Mobility, Eugenio Patané, accompanied by the director of the municipal operator ATAC, Giovanni Mottura, took part on the 22 December at the delivery cerimony of 70 new mild hybrid buses at the Portonaccio depot (they follow a first batch of 30 units).
New hybrid buses for ATAC in Rome
The project to replace around 100 Euro 3 vehicles – aged between 15 and 18 years – with an equal number of Euro 6 mild hybrids has thus been completed, with a consequent reduction in pollution. The new buses, produced by Mercedes, are Citaro models with Euro 6 diesel engines. These are mild hybrid vehicles with super capacitors for energy recovery that do not use traction batteries. Thanks to this technology it is estimated that fuel consumption can be reduced by up to 10% compared to a conventional diesel.
All the buses are 12 metres long, with two doors and equipped with the technical standards in use in the company fleet: Avm system, video surveillance, multimedia monitors, fire prevention, LED signs with optimisation for the visually impaired, air conditioning, manual platform. They accommodate 26 seated and 86 standing passengers and have a seat for the mobility impaired.
"In total we are 'unblocking' 121 new buses and the aim is to replace 600 buses by 2022, thus eliminating the oldest and most polluting buses. The renewal of the fleet is instrumental in order to polluting less, saving money and investing more in a good service to citizens. We are about to give a significant boost to fleet renewal. Our plan for the renewal of the ATAC fleet until 2026 is worth 500 million, and will then have its highlight with the electric buses, financed with the resources of Next Generation Europe," said the mayor of Rome, Roberto Gualtieri.